Something familiar made me blink and look again, but a large bus moved between the billboard and me. I stopped being that harried commuter wanting to get home to… Did I just see what I saw?
'Bhaiyya, can you reverse thoda?'
'Reverse?'
The cabbie thinks I'm crazy. Who reverses a four-wheeler in a city that is mostly dug up or otherwise operating on tailgating. He tells me at the next available empty space to get off his vehicle after calling me crazy to my face.
I stare at the billboard. And a song begins to play in my head: Zindagi toofani hein, jahaan hein, Duckberg! Gaadiyaan, lasers, hawaai jahaaz, ye hein, Duckberg!
The billboard announces that Disney is bringing back a piece of my past. Ducktales. I am that kid once again, following Uncle Scrooge and Huey, Dewey and Louie down into the basement lit by a tiki torch… At once amazed and horrified by the strangest inventions by Gyro Gearloose… What adventures those were!
But hear my confession. These Sunday cartoons meant my younger brother and sister would be watching without pause and I could slide in and quietly steal the strawberry jam filled crispy parathas made for them (I was grown up so had to eat them veggies! Unfair!). But the 22-minute episodes were so much fun, I ended up watching everything from Micro Ducks From Outer Space to Raiders Of The Lost Harp and Jailhouse Duck.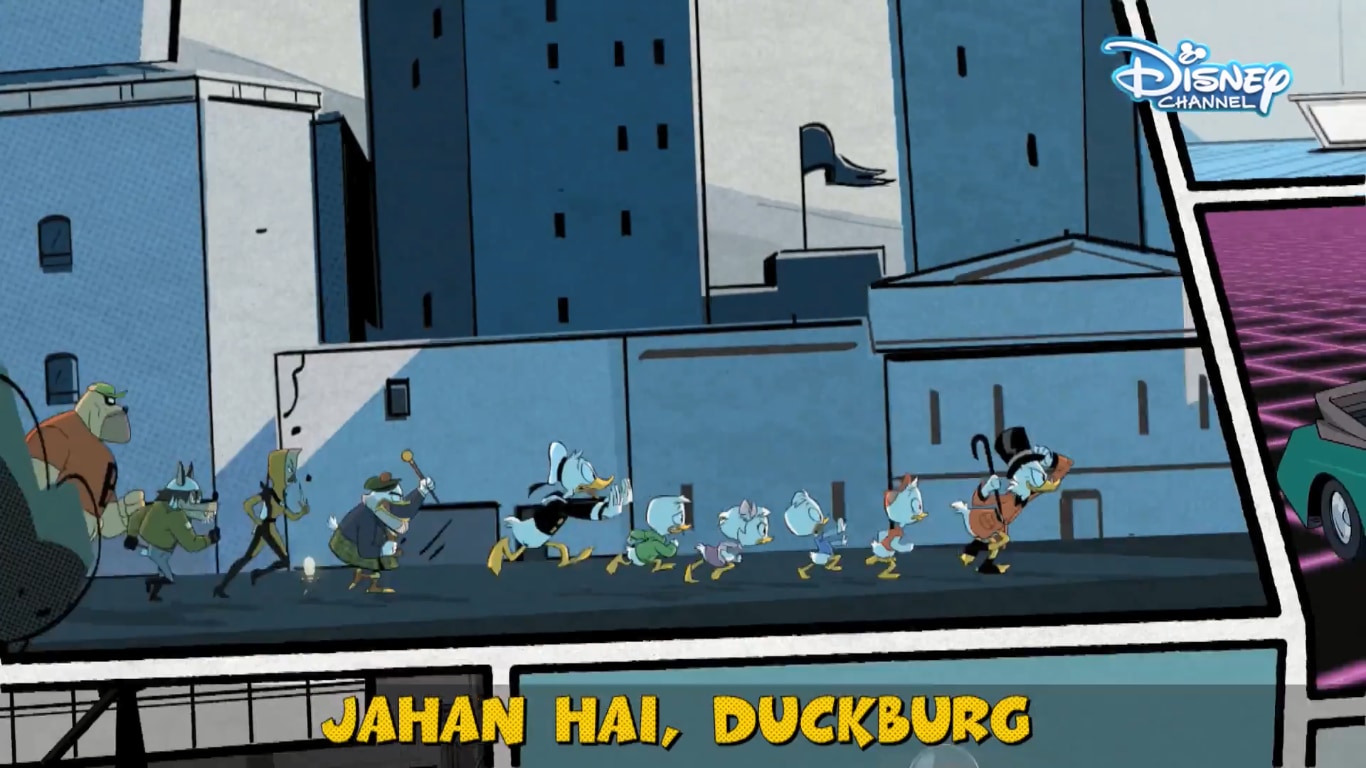 Duck Tales starts from October 1 at 6 pm on Disney Channel India.
The references were fun for grown-ups, but the animation worked for children of all ages. Duck Tales were awesome watch because they were innocent and fun. Remember how the stories made you want to be an inventor of things? Go off on an adventure to Africa?
I remember distinctly how my friend was the cynosure of all eyes at school because she got herself a Magica De Spell-like haircut and we had to wear our hair in plaits, tied up with that ghastly red ribbon! I hope, I hope they bring back Magica this season too.
She is so single-minded in her quest for Scrooge McDuck's 'No.1 dime' that she will hatch many schemes to steal it. A bit like the coyote who wanted to get rid of the roadrunner… I hear the 'beep beep' so near my ears I shake my head and realise that I'm in the path of a scooter. I lift my hands as if to surrender and say sorry to the woman on the scooter who says something to me under the helmet which sounds like Donald Duck getting mad at things!
I walk the rest of the way to my brother's home where his kids are watching… What is that? These cartoons are awful. The hero is stupid. Yes, literally, stupid. He fails at exams and generally lacks common sense. I look questioningly at my brother. He says, 'Watch! Look what is inspiring this generation!'
It was torture. A robot cat that has been sent from the future to help this stupid lad make better life decisions. But the cat makes so many mistakes, I sat and facepalmed so often, my niece insisted this was the generation gap. I reminded her that I was the one who drove the kids to the park when they were catching Pokemon. Sigh. Why are kids watching stupidity every day of the week and their reruns? How come no parents have protested anywhere?
We had parents show up en mass at our children's school to protest against a cartoon character called Shin Chan. The outspoken, impolite brat who is rude to everyone. I must admit that it was funny to see the Hindi dubbed version use 'Juice' instead of alcohol when the visuals clearly showed an inebriated character. I laughed at the elephant dance because Shin Chan was referring to someone with a large derriere. He's five years old, I tried to tell the angry parents, and we did find butts funny at that age… But no way was Shin Chan boring. Neither is Bart Simpson. He's wicked and disruptive and his telephone pranks are scatalogical. But he's not tedious. And I found this Doraemon phenomenon boring.
Yes, Duck Tales has action slower than what you might see in animation today. But no person who has been a fan of the series - no matter how grown up they are today - will deny that it was the best thing about Sundays when they were growing up. We learn about family and values like sharing and standing up for each other from ducks! But what fun it was, watching the Beagle Brothers (Bouncer, Burger and Babyface) sneak around doing Magica's bidding, discovering new places by jetting off to faraway places… I always wanted the Sunchaser airplane with McQuack action figure because I thought his windblown scarf made him rather dashing.
This new generation is happy to add bunny and dog ears to those endless snapchat pictures. Am happier watching Courage the cowardly dog. This new generation is happy taking endless pouty selfies. Am happier watching the snotty Duckworth say, 'I do have the flair for the dramatic!'
My brother has promised to introduce the little one to Duck Tales before Disney brings the magic back next month. I discover my favorite Duck Tales episode on YouTube and I step into the elevator to come home. I don't notice that there's an old gent dressed for Sunday church in the elevator. And his dentures fall off when (still looking into my phone, earphones attached) I say in my best Magica voice, 'Hello Scroogey!'
Duck Tales starts from October 1 at 6 pm on Disney Channel India.
Manisha Lakhe is a poet, film critic, traveller, founder of Caferati — an online writer's forum, hosts Mumbai's oldest open mic, and teaches advertising, films and communication.