I'm going to give a valid excuse to bring out the Bollinger when we look back upon the awesomeness of the year that is about to come to an end.
Before you sing, 'Auld lang syne' and go all maudlin on me, I'm going to give a valid excuse to bring out the Bollinger (or the AIX Rose, or the Ayala Blancs de Blancs) when we look back upon the awesomeness of the year that is about to come to an end.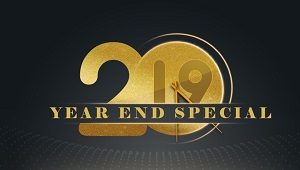 To top the best of the best, something I don't want you to miss at all, is a cinematic tribute to the woman who raised him, named Cleo in the film. It is the best movie of the year. And you can watch it on Netflix now. It is Alfonso Cuaron's film called
ROMA.
It brings back a taste of your own childhood, a tribute to all those invisible people fading from your memory.
The Cleos in your life. I had Phulbatti. She pierced my ear with an Acacia thorn when I was a child and took over my life. She would test the temperature of water on her thigh before letting me bathe with it. She would even poke the phulkas so I would not get a steam burn. She made sure the pillows were beaten before being fluffed (to beat out the bad dreams). So when I watched the magnificent ROMA, I knew why Cuaron had to make the film. And it amazes me how easy he makes it to get into the heads and hearts of not one, not two, but three women, and touch everyone in the audience regardless of gender.
'We are alone. No matter what they tell you, we women are always alone.'
Mistress and maid. The dialog makes you shiver because everyone else in the audience felt the impact too. And just as easily as the kids love the indefatigable maid, you do too. And the film slowly assaults your senses and only when you watch that last frame is settled in your heart, then you realise that you are truly wrung out and put out to dry along with all those clothes on the line. You will cry into your Bollinger only later. And you wonder: what movie can you make now that ROMA has been made?
This film makes everything else also-ran. Including Cold War (hasn't released here, but had I consumed too much eggnog I would be accompanying that with a myah, na, na, na na) and that populist A Star Is Born (I still think it was a discovery to watch Lady Gaga act and that one scene with Sam Elliot reversing the car, but nothing more). But then there is The Ballad Of Buster Scruggs that will delight you. I found one of the stories rather predictable and blah, but then I have read too many Panchatantra/Amar Chitra Katha type moral science stories and that one story was like a Sunday School lesson.
There are movies I've seen this year that made me wish there were a Thanos with a khunnas with bad cinema. That would help erase memories of bad movies we watched to review them for you. But then along came the scariest film: A Quiet Place. Yes as always there's a kid who does stupid things (and they're right up there with little Anjali from Dilwale Dulhania Le Jayenge), but the film is get-stuck-to-the-back-of-your-theatre-seat frightening. Here is a reminder:
To get a couple of creepy shocks, watch the superb Tumbbad. It's online on Amazon Prime. That film came out like a googly. A totally unexpected bhelpuri of religion and fear and greed and lifestyle and history. With a little bit of lust thrown in as well to spice things up. Also deserves special mention was Pari, a brave new entrant in the world of scary movies.
It was Anushka Sharma, making yet another point as producer. The story fizzled out but it made an impact creepy crawly wise. This year we watched young Alia Bhatt carve out a special place for herself as she carried the film Raazi on her slim shoulders. There were moments where one cringed because one has watched so many spy movies. But it broke new ground, and if Jaideep Ahlawat is going to train her, then you forgive mistakes. The same goes for Mulk, a story that needed to be told, considering the divisive state our country. The film sees Rishi Kapoor play Murad Al Mohammad, who has always lived in Varanasi ask uncomfortable questions about citizenship. The argument could have been stronger and impactful, but then an ice pick makes a point too, I suppose.
But the coolest, funnest film is Andhadhun. The film stars Ayushman Khurana who is a blind pianist. It has the awesomeness of Tabu who makes the movie memorable by saying something like, 'Isko maaro, usko khatam karo, mujhe serial killer samajh rakkha hai.' And those who want to know, the film that has Radhika Apte. Love her or hate her, you cannot ignore her. She has made some amazing career choices and this year, you saw her in the brilliant Lust Stories and in Sacred Games (she was super blah in the series).
There's something about Varun Dhawan that is rather endearing. He dances like Daddy's best boy in Judwaa but makes you sit up and take notice in movies like Badlapur (2015) and this year in a film called October. Shoojit Sircar directs this film which makes you swallow a whole lot of emotions with your coffee in the theatre. I happen to be a copious crier, and I had to tell people it rained on me when I watched this film. Varun Dhawan truly turned out to be a star.
Who would you cast if Mission Impossible were to be remade in India? The instant answer you'll get is Ranveer Singh. But having watched Mission Impossible: Fallout one realises that it is still possible for your breath to be taken away. There are so many heart stopping scenes, you don't care if you turn into a fangirl. And it's not just the mad speed at which Tom Cruise can run, it is how much he pushes himself when performing stunts. This is not the trailer, but enjoy that scene. This is how you live because you cannot think of riding a bike like that.
From Mission Impossible to First Reformed. Remember that little high school boy who Robin Williams put in a spot? Yes, that gorgeous Ethan Hawke is a priest at the church which is about to celebrate 150 years. It is a great cinema because he's conflicted. Will faith win? When the Oscars show up, remember that I told you that this Paul Schrader film will be on that best among the best list. Two films that did not get a release in India are Boy Erased and The Miseducation Of Cameron Post. Both films deal with how conservative America is dealing with children who are not straight. Both brilliant. And yes, the delicious film Call Me By Your Name - that did not get a release in India - is on Amazon Prime. Eat a peach and watch the film.
This year has been good to me, I've been bingeing on Netflix and Amazon Prime or been in a dark theater watching movies. And I've made travel plans that include everything from Ibiza to Timbuktu. But it's Wakanda that made everyone in the civilised world (of movies!) sit up and take notice.
I'm misquoting from ROMA here when I say, 'Mountains are old, but they're still green.' Just because you have only heard stories of Masai warriors and seen National Geographic specials on the Big Five, does not mean Wakanda does not exist. Black Panther was magical in so many ways. It broke all known stereotypes for superheroes. I fell in love with the women warriors. They were - pardon my French - badass! I have never whooped out loud and thrown popcorn in the air with sheer joy as I did when I watched women fight. The best ever:
I loved Manmarziyan - the heroine, the songs and all - and even though I think Abhishek Bachchan is awesome in the film, I totally understand why women fall for bad boys. Stree would have been the best film had there been more scary bits than funny bits. But then Hollywood takes musicals and brings us Bohemian Rhapsody. Rami Malek, whom you saw in the excellent show Mr Robot turns into Freddie Mercury and the film treats us to the music of the rock band Queen. How it made me wish I were born earlier to have enjoyed the music by The Doors, Pink Floyd and Queen in their heydays as a teen, even watched them live. The film fudges with facts a bit, stretching them even, but what foot stomping brilliance of singing, 'We will, we will rock you!' Mark Rami Malek down for an Oscar for his performance.
Speaking of performances, I am praying for all you folk who liked the madness of Ranveer Singh's performance in Sanjay Leela Bhansali's Padmaavat (should have been rightfully titled 'Khiji' he is that good), that you get to watch Nicholas Cage in Mandy. It's crazy revenge movie that is wonderful and wild, with blood and gore to keep me rather satisfied. Seek this film out, people!
I have also tom-tomed the epic brilliance of Isle Of Dogs. Such movies are few and far between. But will Shoplifters ever show up on our screens? Or on Netflix or Amazon Prime? Pray, people, pray. And that is faith is what takes me back to the theater popcorn and coffee in hand, hoping the movie will turn out to be exhilarating. Spiderman: Into The Spider-Verse did. Why have you not seen it yet?
The year is almost coming to an end. And one tends to look back, in love. But nopes. No peace here! Just when I was happy to finish watching Pine Gap on Netflix, I get a notification: Springsteen On Broadway is now available online! I crank up the speakers to 'extra loud' and wish that all of you sign off on the year on a similar high note.
Manisha Lakhe is a poet, film critic, traveller, founder of Caferati — an online writer's forum, hosts Mumbai's oldest open mic, and teaches advertising, films and communication.