The King of Qatar, the Queen, the Ambassadors, just about everyone wants to sit on one of the 200-green chairs scattered around the restaurant in Souq Waqif.
Madhruba. Khanfaroosh. Balaleet. Majboos. Nakki. Hungry, one early morning in Doha, I was caught in Shams al Qassabi's quick name drops. Dressed in a black abaya (burqa) and wearing a magnificent smile, this petite mother of 12 was darting in and out of the kitchen ordering dishes and greeting the men in white who had strolled into Shams Al Shamoos, perhaps the best breakfast place in Doha, Qatar's capital.
Before I could pull a chair and read the menu, my table was laden with baid o tomate (eggs and tomato), baid shakshoka (scrambled eggs), khobiz regag (crepe-like bread), balaleet (saffron-infused vermicelli), khanfaroosh (fried almond and saffron cake)… So much food, it could feed a famished squat town. And this was just breakfast. The best breakfast, everyone in Doha choruses.
Story of Qassabi
Qassabi's smile is infectious, her food scrumptious and the takers countless. The King of Qatar, the Queen, the Ambassadors, just about everyone wants to sit on one of the 200-green chairs scattered around the restaurant in Souq Waqif.
I want to hear Qassabi's story, of how she started with a few chairs and just herself in the kitchen. When the narrative got tangled in an unfathomable language, her brother Ali Qassabi stepped in as a translator, proudly stringing his sister's journey with a dash of Qatari traditional cuisine and names of the nearly 400 spice-mixes that she sells.
Shams Qassabi interrupts a little, typing the dish name on her phone so that I do not get the spell them incorrectly. "Eat, eat" she prodded intermittently. If I had devoured even one-half of what lay on the table, I'd be a fattened turkey.
Gahwa: The Arabic Coffee
To beat the harsh sun, I could quaff the mint lemonade; instead, I sat on a red rug in Al Jasra Hotel for gahwa and majlis (coffee and chatter), an ancient tradition which, in 2015, was listed in UNESCO's Intangible Cultural History of Humanity. In Doha, gahwa is not the dreary hiss of the coffee machine, it is an art. With its own etiquettes. Made from green coffee beans and pounded with saffron, cardamom, and cloves, the coffee is brewed in a dallah (brass pots) and served in finjaan, a small handle-less cup.
Traditionally, the muqahwi (person serving the coffee) could not be less than 15 years old; the rule was to hold the dallah in the left hand and serve the coffee starting from the person sitting on the right of the majlis.
Asking for sugar with the gahwa is near-blasphemy. Pop a date, sip the coffee, and shake the finjaan when you are done. Mohammed Ali of Al Jasra Hotel taught me the art of shaking a finjaan to say 'no more coffee, please,'. No vigorous shaking, a gently shake-shake and the muqahwi shall pour no more.
I turned a night walker in Souq Waqif - it is only when the sun sets that the Souq wakes up in its glory. Women making wafer-thin regag (crepes) and an old man churning sugar and flour in a gigantic cauldron into a sinfully sweet halwa.
The air plump with the aroma of majboos (rice with meat and vegetables) and a hagool, jash or bassar (local fish) being fried. At the Souq, if someone asks whether you want a hamam, do not hasten to undress for a scrub and rose-petalled bath. Hamam is one of the 165 varieties of fish found in Qatar.
Another afternoon, I drove to St Regis for brunch. A lazy Saturday brunch at Opal by Gordon Ramsay. The bistro-style restaurant has parquet-and-stone floors, shimmering view of the Arabian Gulf, nattily dressed servers and an elaborate menu. Opulence and grandeur is served on a platter in Opal. But I'd happily shun this for the green chair of Shams al Shamoos and that magnificent smile of Shams al Qassabi.
Qassabi never follows a recipe, she adds nafas to the food. Literally, breath in Arabic, nafas is the love and patience one puts into cooking food. It is nafas that flavours food. From Doha, I brought back nafas, the secret ingredient.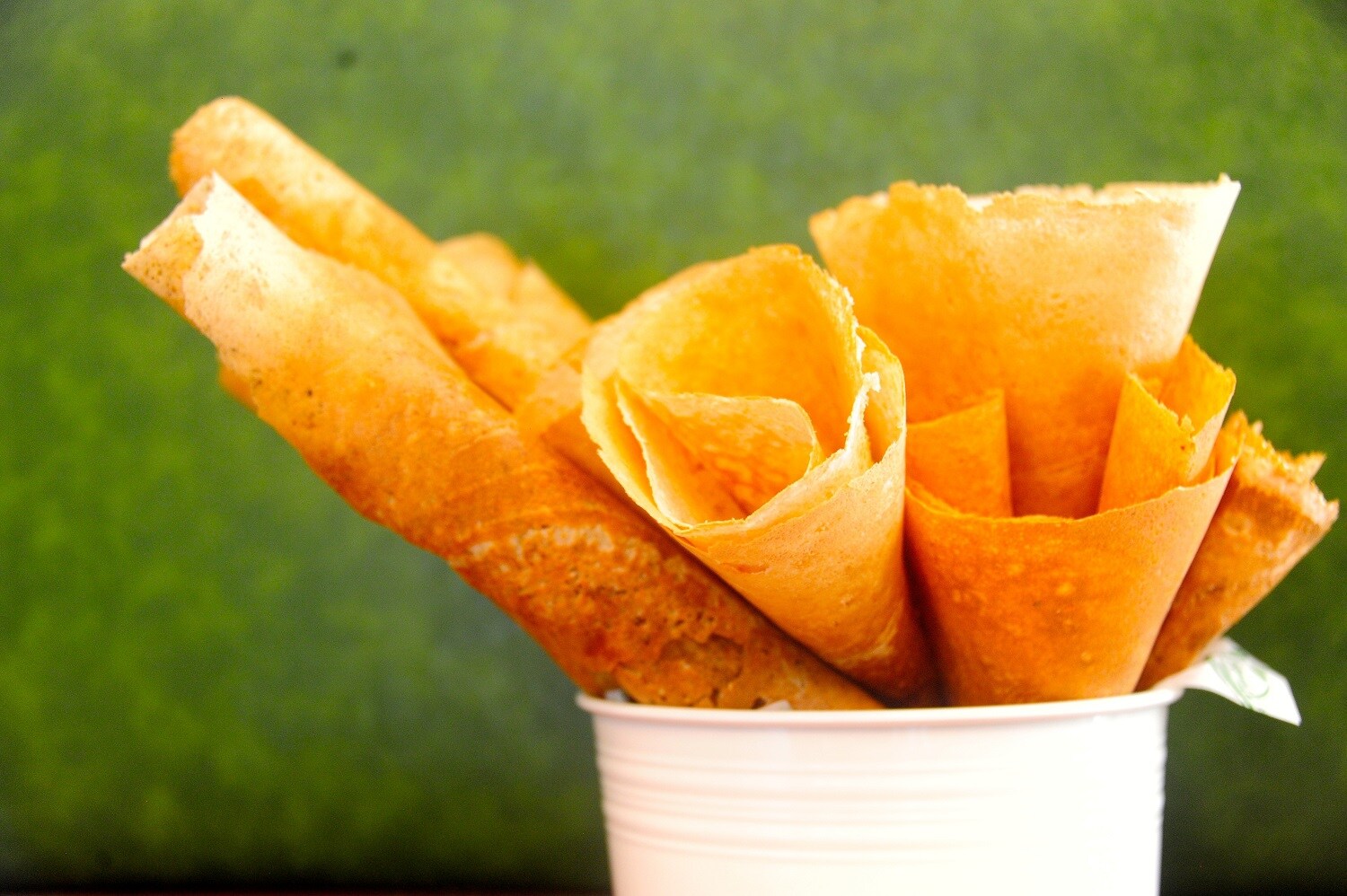 A traditional Qatari bread basket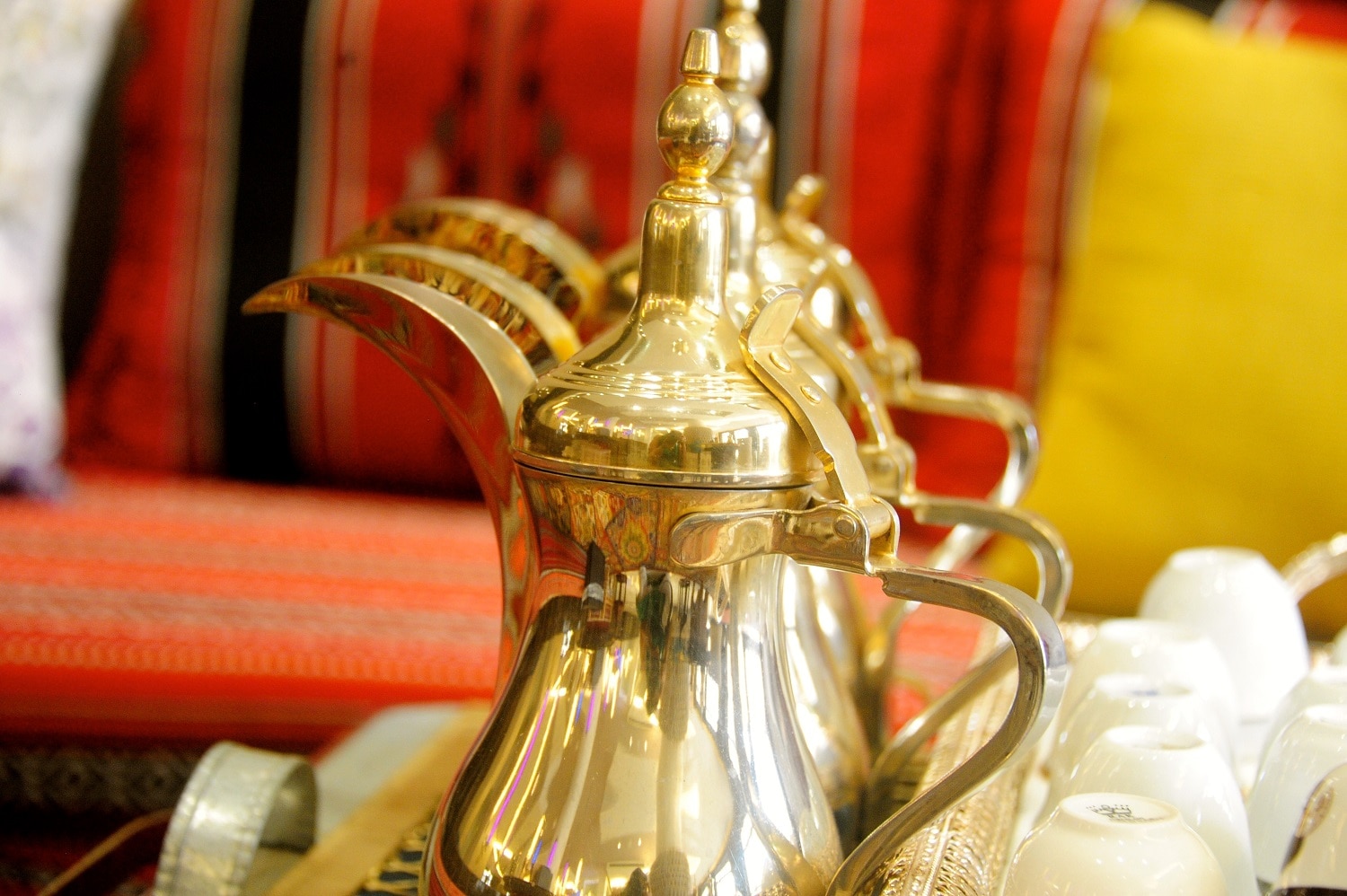 Dallah, a brass coffee pot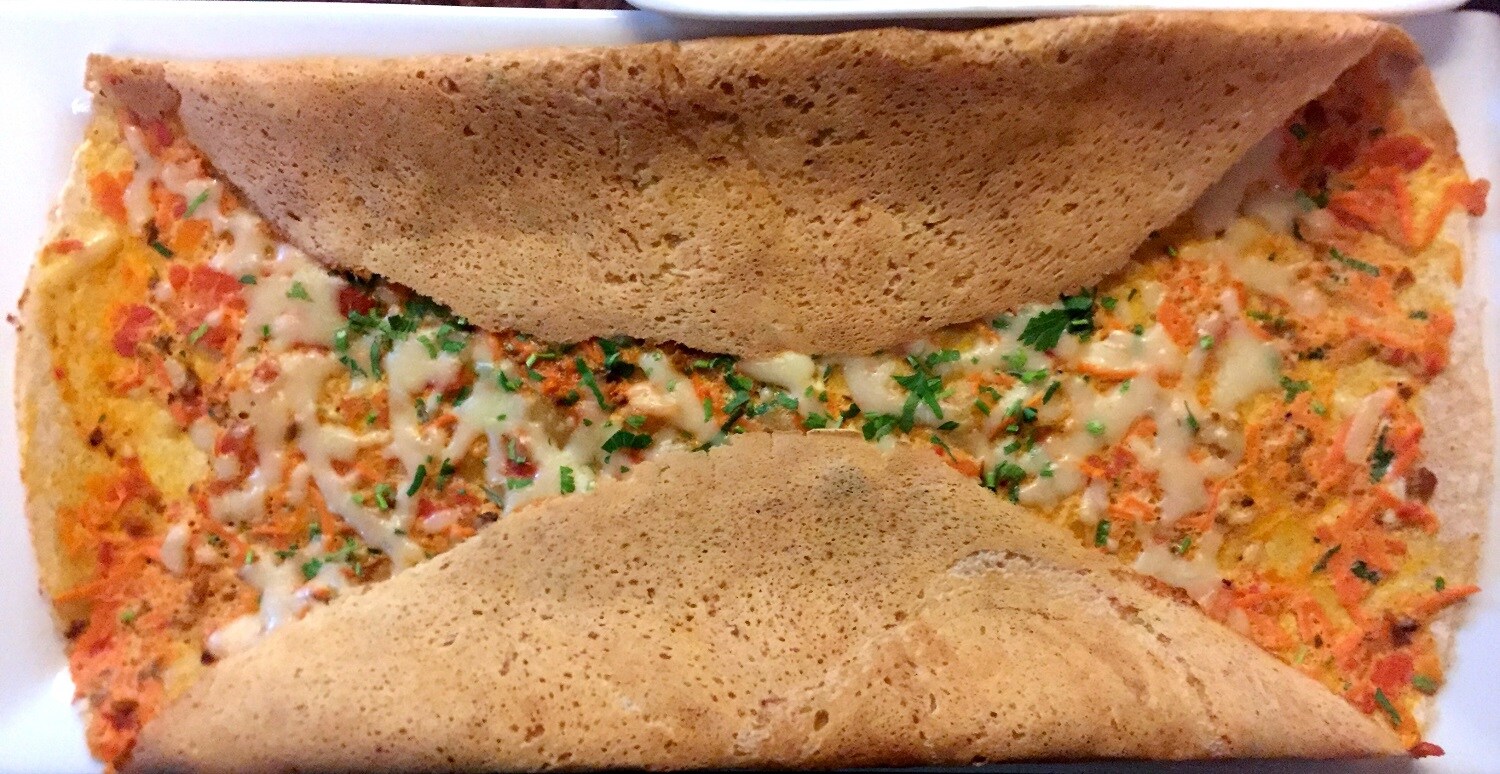 Regag, also known as Arabic crepe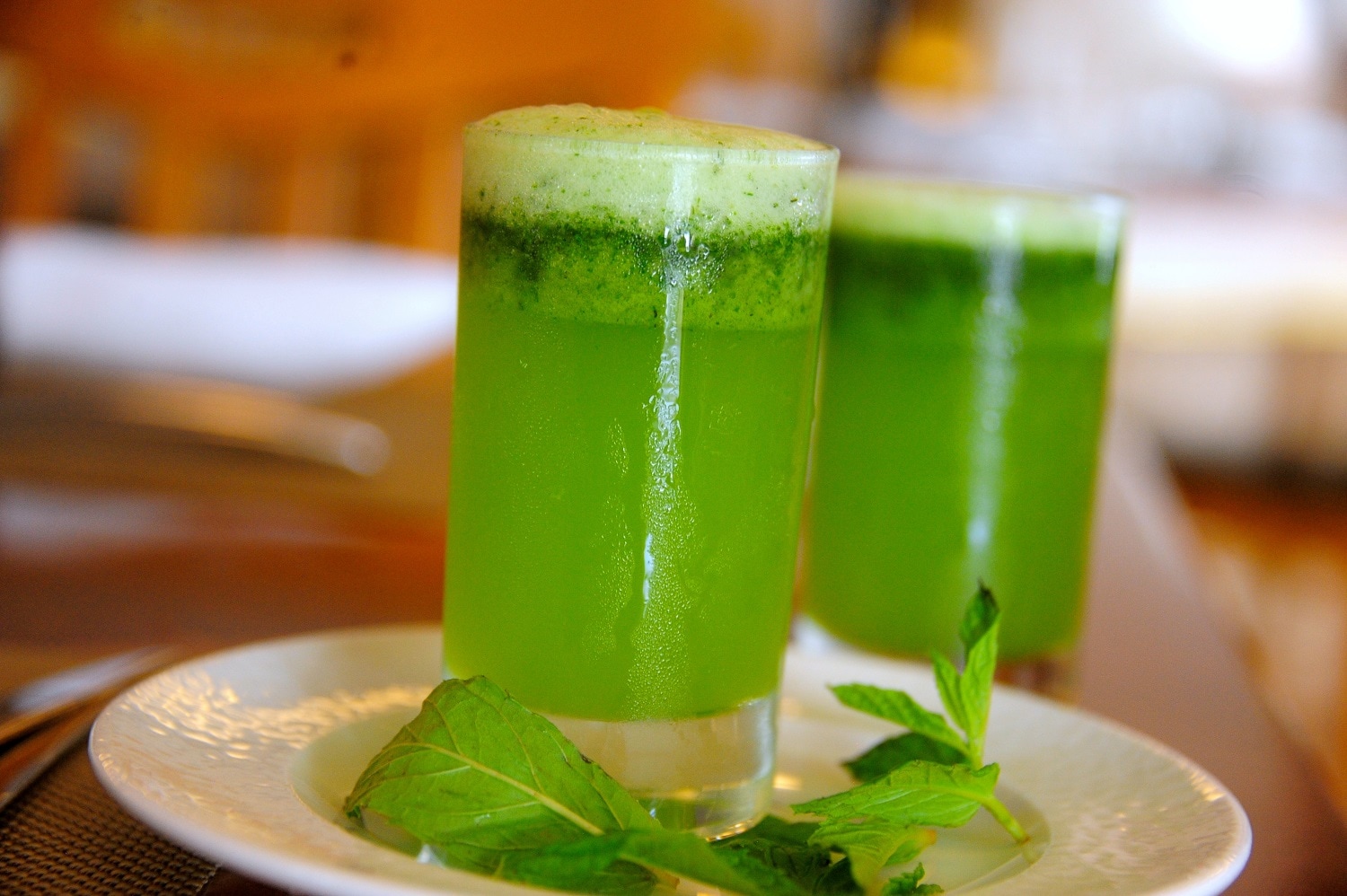 Mint Lemonade, a Middle Eastern mint, lemon, sugar drink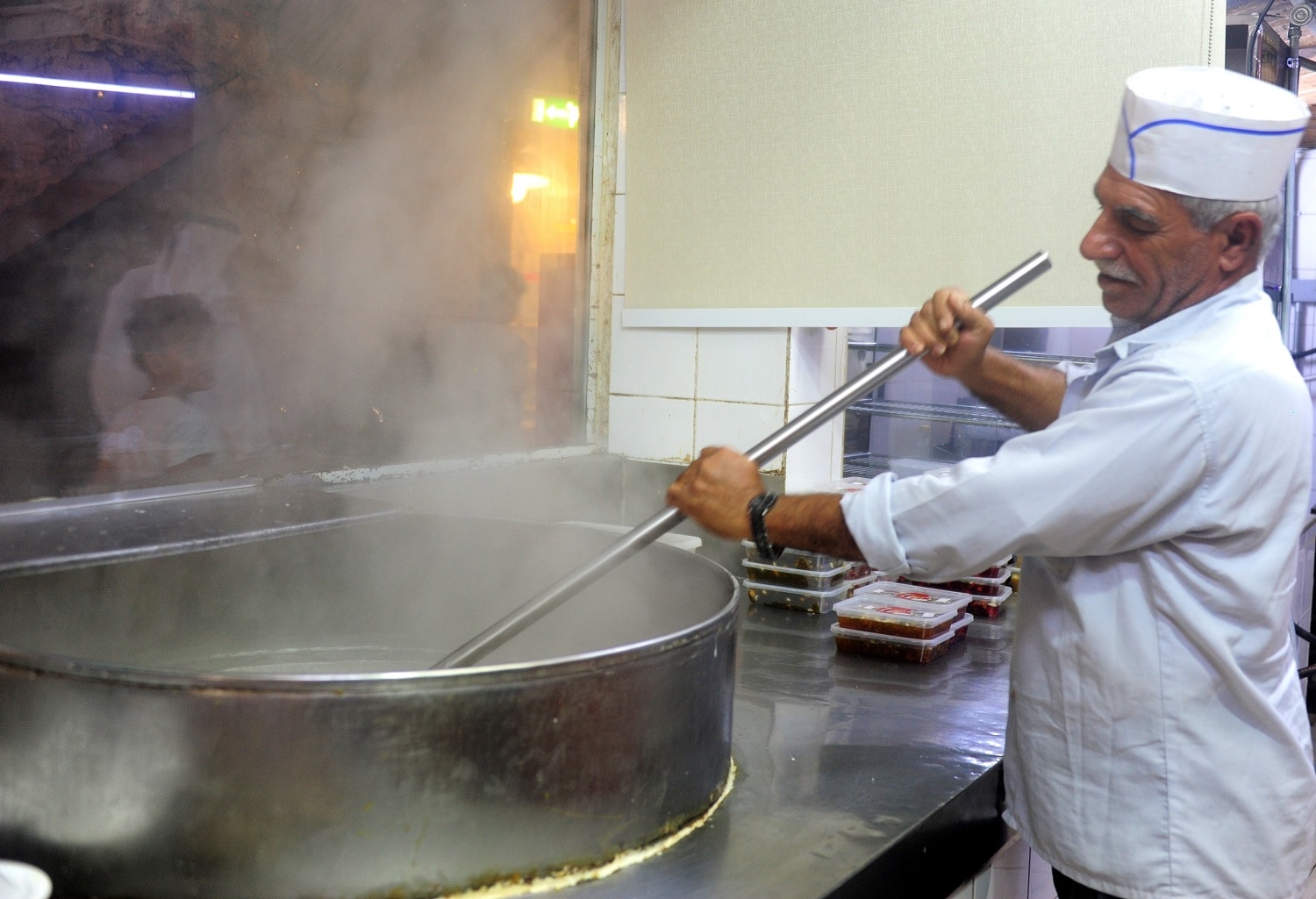 Halwa being made in Doha's Souq Waqif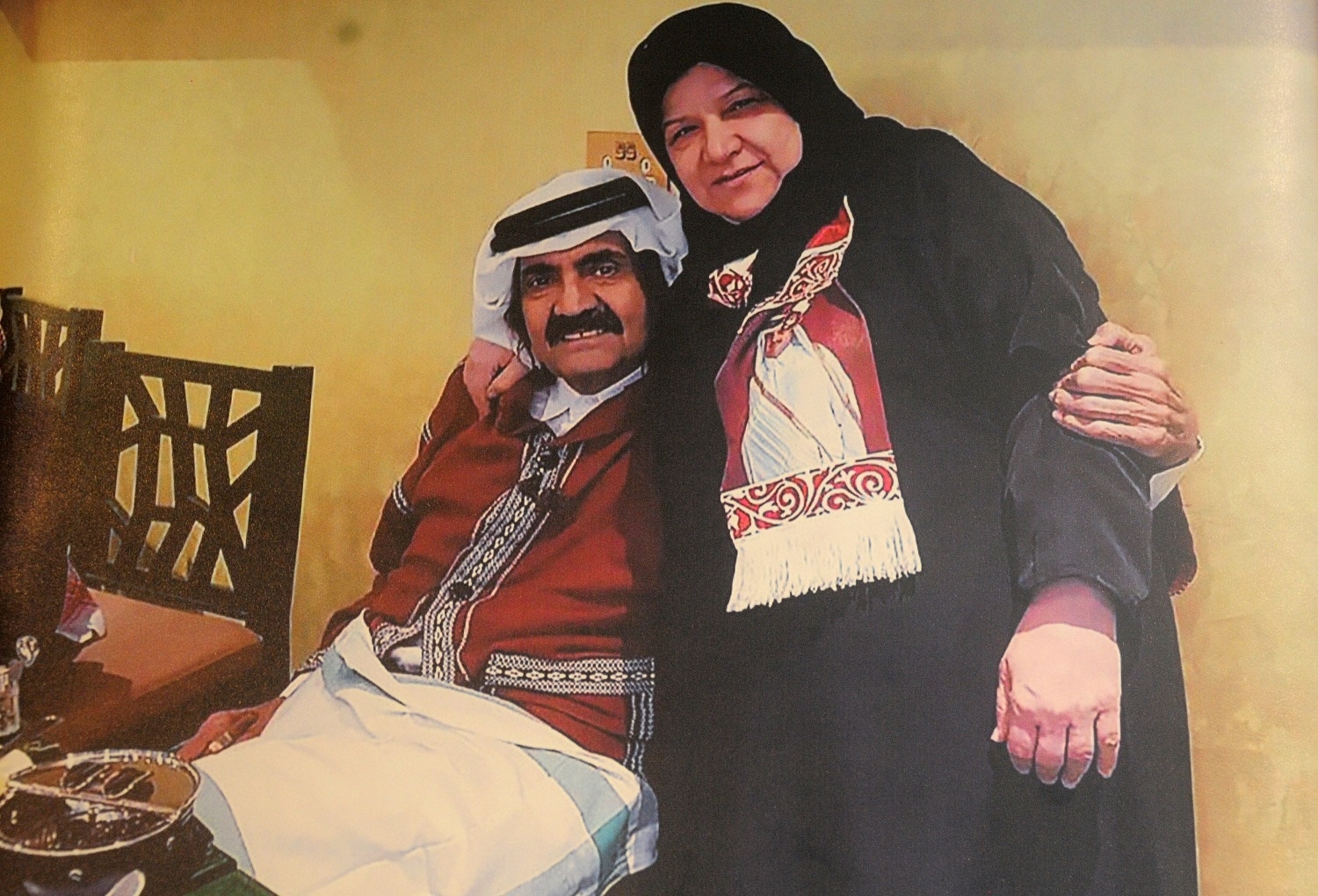 Shams al Qasabi, owner of Shams Al Shamoosh restaurant with the former Emir of Qatar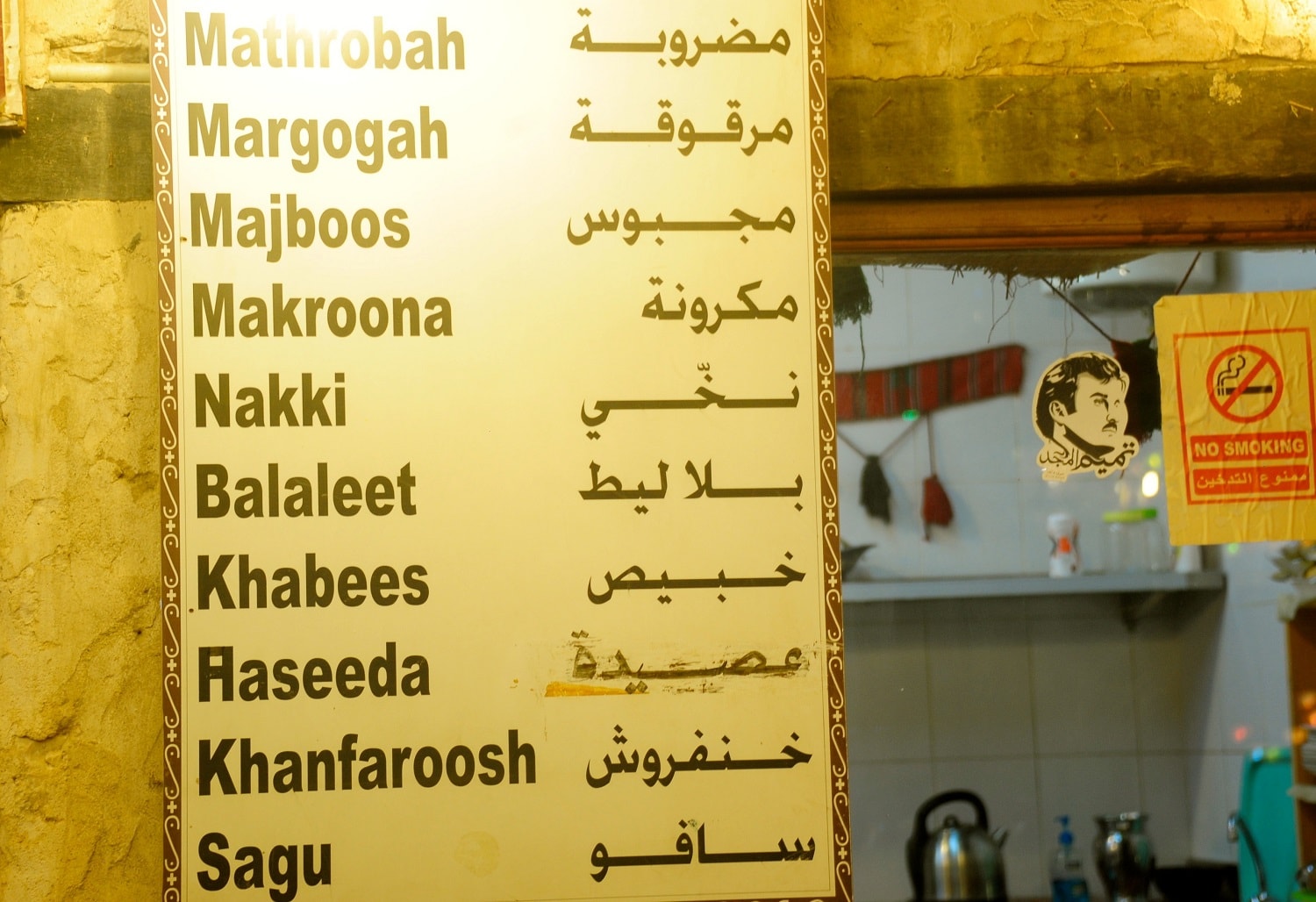 Menu of a Qatari restaurant in Souq Waqif