From Ai Weiwei's porcelain to a recent Baroda school graduate's beeswax to a chronicler's recording of evidence on conflicts, India Art Fair this year pushes traditional boundaries of practices
Two years after passing out of Baroda University's faculty of fine arts with a master's degree in painting, Bhagyashree Suthar is at the India Art Fair for the third time as a participating artist. Thanks to a Focus section year, Suthar has the entire space of the Akara Art Gallery at the fair for herself. "This is my first time as an artist in focus," offers Suthar, whose newest work at the fair is a painting that combines maths and nature to show the architectural monumentality of a city. The work, which is based on futuristic architecture, uses plyboard and paper with beeswax to create a cityscape.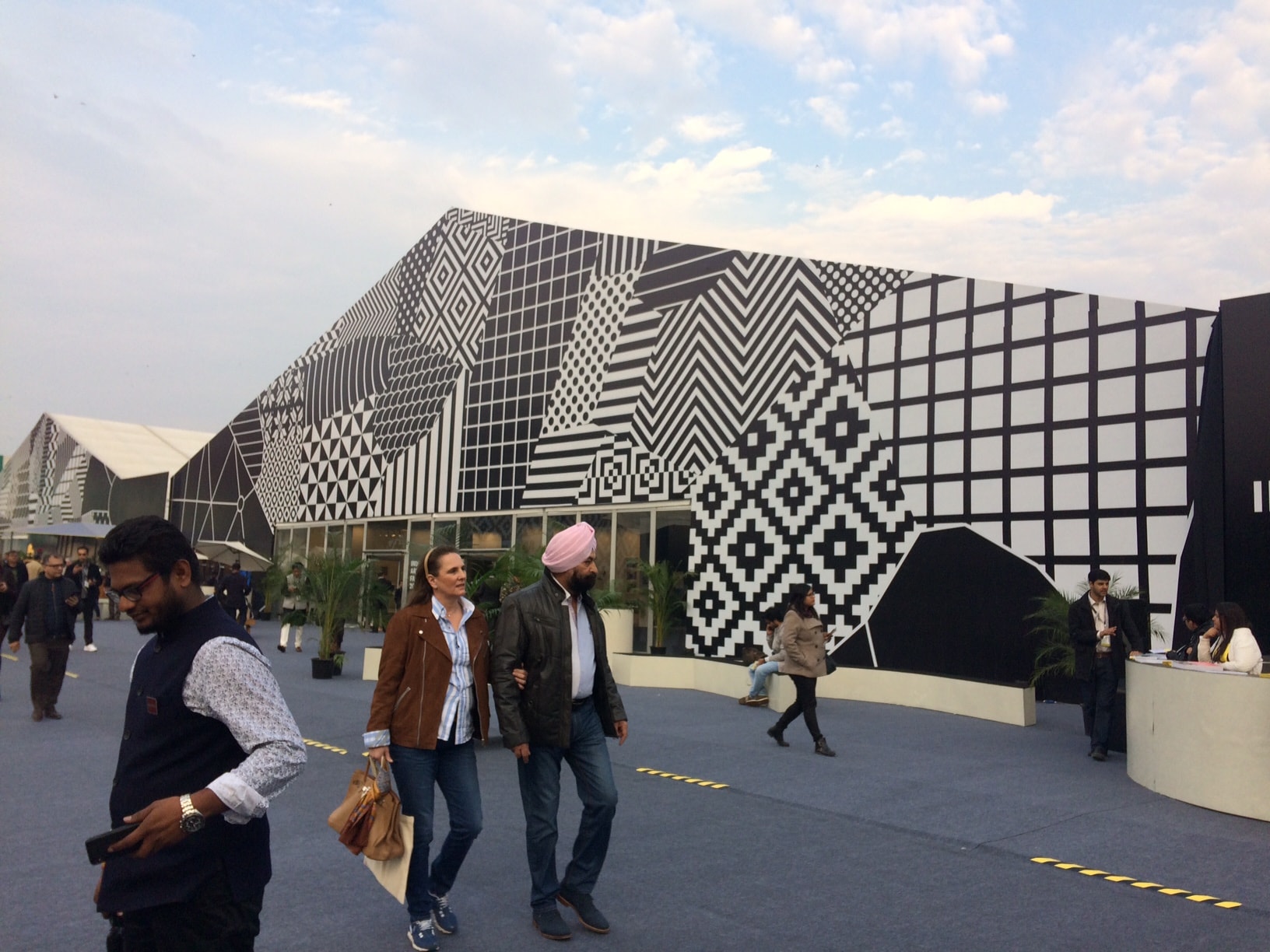 India Art Fair, which is held in New Delhi during January 31-February 3, has 75 exhibitors from India and abroad.
The programming of the Focus section, which has solo presentations of six other artists by participating galleries, puts Suthar in the illustrious company of sculptor and architect Satish Gujral, Venice biennale participant and Pakistani artist Aisha Khalid, and Delhi-based Sumakshi Singh, also in the same section. The level-playing field at the fair, a major event in the international art circuit drawing collectors and gallerists to modern and contemporary art in South Asia, also extends to other sections.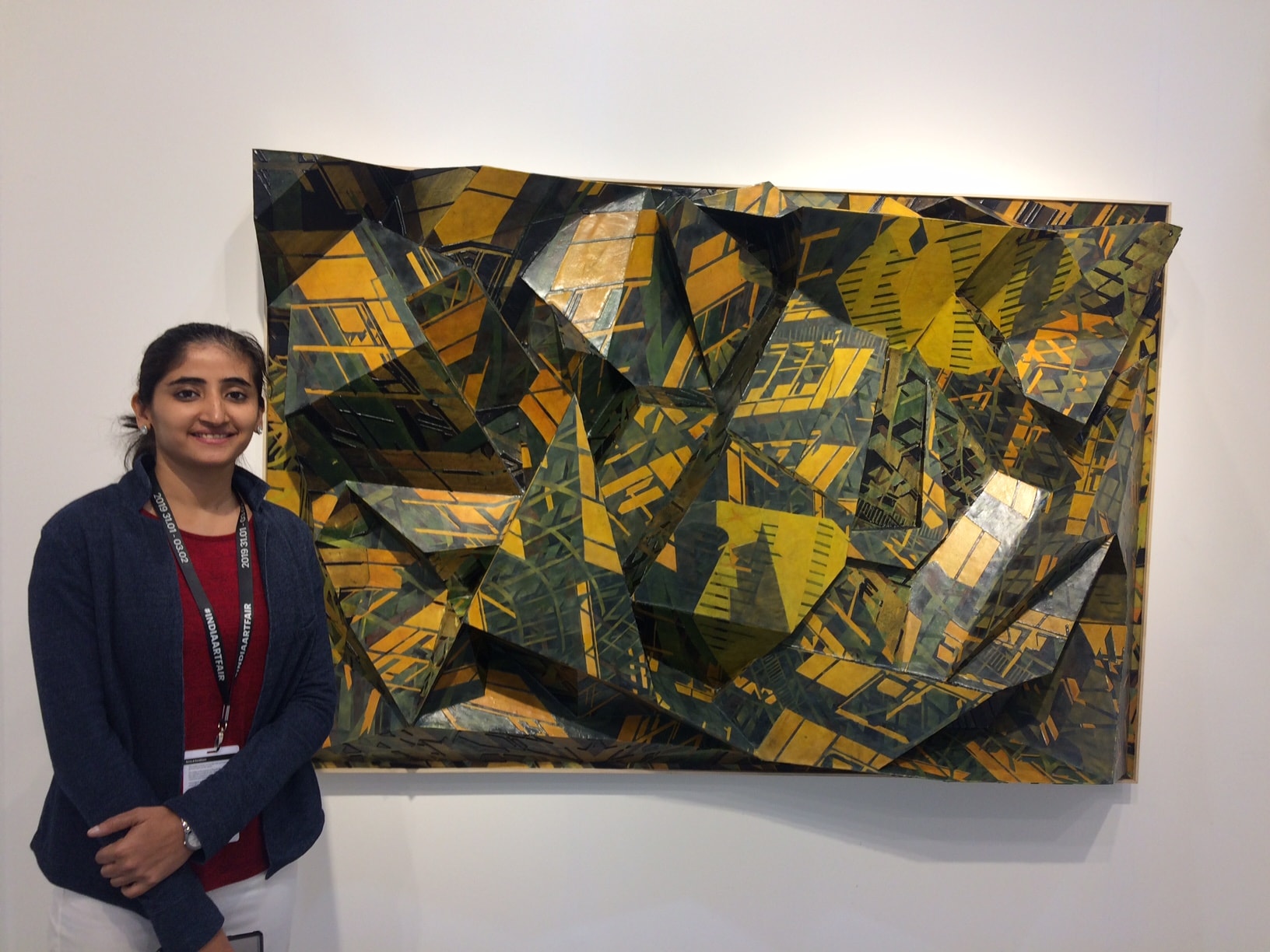 Bhagyashree Suthar, a recent Baroda University post-graduate in painting, is part of the focus section with sculptor Satish Gujral and Pakistani artist Aisha Khalid.
Locating Witnesses
In the Art Projects section, self-trained painter Baaran Ijlal's installation, titled Sound Room, aims to create witnesses to things that happen behind closed doors. The Bhopal-born Ijal, who recorded herself first, helps to unburden people from everyday conflicts. "I was a witness to the Bhopal gas tragedy," says the Delhi-based artist, whose installation allows people to sit in front of a mirror and record their accounts anonymously.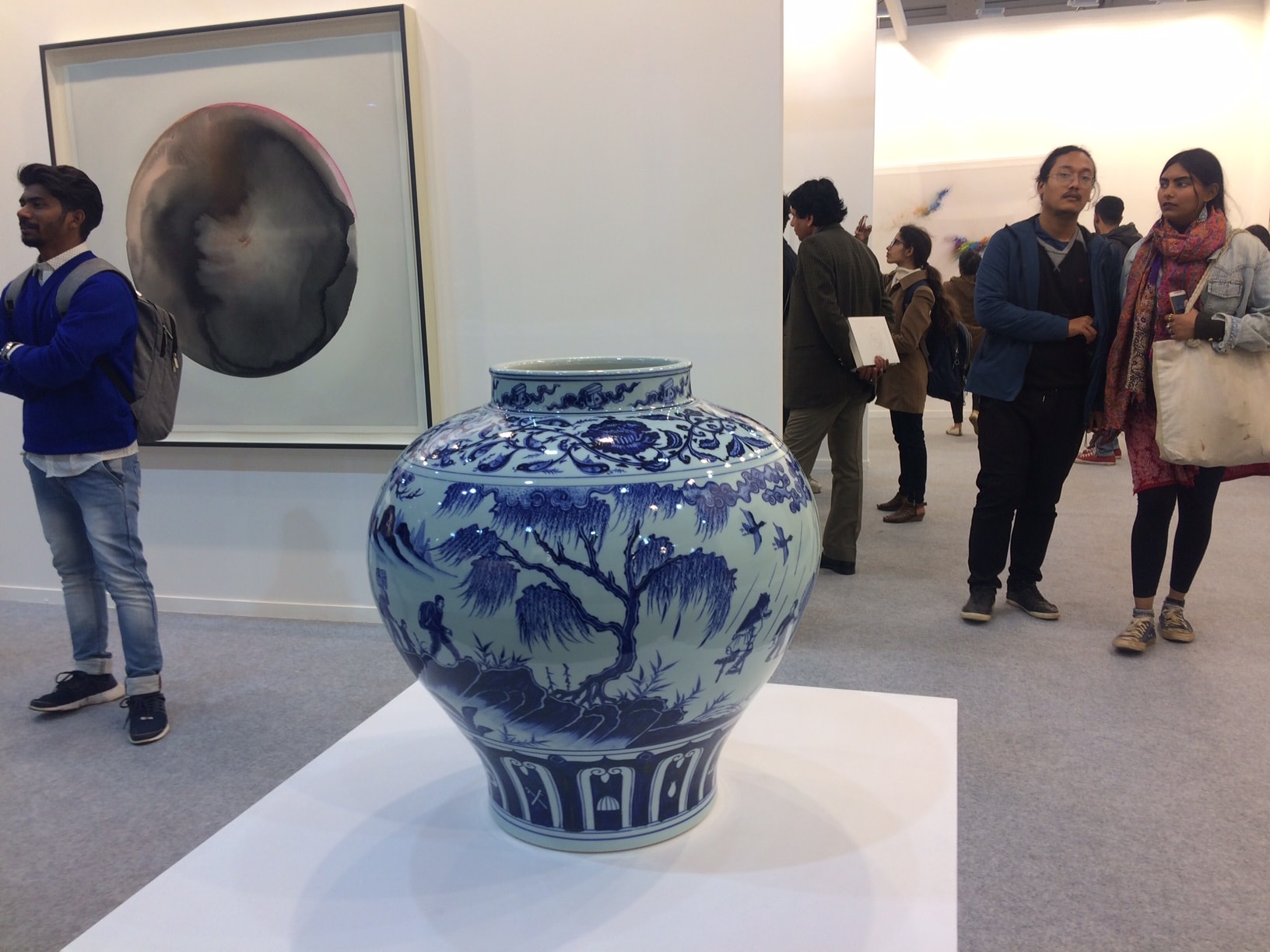 Celebrated Chinese artist Ai Weiwei's porcelain vase work, titled Journey, shows a caravan of people traversing a tough terrain.
While it is her first project for Ijlal, the section also has famous artist K M Madhusudhanan, a Venice Biennale participant in 2015, whose lighthouse installation at the fair focuses on last year's murder of a man from a tribal community in Kerala's Wayanad district by a mob for stealing a bowl of rice and the killing of an activist for tribal rights by police half-a-century ago in the same district. Madhusudhanan, also a National Award-winning filmmaker, uses the lighthouse in his native Alappuzha in Kerala, as a metaphor to link the two incidents. "The lighthouse in Alappuzha, which lost its glory after maritime trade shifted to Kochi, stands as a witness today," he says.
Japanese Sokyo Gallery from Kyoto has the work of well know Korean-born Japanese artist Heechang Yoon's large panel, titled Kamogawa River, using pigments made from the river's sand.
New Galleries
A Berlin-based gallery, at the India Art Fair for the first time, has brought a 2017 work of celebrated Chinese artist Ai Weiwei. Titled Journey, the porcelain vase by the artist, whose works reflect social challenges, is among the exhibits of neugerriemschneider, the gallery that also has Swedish artist Andreas Eriksson. "It is the first ceramic work of Ai Weiwei that I have seen," says former civil servant and United Nations diplomat Virendra Dayal, who was among the visitors on the first day of the fair, which opened on January 31. Ai Weiwei's work shows a caravan of people, young and old, some wounded, some in crutches painted around the vase, reflecting the journey of migrants and refugees. "It is about human endeavour and freedom," adds Dayal.
K M Madhusudhanan's video installation in the Art Projects section of the fair uses a lighthouse as a reminder to attacks on tribal rights.
At the Sokyo Gallery from Kyoto, Japan, another first-time international participant, well known artist Heechang Yoon's large panel, titled Kamogawa River, drew large crowds. The Korean-born Japanese artist, who used fired sand from Kamogawa river in Japan with ceramic power to create his artwork, is a new introduction to the Indian art market. "He has plans to use sand in the Ganges for his work," says Sokyo Gallery director Atsumi Fujita. Yoon, who has also made pigments using the sand from the Thames river, is a well recognised artist in Europe, having participated at Art Basel, Switzerland, between 2011 and 2015. "We are the first gallery from Japan to participate in India Art Fair," says Fujita, who is aiming to introduce mainly Japanese artists, besides American and British to the Indian market. "Indian art market is growing," she adds, "We want to be here."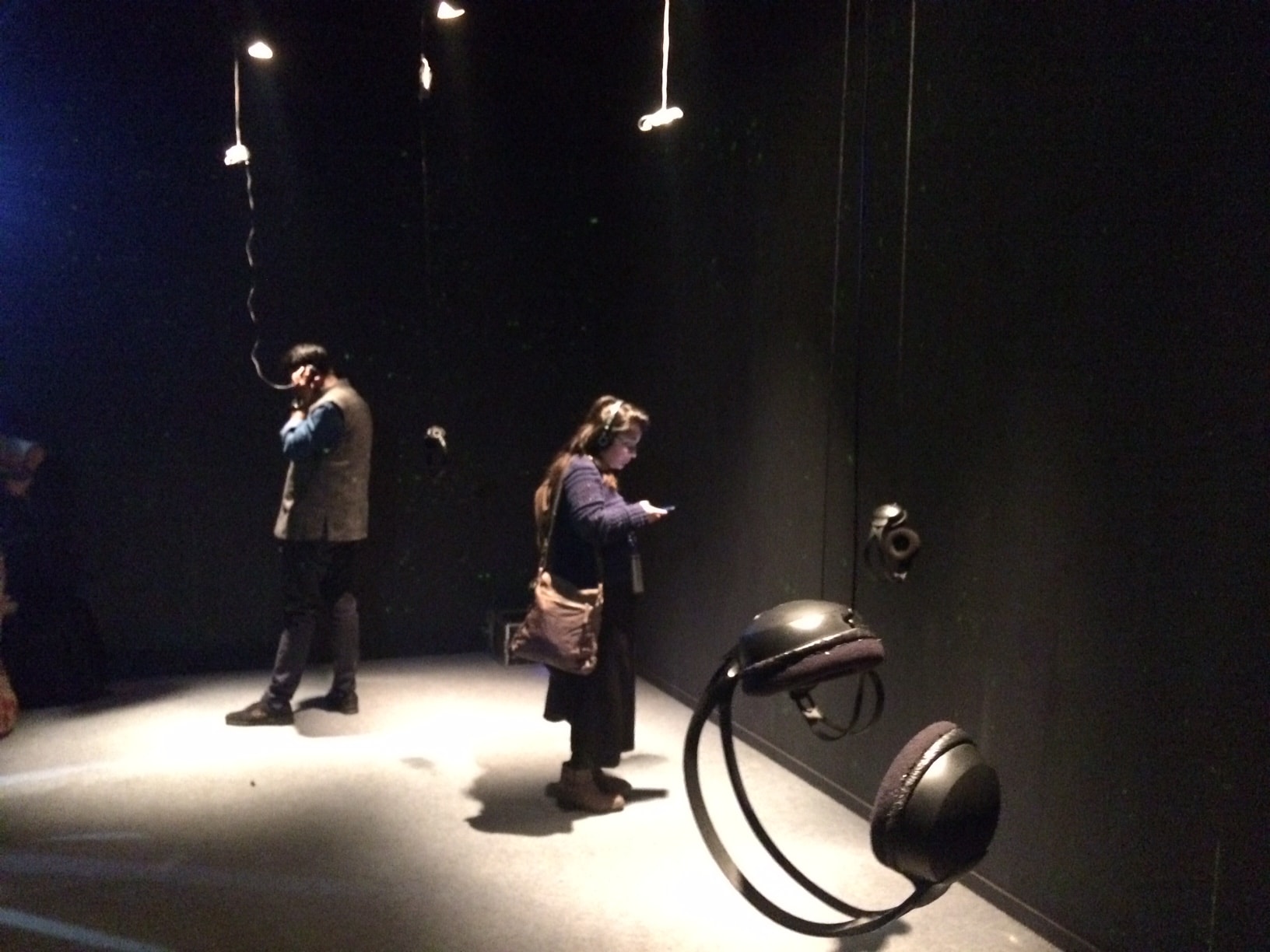 Bhopal-born painter Baaraan Ijlal's sound installation, Change Room, chronicles evidences of conflicts.
Nature and Self
Tribal Art Forms, a collaboration between two contemporary galleries -- Exhibit 320 and Blueprint12 -- have brought artworks from the North-East. "It is the first of its kind show where the focus is not on the ethnographic aspect of North-East India, but on the arts of the region, in particular, the strong sculptural element," says Minhazz Majumdar, who has curated the collected, Hornbills Dream. Lanu Pongen, an artist from Nagaland, uses wood and hornbill feather in his work, titled Hornbill In a Storm.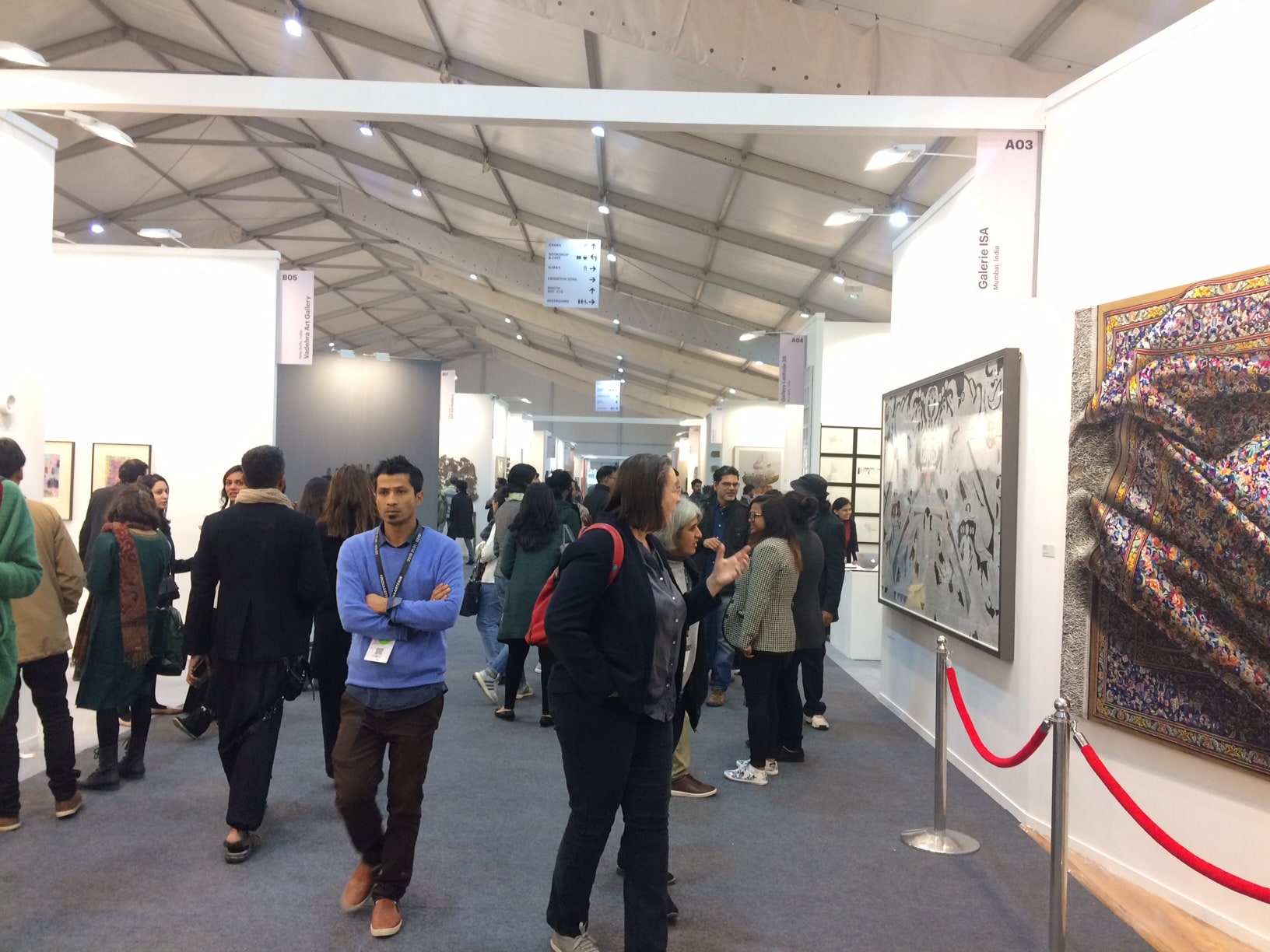 India Art Fair at the NSIC Exhibition Grounds in Okhla is a major event in the international art calendar.
Prajjwal Choudhury, another artist in the Focus section, uses water colour on paper for his one-and-half-year project, an autobiographical work. A master's degree holder from Baroda University in print-making, Choudhury's works show his own and his wife's images to talk of body and self. "It is about my fear of death, and life," says the artist, whose works are curated at the fair in a solo presentation by Gallery Lattitude 28. In one of his works, Choudhury cuts 100 layers of papers to create the dimension of space.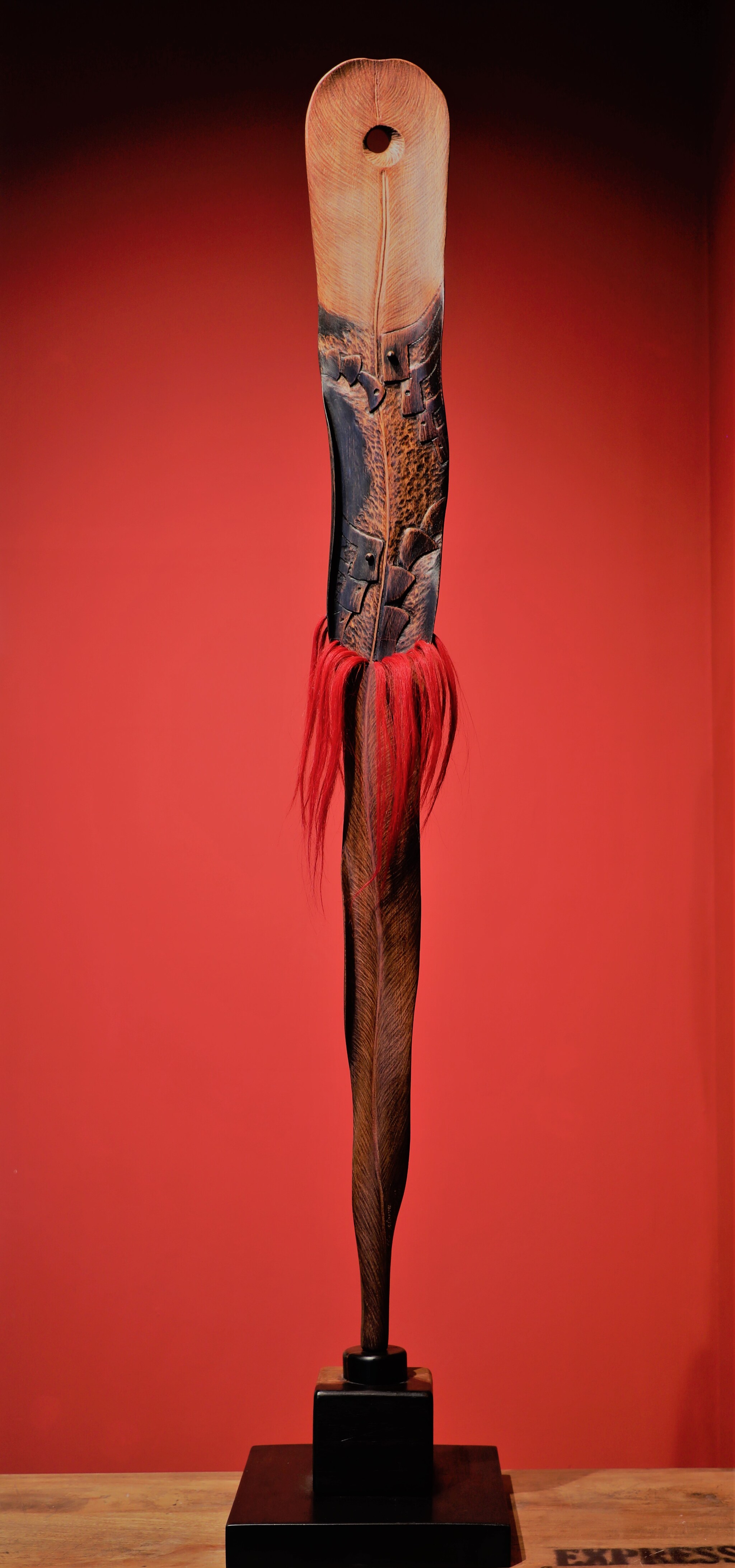 Nagaland sculptor Lanu Pongen's work, Hornbill In a Storm.
When All Roads Are Gone, an installation by New York-based designer Ghiora Aharoni in the Forum section for younger artists, has a vintage taxi meter with video screens on both sides showing images of the artist's rides in autorickshaws in the last 12 years to Varanasi, Sanchi, Nizamuddin in Delhi and Mattancherry, Kerala. The places are all sacred sites for Hindus, Buddhists, Muslims and Jews, in an allegorical excursion where cross-cultural pilgrimage paths become one. "One of the ideas I want to challenge is the idea of linear time," says Aharoni, whose work creates the existence of past, present and future in a equal space.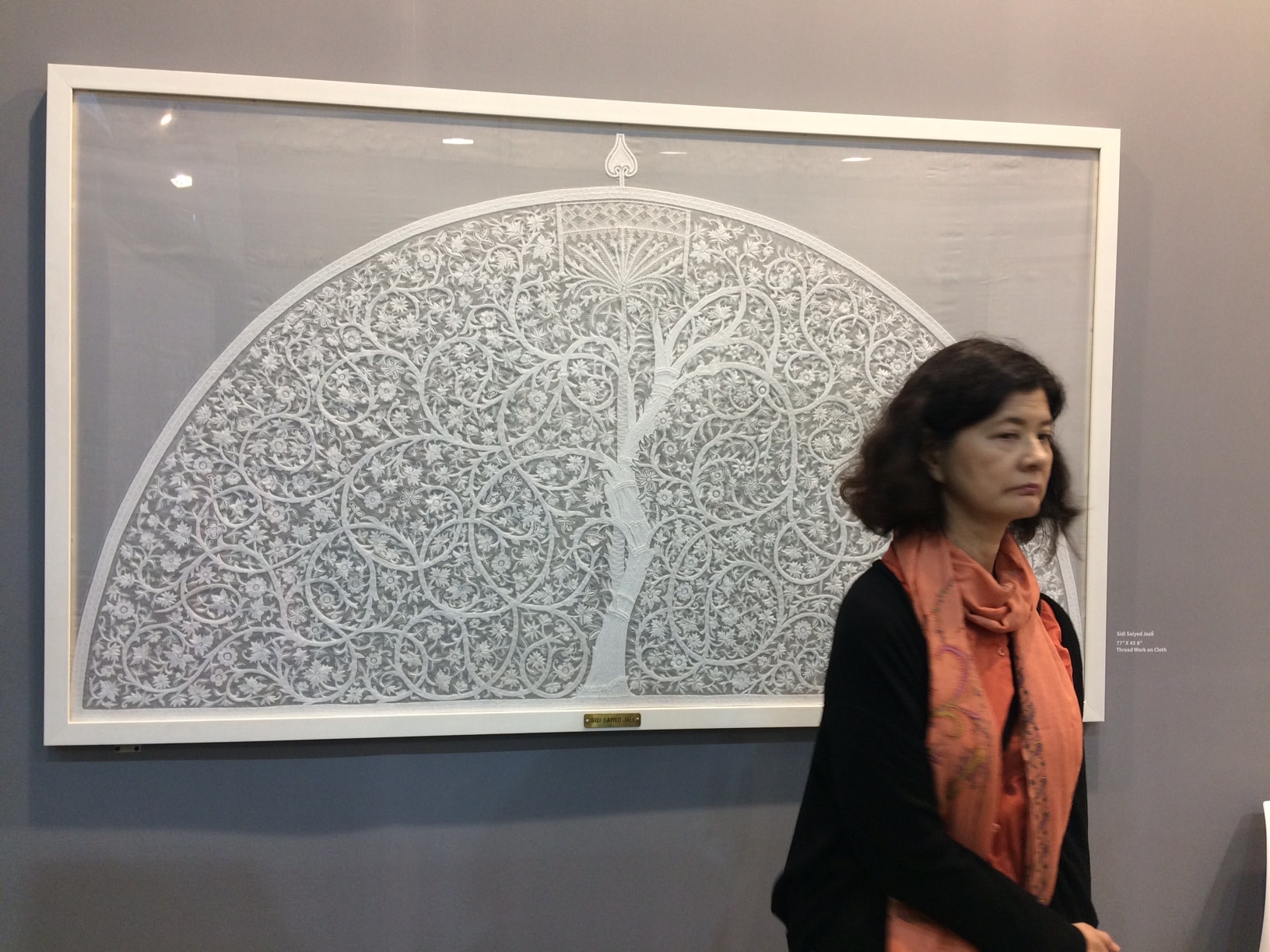 Expressions in Silk, designed and conceptualised by Sneha Sheth.
"We are committed to making artists central to the discussion and debate," says India Art Fair director Jagdip Jagpal. "Modern and contemporary South Asian art remains the focus of the fair with 70 per cent of the floor space dedicated to Indian galleries," adds Jagpal. The fair, which began on January 31, will conclude on Sunday.
Faizal Khan curated Freedom Field, a selection of five films on football in the Artists' Cinema section of the fourth Kochi-Muziris Biennale in Fort Kochi, Kerala
First Published: Feb 2, 2019 4:00 PM IST