The fine dine segment is buzzing, and how!
From Chef Amninder Sandhu's 'return to the roots' cooking at the award-winning Arth in Mumbai and Pune, where she also serves gold-leafed lamb shanks, to her forays into experimental Mexican food.
Chef Vikas Seth's introduction of Aztec cuisine at Sanchez in Bangalore; the debut of Michelin chef Adriano Baldassarre's Perbacco in The Lodhi, Delhi; Dubai's progressive Indian dining, Trèsind Dubai's debut in Mumbai; to Iranian and Levantine food finding takers in India and an exciting new restaurant opening by Rahul Akerkar, who remains top-of-his-game, 2019 is already proving to be a game-changing year.
Michelin chef Adriano Baldassarre.
We canvas India's dining scene for the hippest, of-the-moment trends, chefs and cuisines.
Michelin-Starred Chefs Have Their Eyes On India
Last week, everyone who is anyone in Mumbai made their way to British chef and restauranteur Marco Pierre White's lavish 'two dinners and one brunch' at St Regis, Mumbai.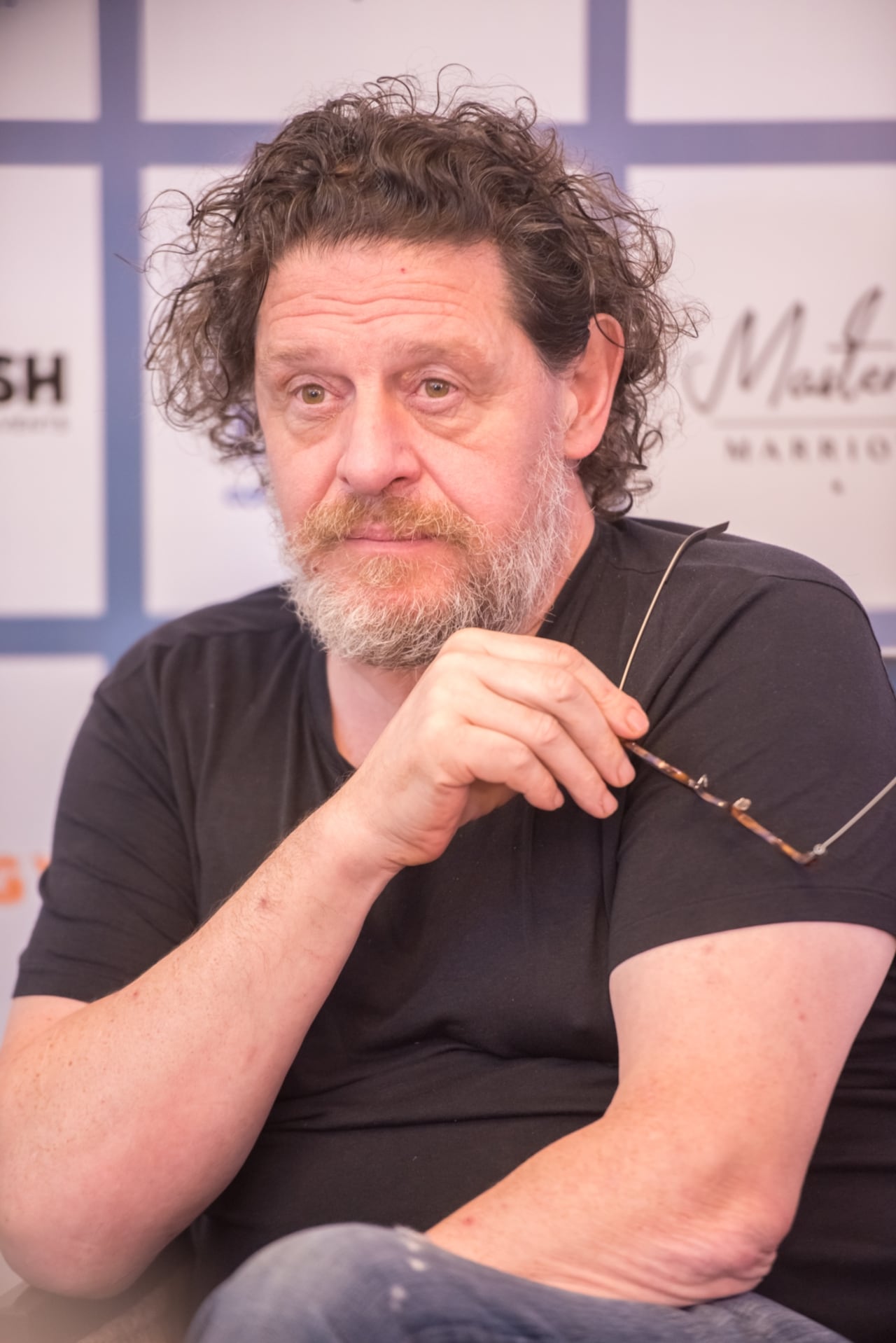 Marco Pierre White.
An iconoclast of global dining who famously renounced his three Michelin stars awarded to his eponymous London restaurant, and refused to send Michelin inspectors to his Singapore outpost, made his way to Mumbai for the annual 'World on a Plate' fest, backed by Pernod Ricard. The setting was a ballroom decorated with lilies and chandeliers, where Chef White dished out classics such as wild mushroom risotto, a delicious pumpkin soup, Croustake of Eggs Maintenon, and his signature Bread and Butter Pudding, served with classical French custard. He hosted a masterclass, judged and awarded the best Indian restaurants, and set the ball rolling for more Michelin starred chefs coming to India. Along the way he discovered sambhar.
Taking permanent residence in India is 40-year-old Adriano Baldassarre's chic trattoria, Perbacco, set to open in the next month. Baldassarre, who has collaborated with chefs such Giorgio Locatelli, Heinz Beck and Antonello Colonna, won the Michelin for his Rome-located restaurant Tordomatto and launched his second restaurant, 'Trattoria l'Avvolgibile' recently. Italian food, much like Indian and Japanese food, has a high umami quotient and flavours that whet one's appetite. "Italian food is usually considered bland but that is an incorrect assessment. From Tuscany to Sicily, the food is very flavourful with lots of garlic, spices, cheese, olive oil thrown in," says Baldassarre.
Celebrity Chefs And Global Brands
Chef Rahul Akerkar, who left Indigo (which has, by now, shut down), a few years ago, will open Qualia, a space where "you can roll your sleeves up and dig in" he says. It sports an open-air kitchen and offers an immersive, interactive dining experience. A preview of the menu includes succulent roasted pork belly with pickled baby root vegetables, creamed green apple choucroute and mustard bourguignon sauce; and pan-roasted mackerel, charred cauliflower, cauliflower puree, caramelised fennel and salsa verde with capers, mint and preserved lemon.
Global Brands Enter India
Dubai's Trèsind, a progressive Indian fine dine, which is also going to New York, took a detour to Mumbai's BKC last month. The restaurant serve modernist Indian cuisine, paired with amazing spirits in a bar that puts out its entire list on display. Designed in colours of gold and silver, Trèsind offers experiential dining. "The focus is on the authenticity of flavours, but the presentation is contemporary," says Vice President of the group, Zamir Khan.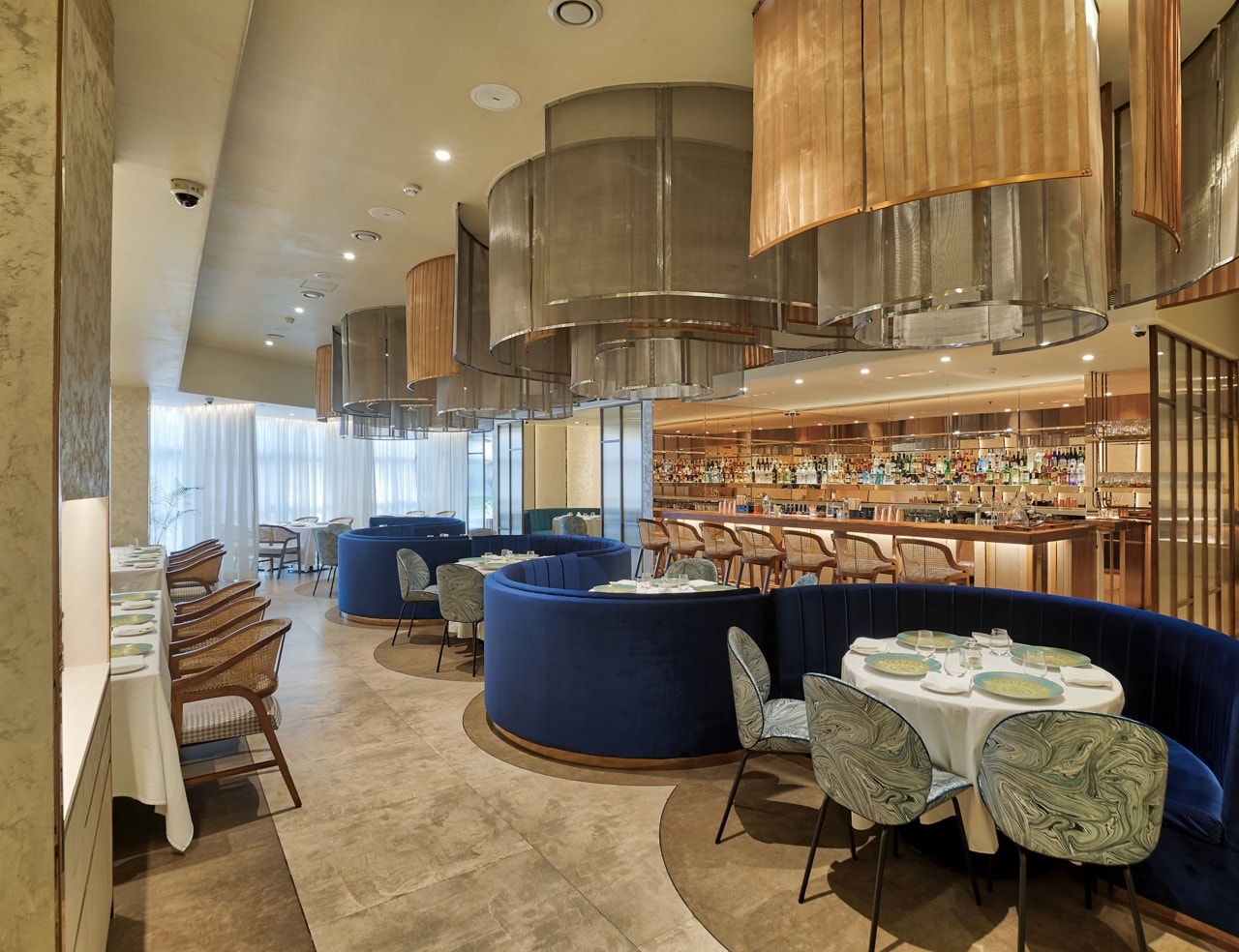 Trèsind, Inspire BKC, Mumbai.
The restaurant's Tasting Menu is a symphony of flavours. "Trèsind serves food with Indian flavours but often made with French techniques. We have also adapted some French-style services, such as the concept of guéridon/trolley service." The dish that is served on the trolley in the tasting menu is the Birbal ki Khichdi with 26 toppings, which are drawn from the different states of India.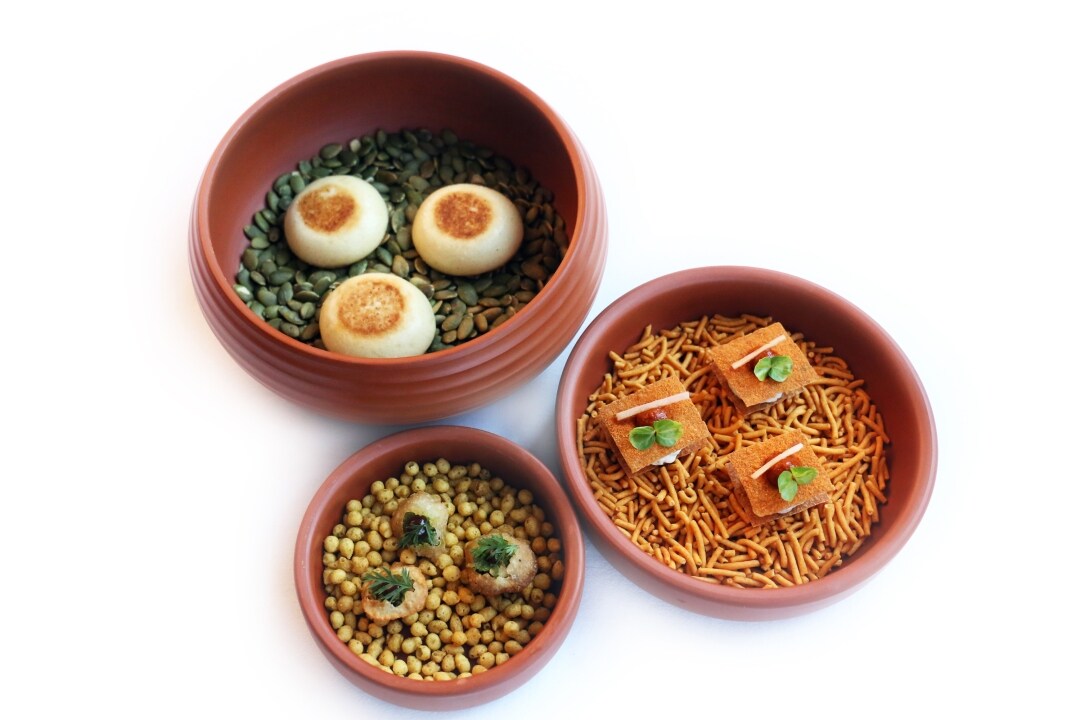 Interpretation of dabeli, dahi kebab and pani-puri sorbet at Trèsind.
The Chef's Tasting Menu includes gourmet experiments such as a watermelon rasam; paneer cafreal; Family Picnic or a particularly scrumptious channa pindi and the northern icon, Misi Roti, which come in tiffin boxes; and Lamb Khari.
New Zealand Lamb Barbacoa at Sanchos.
The main menu is also interestingly experimental: a tangy Dal Chaat (jeera tart, dal mousse, lentil tapenade); an innovative Kebab and chutney (tandoori portabella steak, molcajete chimichurri chutney); Lamb Chops (New Zealand lamb chops, rosemary vindaloo and ghee roast potato); and the quirkily named Morel Science (tandoori morel, lababdar curry, truffle oil tadka).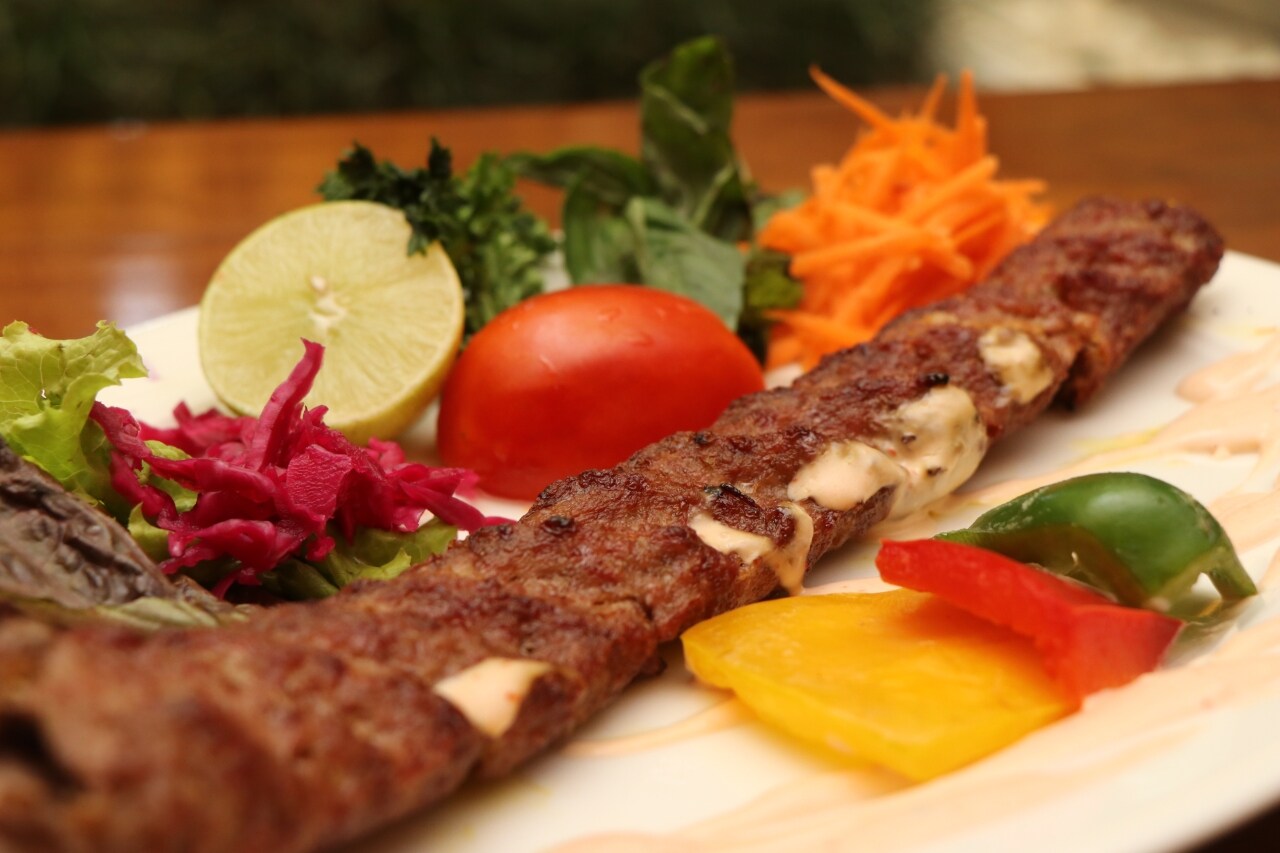 Kebab.
New Flavours, New Cuisines
At Sanchez, his fine dine in Bengaluru which is spreading its tentacles across the south city in 2019, Chef and Culinary Director at Lounge Hospitality, Vikas Seth has introduced Aztec flavours and Mexico's rich culinary legacy. "The menu introduces diners to dishes that are beyond tacos and nachos." Among Chef Seth's popular dishes at the various Sanchez restaurants is the iconic Guacamole or velvety dip of fresh avocado, made live, on the table, using the traditional lava stone carved Mojacates with options ranging from traditional, charred pineapple, smokey chipotle charred corn and black beans.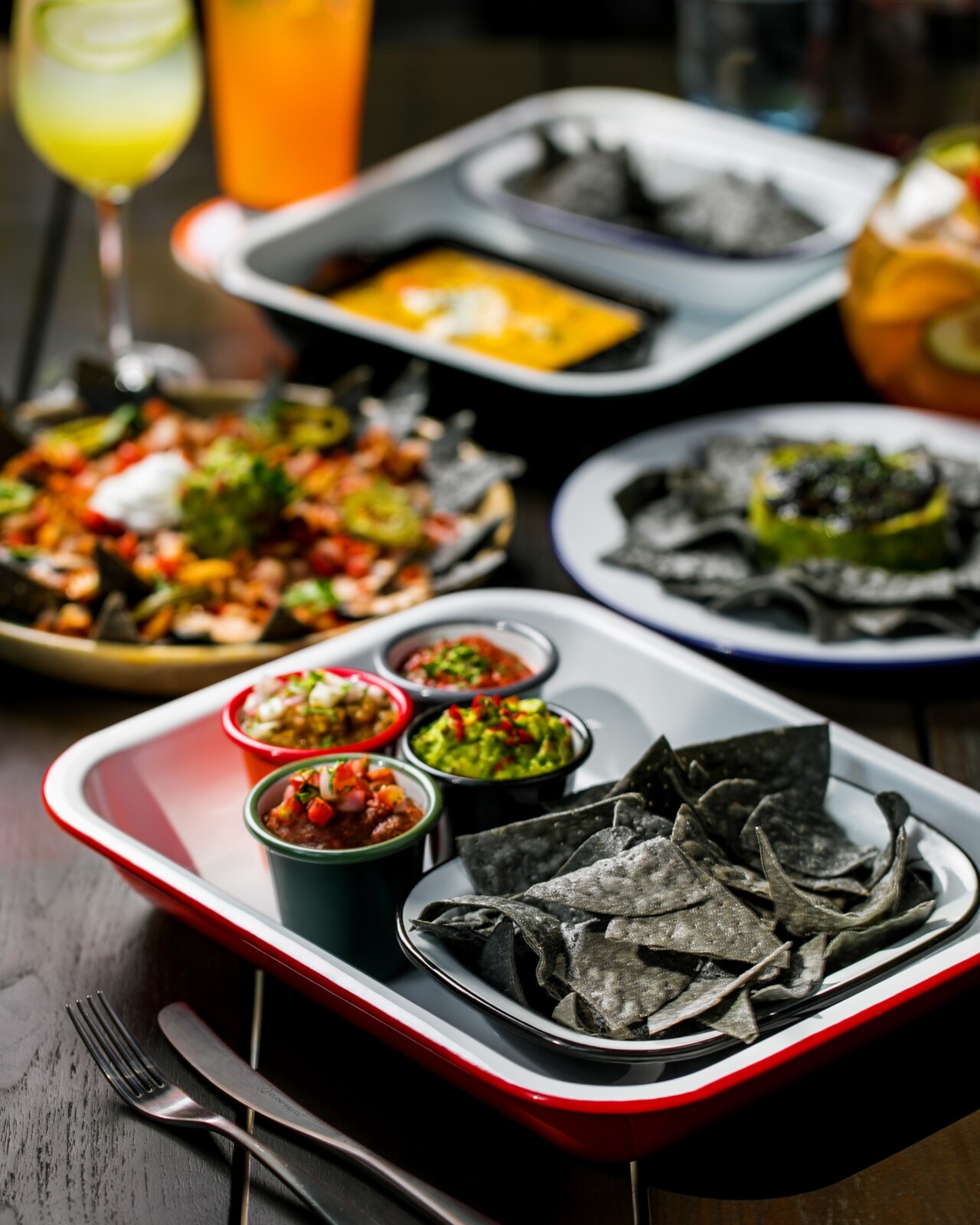 Food at Sanchez in Bangalore.
Oriental Shrimp Nest, or his twice International award-winning dish—first at the European Seafood Exposition in Brussels and then at Boston Seafood Show, has premium quality shrimps tossed in spiced oyster sauce and cilantro, skewed on the sugarcane stick quilted with shredded filo pastry, deep fried and served on a gooey bed of sweet-chili dipping sauce in short glasses. And not to forget, Wild Mushroom Purple Dumplings, quilted in natural purple skin made of red cabbage juice, wheat and potato starch, with a mélange of mushrooms, shitake, oyster and button mushroom.
Chef Amninder Sandhu, known for her 'back-to-the-roots' cooking at Arth, recently brought to India LA's 'taco-king,' Chef Esdras, who introduces Ochoa flavours of Northern Mexico with an LA flair at Sancho's in Mumbai. The two met while filming Netflix's cooking series 'The Final Table'. Chef Ochoa is the founder and Executive Chef of Mexicali Taco & Co. in downtown Los Angeles. The focus at Sancho's is on fresh ingredients, Mexican spices and tacos of all kinds.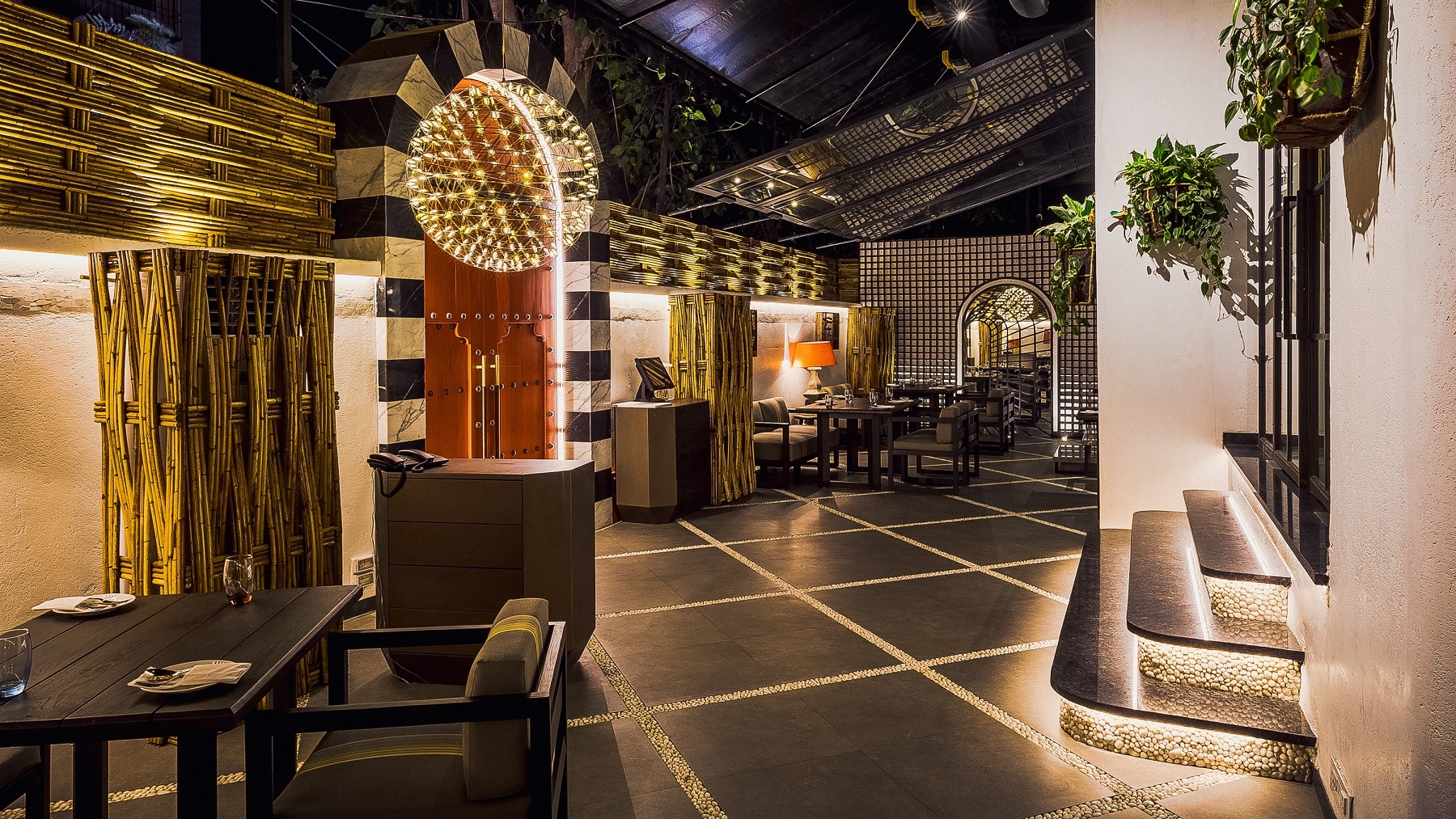 Sanchos.
"We're importing some key ingredients from Mexico such as Queso Cincho and Chile Moritas so that people can experience the taste and culture of the country," says Esdras. Some unusual options include TostaditasTinga (braised chipotle pulled chicken or cabbage, sour crema, avocado and aged cotija cheese); Papas Con Carne (braised lamb, hand-cut fries, lamb jus, fried-egg and truffle oil), Nachos Reventón (veggies, chicken or shrimp toppings), and Ensenada Fish Taco (beer-battered red snapper, chipotle mayonesa, salsa arbol, cabbage and pico de gallo on a handmade tortilla).
Mumbai's Rue Du Liban introduces Mumbaikars to Levantine flavours, a cuisine on which Phoenicians, Turks, Lebanese, Jews and the French have all left their mark. Arja Shridhar, Director & Co Partner of Indianapoli Hospitality, "I fell in love with the food from The Levant, during my trips to the Eastern Mediterranean, Beirut in particular, which is known as the Paris of Middle East". Indianapoli, the restaurant's parent company's tie-up with The Tasty Kitchens has offered them access to one of Lebanon's foremost chefs, Athanasios Kargatzidis.
"Levantine cuisine, from countries such as countries like Syria, Israel and Jordan, has a lot of healthy vegetarian options, salads and grilled meat. You order five to six dishes and tuck in," says Sridhar. Interestingly, Levantine food is vegetarian-heavy and its century-old recipes include Hommos Beiruty (chickpea purée topped with marinated cherry tomatoes, spring onions and olive oil); Moutabal (Beetroot or roasted beetroot puréed with tahini, topped with pistachio and olive oil); Mouhamara (a sweet and spicy blend of roasted red peppers, harissa, pomegranate molasses, walnuts and olive oil(; Wark Inab B'zeit (vine leaves stuffed with rice, tomatoes, parsley and onions); and the Shanklish (aged and dried Levantine cheese coated in dried thyme and mixed with cherry tomatoes, onions and parsley).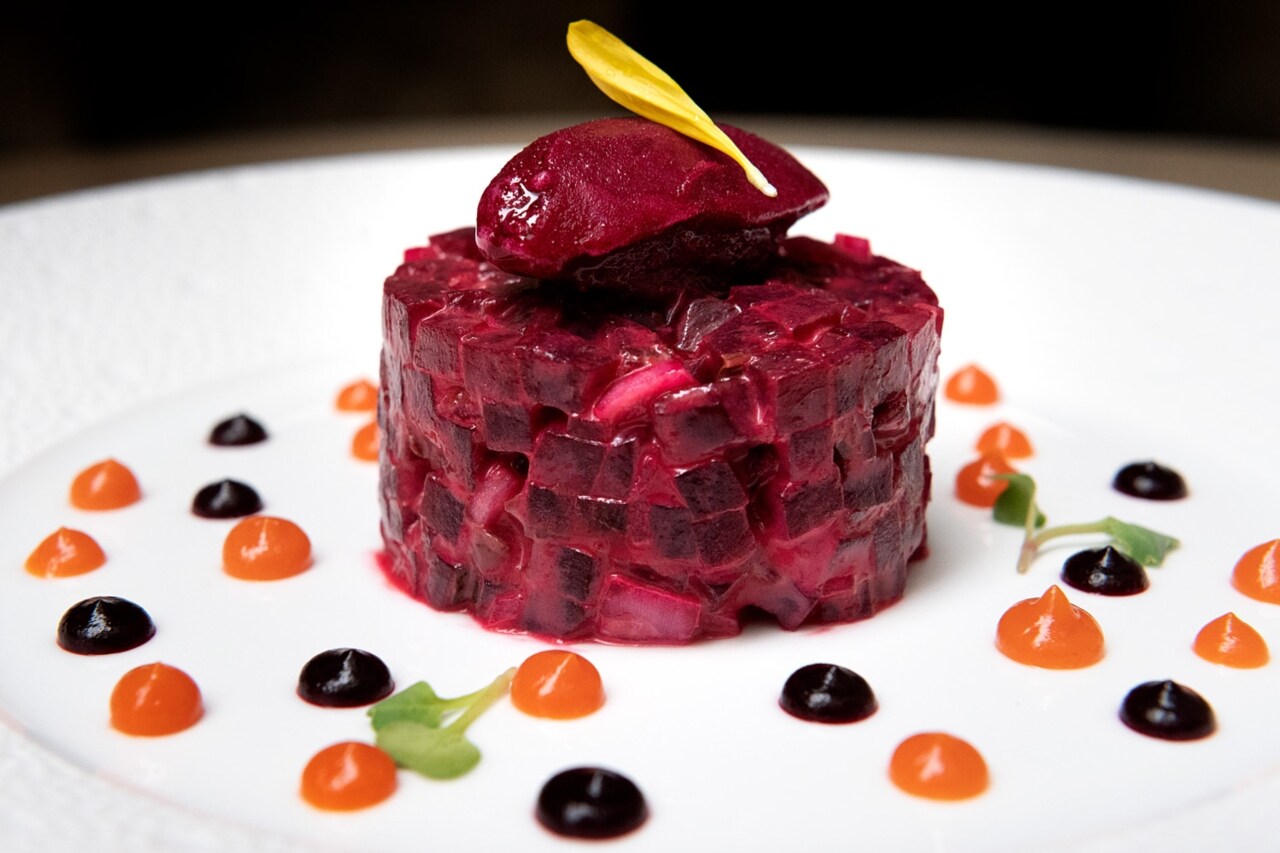 Beetroot Tartare - Perbecco.
Chef Feridoun Sohrabi Shahsavar, a veteran of several luxury hotels such as Hyatt Regency in Dubai, who also runs Abshariranian in Dubai, brings his tradition-meets-modern Iranian cuisine to Set'z in DLF Emporio. He blends Iranian ingredients with noodles to create new dishes. It offers an option to dine on the traditional Ash Reshteh (Resteh noodles, mixed herbs, red kidney beans and nokhod or stew chickpeas); Shirazi Salad (Tage or Iranian heritage chicken served with cucumber and tomatoes) and Halem Bademjan or minced lamb, cooked with fried eggplant and sundried yoghurt. The unusual Jujeh Kebab has chicken coated with Persian saffron margination.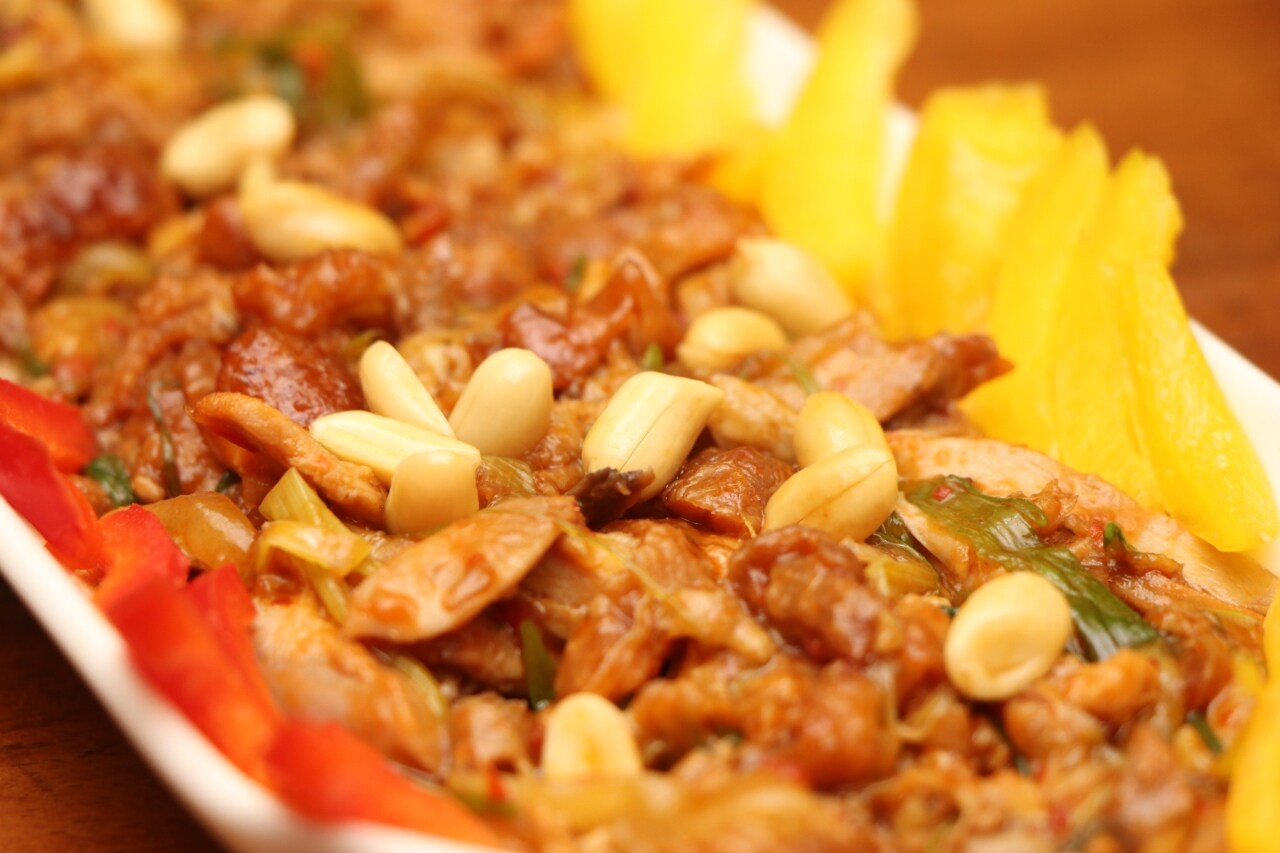 Kashko Bademjan.
Mock Duck is On-Trend
Chef Hunaxi Yan, who took over Dashanzi in JW Marriott Juhu, Mumbai, has introduced mock duck at the restaurant, made using wheat gluten, oil, sugar, soy sauce and salt. Mock Duck is totally on-trend across the world, which is increasingly going vegan. Across the world, vegan cuisine and mock meats are finding several takes, says Chef Yan, and we thought of introducing it at the restaurant. Check Yan marinates his mock duck with oriental flavours of hoisin sauce, soy sauce, red wine vinegar and honey.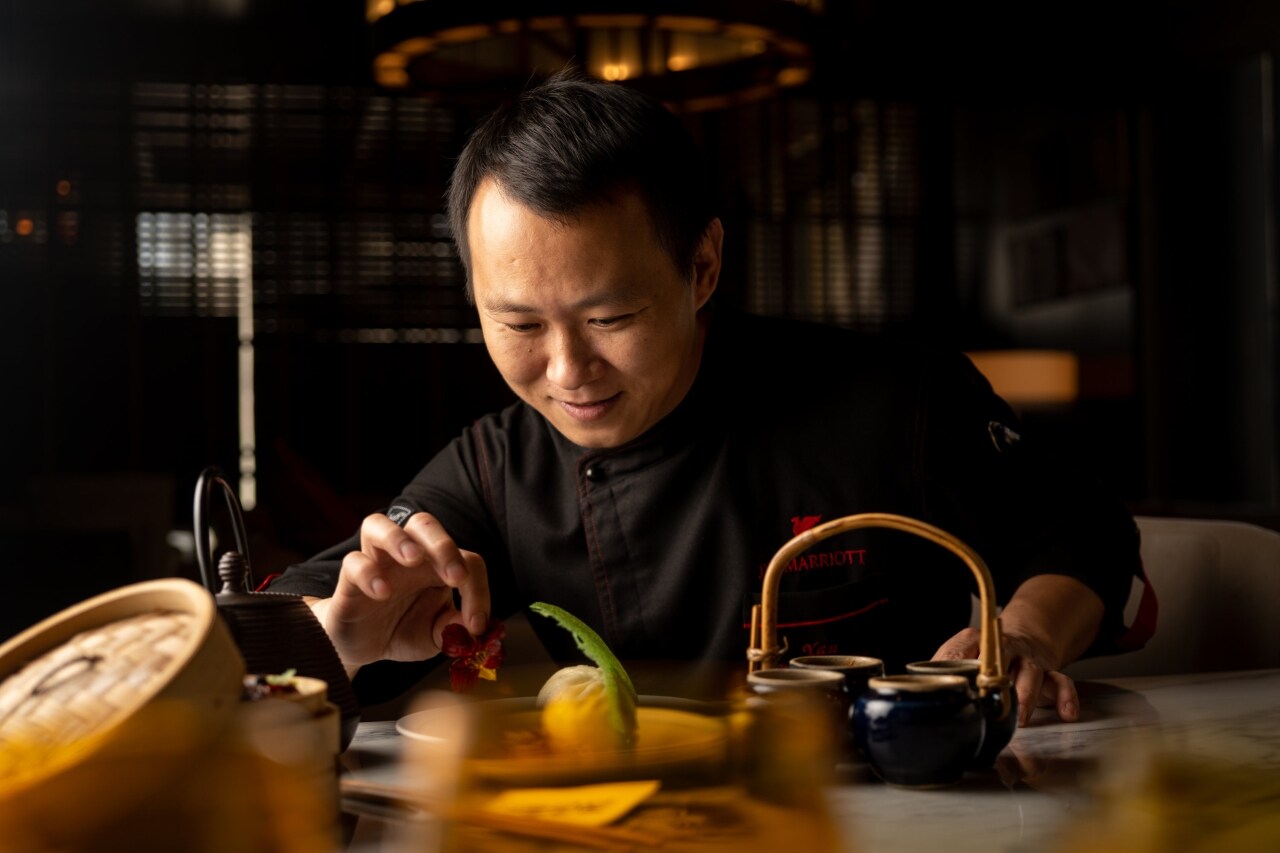 Chef Hunaxi Yan.
(Picture courtesy: Deepali Nandwani)