Following the government's initiatives over the last year to revive the sugar industry in the country, sugar companies have reported a strong fourth quarter numbers, an indication that the Centre's measures are bearing fruits.
Almost all sugar companies reported strong Q4FY19 numbers backed by sugar business and additional revenues coming from their distillery and ethanol businesses.
The government took a several measures to revive the industry over the last few years. To pare down arrears, the Cabinet approved subsidy of Rs 5.5 per quintal to cane farmers on May 2, while the minimum support price, or MSP was raised from Rs 29 to Rs 31 per kilogram.
The government permitted revision of the price of ethanol derived from B-heavy molasses/partial sugarcane juice. Post the government intervention, ethanol prices hovered between 43-59 per litre.
The Centre also provided subsidies to boost sugar exports.
The higher MSP played a big role in helping the sugar mills turn their earnings before interest and tax (EBIT) positive in Q4FY19.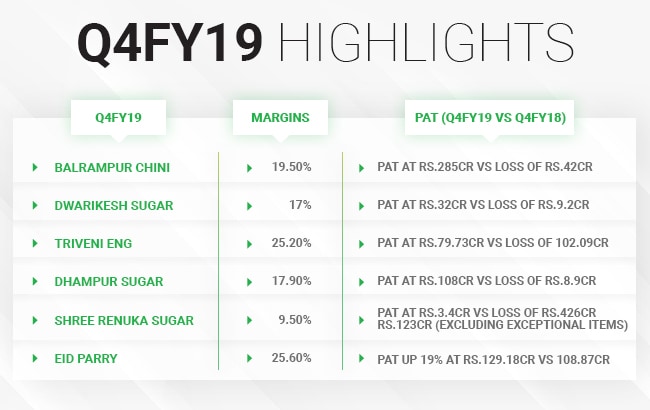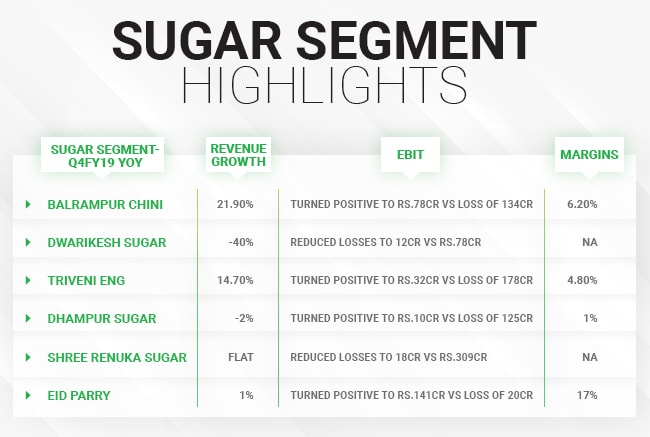 The Way Forward
In terms of sugar production, 2018 was a record year, with the industry registering a growth of almost 60 percent, resulting into higher opening and buffer stock, as well as lower prices.
Sugar mills suffered losses due to lower prices and higher production. After the announcement of the government measures, sugar companies started benefiting from the last quarter for their sugar business.
However, the industry faces an all-important question — is growth sustainable going ahead? The answer is still not clear but some indicators suggest that in the near term outlook is good for sugar producers.
Positive Indicators
Ram Vilas Paswan's continuation as the minister of consumer affairs, food and public distribution in Narendra Modi's second term as prime minister will ensure the continuity of policies and reforms from the National Democratic Alliance's first five-year term, while higher MSP will continue to hold prices above the levels of Rs 32.5 per kilogram.
The prediction of a weak monsoon by various weather departments may lead to lower sugar plantation which will help the mills clear their stock.
However, one setback that sugar mills will likely encounter is the Uttar Pradesh government's approval of the draft policy on reducing power prices. UP state electricity board has come out with a draft report where they are asking to cut the per unit power price from Rs 4.8 to Rs 2.9 per unit.
The draft policy, if implemented, will have a big impact on the sugar companies. Currently, all sugar producers are enjoying profits from their power segment but it may not be the case if the policy comes into effect.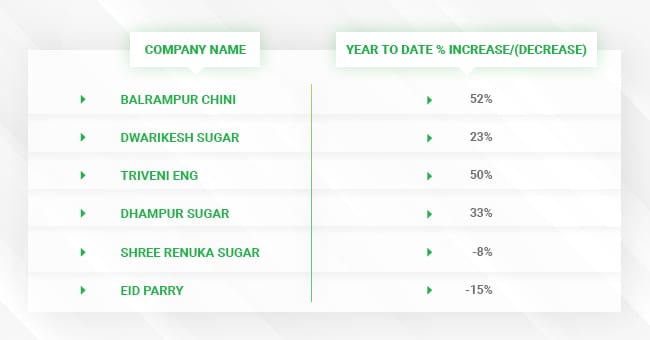 Most indicators suggest sugar mills will continue on the upward trajectory as their recent stock performances have shown. Except for Shree Renuka Sugar and EID Parry all sugar companies have shown positive growth in the past year.