On Friday, a plane registered as VT-IUA took off from Hamburg for New Delhi to join the ballooning fleet of IndiGo. This marked the 52nd time
IndiGo bumped up its fleet this year
. This is also the first of the several A321neos that the airline will fly. IndiGo has 205 planes in its fleet, which comprises 126 A320ceos, 65 A320neos and 14 ATRs, with VT-IUA being the first A321 and 206th plane.
With the newest plane, IndiGo, India's largest carrier by domestic market share and fleet, has leapfrogged to the sixth position by fleet in Asia. The airline ended the last calendar year with 153 aircraft, which included 32 A320neos and 3 ATR 72-600s.
At an average induction of 1 aircraft per week in 2018, IndiGo is poised to overtake ANA, AirAsia Bhd, and Emirates in size of fleet. AirAsia group, which operates in Malaysia, Thailand, Indonesia, the Philippines and India, has 252 planes, Dubai-based Emirates has 260 and Japanese carrier ANA operates 232 planes.
IndiGo's fleet size pales in comparison to Chinese carriers, which lead the fleet in Asia. China Southern has 601 aircraft, China Eastern flies 525 planes and Air China has a fleet size of 410.
IndiGo recently converted a sizable order of 125 A320neo planes to A321neos. That takes the total order for the A321neos to 150. Airbus offers the A321neo in multiple variants, including the standard type – A321N, A321NX and the A321neoLR.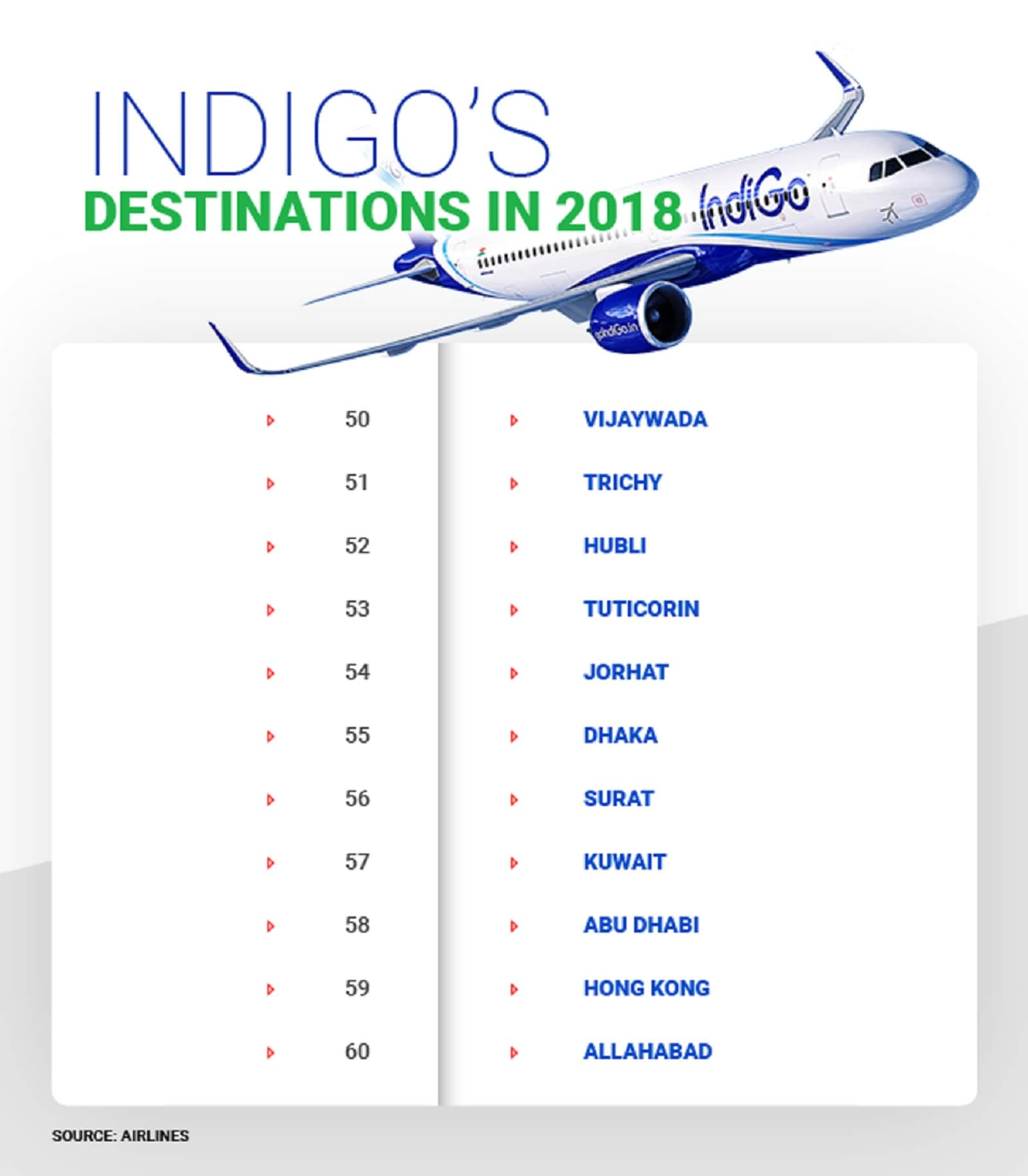 IndiGo has opted for the cabin flex configuration offer from Airbus. The new second over-wing exit replaces the second door pair in front of the wings, which has helped increase capacity to 240 seats from 221. IndiGo's first A321 is equipped with 222 seats.
This increase is without any additional crew cost because at least five cabin crew members would be required for either 221 or 240 seats. The manufacturer will also offer the A321neoLR (long range), which aims to have a range in excess of 7000 km with nearly 200 seats.
Following the LR will be the A321XLR, which boasts of a range of 9,300 km. These two sub types will fill up the middle of the market demand, which is hitherto being fulfilled by the Boeing 757 planes and existed primarily in Europe and America but has graduated to Asia as cheaper flights, burgeoning incomes and a large population looks to fly direct to places farther away. The airline has the flexibility to choose the sub-type of the A321neo at a later date since it involves additional AFT (Auxiliary Fuel Tanks) based on the version.
While IndiGo has seen a rapid fleet growth, the destinations it serves are dwarfed by those of its competition. The airline today is operating or has announced flights to 67 destinations, which include 15 international ones. The A321neos could propel IndiGo to the big league in terms of destinations as well.
Preparing for the A321s and subsequent expansion, the airline launched a flight blitzkrieg in 2018, introducing flights to Colombo, Dhaka, Phuket, Male, Kuala Lumpur, Kuwait, Abu Dhabi and Hong Kong. Domestic expansion continued unabated with the launch of new stations such as Allahabad, Surat, Hubli, Rajahmundry, Tirupati, Vijaywada, Jorhat, Tuticorin and Trichy. For an airline that launched less than 50 stations in its 12 years of existence, the 17 new destinations in a single year indicate IndiGo's renewed ambitions to expand and quickly at that.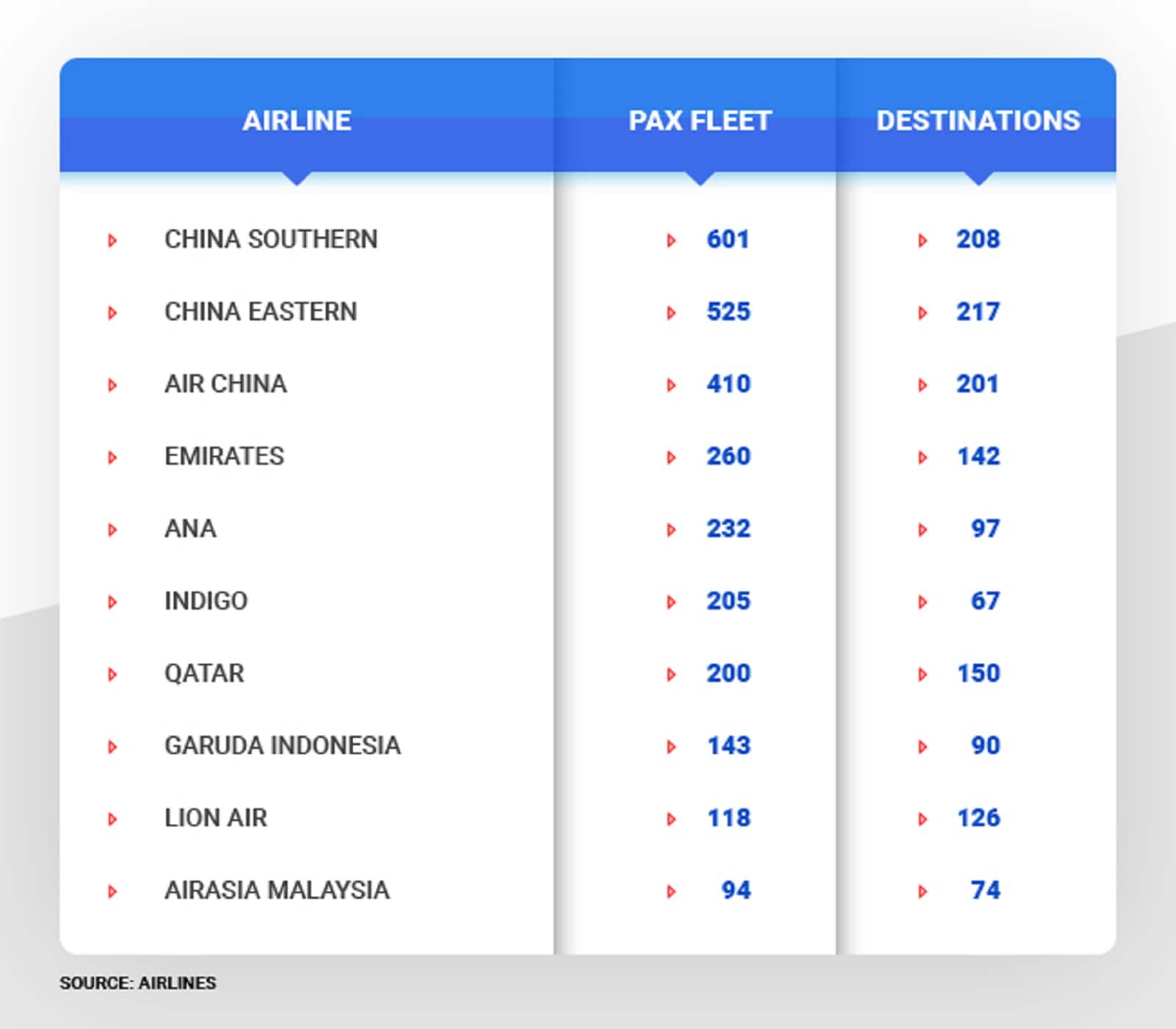 However, this kind of expansion comes with its own set of challenges. India is short of talented manpower in the crew department. The regulator has increased the notice period of captains to one year. Though this will help IndiGo as the market leader as it stands to lose fewer pilots to competition, it also stops pilots from competition joining its ranks.
This problem looks trivial when compared to the larger infrastructural problems. With 200 plus aircraft, the airline parks only four planes at Mumbai, fewer than rival GoAir, which is only a fourth its size.
IndiGo has time and again failed to get night parking slots at Mumbai, owing to congestion and lack of bays. With most of the major metro airports full, the airline has looked at opening up bases far and wide and at times, rotating aircraft the entire night by swapping it only for maintenance purposes.
Say, the night parking problem is solved, IndiGo will still have to grapple with where to fly the planes — because lack of slots is another issue. There hardly is any room for growth at most of the top 10 airports in the country.
A handful of these airports are operated by the armed forces and have restrictions in place either for operating hours or something else. They include Pune, Chandigarh and Goa, all popular with businesses and tourists alike.
This situation has forced the airline to look for uncanny routes. IndiGo now operates flights between Kochi and Guwahati, Guwahati and Amritsar, Chennai and Udaipur, among others, which were hard to think off a few years ago.
The A321s will be used for a two-pronged strategy by the airline. One, it will offer more seats for flights in existing sectors. Two, it will launch medium-haul international services to cities that have a sizable demand from India. The first looks seemingly easy but has challenges in execution. They include ability to swap, handle over-bookings and delays.
The international services poses bigger challenges, part of which are being resolved with codeshare agreements. Last week, IndiGo announced an arrangement with Turkish Airlines for 20 destinations beyond Istanbul. The airline has been eying flights to London with a stop in Baku or Tbilisi, but the one- stop flights could be hard to sell when British Airways, Jet Airways, Air India and Virgin Atlantic are serving London with non-stop flights. IndiGo's one-stop flights will have to compete with network carriers such as Lufthansa, Emirates and Qatar Airways.
The international expansion will depend on how IndiGo can effectively seal codeshare agreements but it will certainly help the airline return to routes like Delhi–Singapore, which were on the outer envelope of the A320ceo range and restricted the cargo carrying capacity due to winds in winters.
While the range would enable flights to Manila or Jakarta from New Delhi, the A321neos come fitted with the Pratt & Whitney engines that have affected the A320neo planes. IndiGo has been one of the worst affected by engine troubles, as it was forced to ground several planes in the recent past. The aviation regulator has not allowed Extended Diversion Time Operation, or EDTO, operations (any operation by a plane with two or more turbine engines where the diversion time to an en-route alternate airport is greater than a prescribed threshold time) for the A320neos yet due to the frequent engine issues. The same will continue with the A321neos.
While IndiGo looks to sign more codeshare agreements to have a bigger pie of the international market, it has to contend with the liberal visa policies of ASEAN, which has fuelled the growth for AirAsia and Lion Air.
(Ameya Joshi is the founder of aviation analysis blog NetworkThoughts.)