Shares in Kwality Ltd, a processor and handler of dairy products, have tumbled 28% so far in June, taking this year's share price fall to 77%.
The shares continued their slump despite the management proposing to consider a buyback, bonus and/or interim dividend on June 20 board meeting.
Kwality's management joined CNBC-TV18 on Thursday and shared the following details:
Watch:
Contours of buyback will be announced after the board meet
Stock price suffered earlier due to a fraud in company
Decline in stock price is a matter of huge concern
Confident to see improvement in stock price soon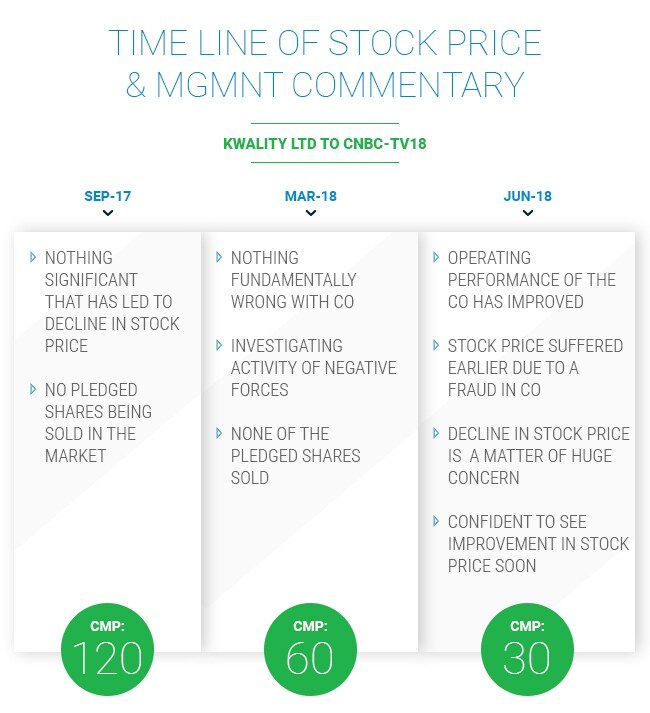 But for Kwality investors, the recent plunge in shares is reminiscent of the past.
At 1:05 IST, shares in the company were down 4.2 percent to Rs 31.90 on the BSE.
In March, the shares hit two consecutive lower circuits, reducing the stock price by nearly half.

During the March interview with CNBC-TV18, the company said there was nothing fundamentally wrong with the firm and that none of the pledged shares was being sold in the market.
The management comments came in the backdrop of another selloff in shares between September 1 and 4, wherein Kwality Ltd lost a quarter of its market capitalisation in quick succession. The shares were trading around Rs 120 per share in September.
If the share price is any indication of the street's verdict on the company's commentary and actions, Kwality has lost 73% since start of September 2017 till date.
Between December 2016 and March 2017, Kwality's promoter stake was also reduced to 54.76% from 64.24% and the pledge on promoters' stake was increased to 79% from 44.07% earlier. The current decline in stock price increases the risk of these pledged shares being sold in the open market.
Going by the current stock performance, investors will surely parse the company's annual report for clues on how much cash the firm holds in books and how much is cheques-in-hand. The company reported Rs 96 crore in total cash and equivalents as of March 31.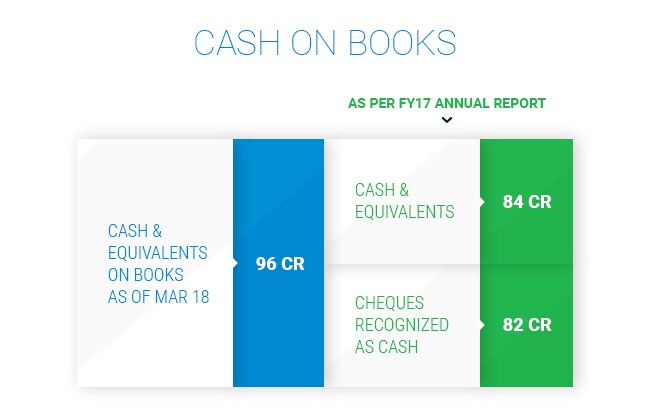 As per 2017 annual report, cash and cash equivalents on books stood at Rs 84 crore of which cheques- in-hand recognized as cash stood at Rs 82 crore.