The shortage of milk in some regions across India has not just caused the likes of Amul to raise milk prices. In certain cases, the consumer is facing 'shrinkflation' — getting less milk for the same price. Why the shortage and is there any light at the end of the funnel?
The shortage of milk supply is another cause of worry for people in India amid mounting woes over the issues of crop damage and restricted water supply in some parts of the country. To address the issue milk shortage, the Karnataka Cooperative Milk Producers' Federation (KMF), which had hiked milk prices, recently resorted to a pragmatic solution.
It has reportedly decided not to increase the maximum retail price (MRP) of a milk packet but offer a reduced quantity of milk at the same price. Earlier, people used to pay Rs 50 for a litre (1,000 ml) of full-cream milk and Rs 24 for half a litre (500 ml). Now, consumers are shelling out Rs 50 and Rs 24 but for 900 ml and 450 ml, respectively, according to an Indian Express report.
The KMF is India's second-largest dairy cooperative in the country and sells milk under the brand, Nandini.
This move to reduce the quantity while keeping the prices unchanged is not new. In economic terms, it is called '
shrinkflation.
' While brands of items such as shampoos, biscuits and soft drinks have already given in to shrinkflation, this is new to milk.
This comes despite the fact that the milk production in the country has witnessed marginal rise by 5 percent in 2021-22 to 221.06 million tonnes, the centre said on Wednesday. This data was released Minister of Fisheries, Animal Husbandry & Dairying Parshottam Rupala in an annual publication named 'Basic Animal Husbandry Statistics 2022'.
Why the milk shortage?
The milk supply shortage has been caused by a drop in production during the summer months, experts said. Bangalore Milk Union Ltd (BAMUL) Head Narasimha Murthy was quoted by Deccan Herald as saying that they are facing a shortage in milk collected from dairy farmers.
Farmers are reportedly selling off their cattle at an increased rate as they are unhappy with KMF's procurement price. "As this trend continues, the shortage will worsen in the coming days," he was quoted as saying last week.
Another BAMUL agent alleged that a technical problem with BAMUL's computer systems is causing a delay in the supply. The report, however, said that not all unions are complaining about the shortage.
Amid this, Karnataka Milk Federation MD B.C. Satish said that this financial year, there was a milk shortage of 7-8 percent across India. This, he said, was due to several reasons, including the outbreak of the Lumpy Skin Disease among cattle.
The COVID-19 pandemic and revival of economic activity also added to the woes of dairy industry. According to an Indian Express report, "higher exports of butter, ghee, and anhydrous milk fat... added to the domestic shortage."
More price hikes
In February, Amul, India's largest milk producer,
announced a price hike on its pouch milk
. Amul Gold full cream milk price was hiked to Rs 66 per litre from Rs 63, whereas the price of Amul A2 buffalo milk was increased by Rs 5 per litre to Rs 70 per litre. The price of Amul Taaza surged to Rs 54 per litre and that of Amul cow milk mounted to Rs 56 per litre.
Here's how dairy stocks have fared on March 15 amid a buzz that milk prices shall continue to rise until October: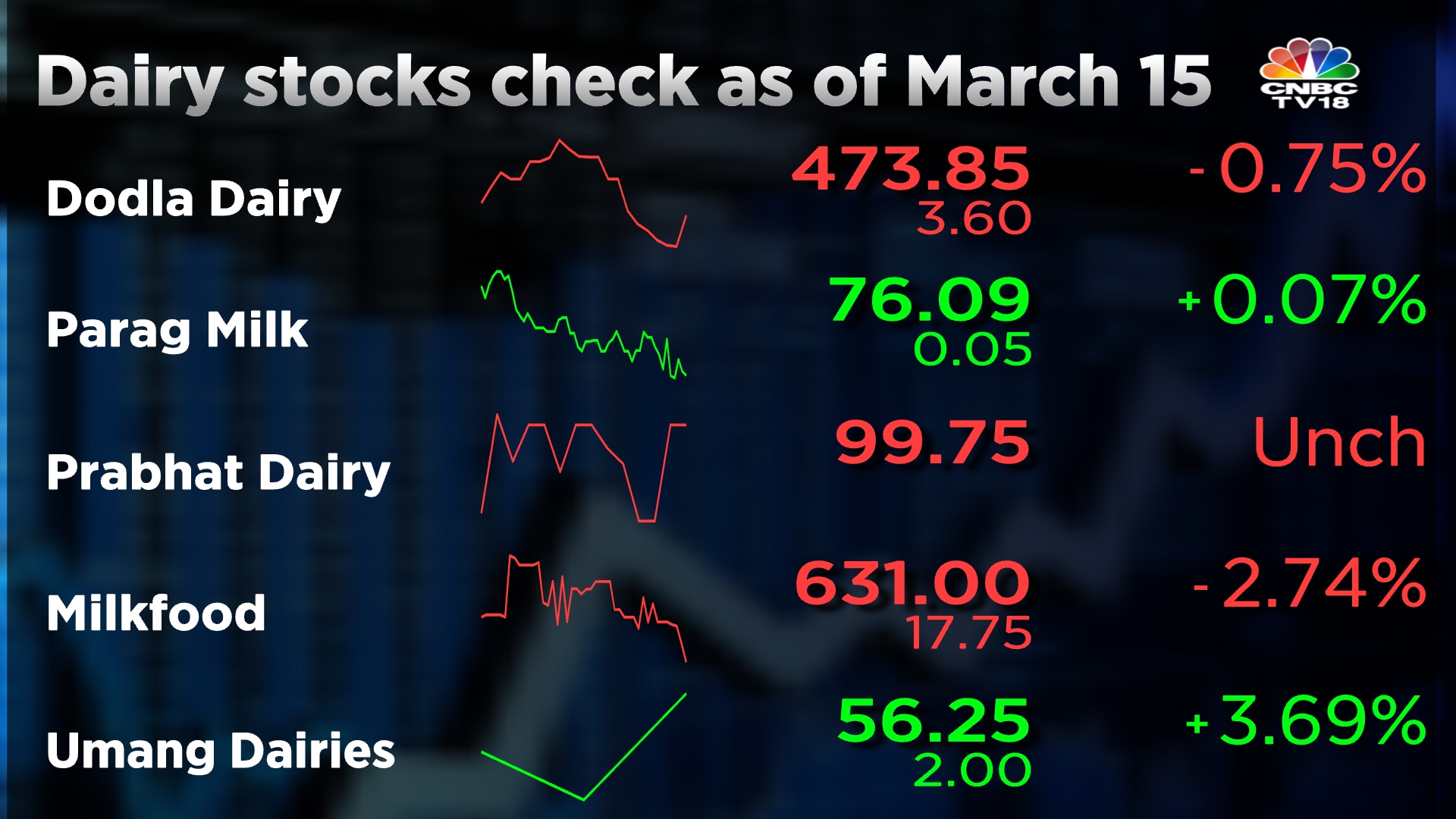 Other reasons for milk price hike
Besides the reasons mentioned earlier, another cause for the price rise is the rising cattle feed cost, raw material and labour costs faced by dairy producers in India. This happened amid the Russia-Ukraine war that sparked a global shortage of grains such as wheat and maize, which are inputs for animal feed.
The production price of animal feed has gone up by 40 percent. Moreover, cost of delivery has also gone up due to rising diesel prices. These factors have pushed many dairy producers like Amul, Mother Dairy to hike milk prices by Rs 2.
In an interview with CNBCTV-18, Sodhi said in February that the profitability of the private dairy sector is currently on the decline due to high input costs, which have increased by 20-25 percent for farmers.
"This has led to a 14-15 percent hike in milk prices over the past year," Sodhi added. Despite this, India still contributes 23 percent to global dairy production.
Top five major milk-producing states in India are Rajasthan (15.05 percent), Uttar Pradesh (14.93 percent), Madhya Pradesh (8.06 percent), Gujarat (7.56 percent) and Andhra Pradesh (6.97 percent).
(Edited by : Shoma Bhattacharjee)
First Published: Mar 15, 2023 7:19 PM IST