Delhi government imposed a special coronavirus fee and has raised alcohol prices on MRP by 70 percent starting May 5.
A day after the restriction on the sale of alcohol was lifted across the country, the Delhi government imposed a 'special coronavirus fee' of 70 percent on maximum retail price (MRP) starting May 5.
The Delhi government issued a notification that levied a 'special coronavirus fee' to the tune of '70 percent of the maximum retail price on all categories of liquor sold through retail licensees for consumption 'off' the premises.'
This would mean that a bottle of liquor costing Rs 100 would now cost Rs 170.
"You are hereby directed to collect the Special Corona Fee at 70 percent of the Maximum Retail Price (MRP) on all categories of liquor sold in NCT of Delhi through your retail vends with immediate effect. Further, the daily sale shall be compiled vend-wise by each licensee and a consolidated statement be submitted to this Department on a daily basis. The collected Special Corona Fee shall be reimbursed to the Government on weekly basis," read the order dated May 4.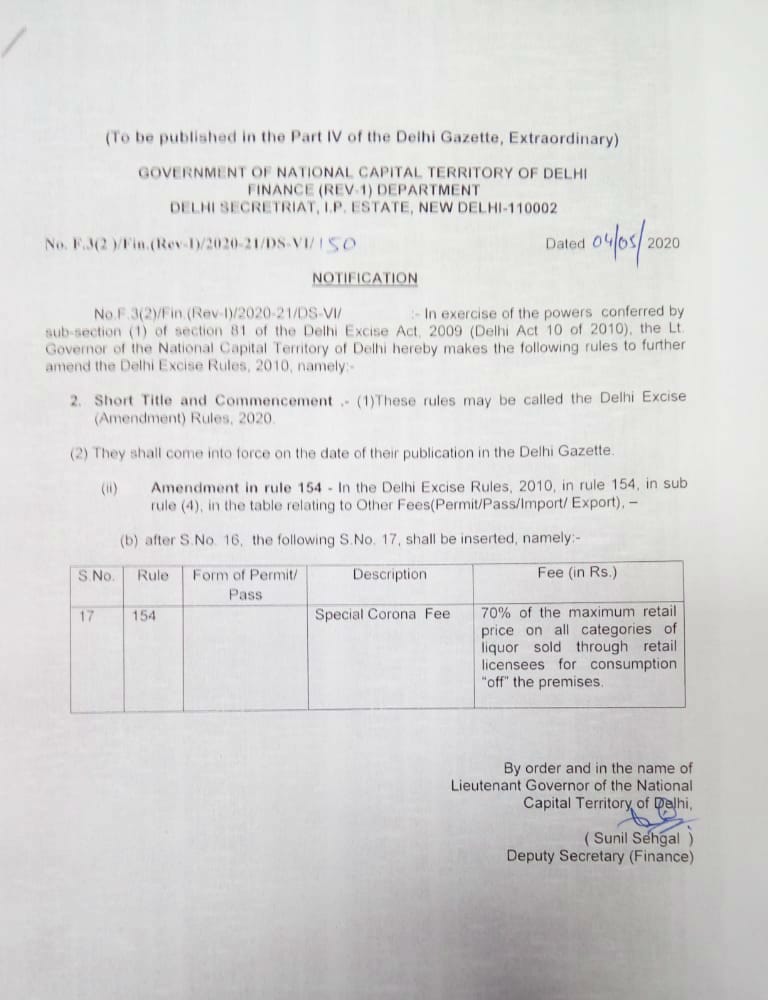 The excise department added that a copy of the order will have to be prominently displayed by the licensees at every vend before starting any liquor sale on Tuesday.
PTI previously reported that the idea was considered at a Cabinet meeting chaired by Chief Minister Arvind Kejriwal on May 4.
The decision comes after liquor stores opened on May 4 in the capital, alongwith many other places in the country, as state governments adopted the Home Ministry's guidelines on relaxation of rules during the country's third lockdown between May 4 and May 18.
But as people flocked to liquor stores, Kejriwal warned that the onus of ensuring social distancing would be on individual shopkeepers and that violations would result in the shop being closed or
the withdrawal of
relaxation for stores to remain open.
Earlier, the state government had said that its revenues had been severely hit by the coronavirus pandemic.
First Published: May 4, 2020 11:23 PM IST