The new Zomato Gold membership is currently on an invite-only basis and is available in limited cities. 
Food delivery platform Zomato has started rolling out its new loyalty programme Zomato Gold, less than a month after CEO Deepinder Goyal teased the return of Gold. This is the fourth version of Gold the company is launching.
Zomato Gold, with a starting price of Rs 149 for three months, will replace Zomato Pro & Pro Plus which was suspended in August 2022. Zomato Gold, as per notifications sent to users, will offer free delivery for all orders above Rs 199 and at all restaurants less than 10 km away. There are also benefits such as a 'No Delay Guarantee' where members will receive a 100 coupon for delayed orders. For dining in, members will get up to 40 percent off at 10,000+ partner restaurants across the country.
The current Pro/Pro Plus membership will be active till February 23, after which they will get a complimentary Zomato Gold membership for three months. Pro/Pro Plus members have already been notified of Gold and are being migrated to the new Gold.
For those who aren't members, Zomato has started rolling out invites and it isn't available for all Zomato customers yet.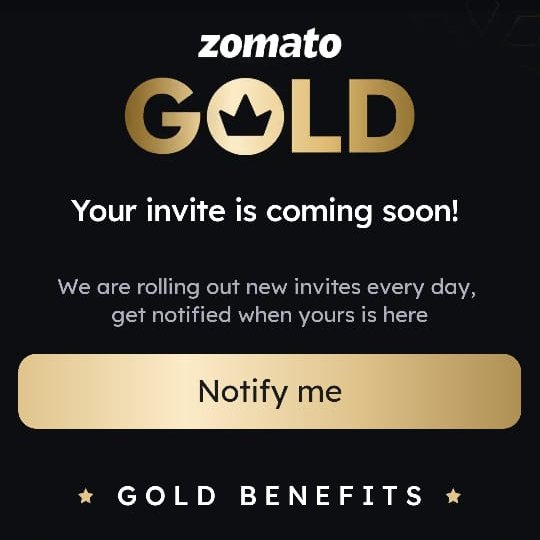 (Image: Zomato)
Zomato Gold was first launched in 2017 as a membership programme giving members offers such as 1+1 at restaurants. While Gold was a hit among consumers (hitting over a million subscribers at its peak), it faced the ire of restaurant partners who claimed that deep discounts offered with Gold were making business unsustainable.
This led to the #LogOut campaign by the National Restaurant Association of India in 2019, where scores of restaurants logged out of food delivery platforms. In a bid to address concerns, Zomato rejigged Gold adding restrictions like capping how many Gold memberships could be used per table at restaurants and allowing members to use Gold only once a day.
Zomato then launched Pro in 2020 as an upgraded version of Gold with added benefits for food delivery as well. All Gold users were migrated to Pro starting August 1, 2020.
The current Zomato Gold membership allows members to use benefits only on two devices at a time and has said that some benefits might not work on certain festivals and special days.
Also Read: Zomato co-founder & Chief Technology Officer Gunjan Patidar resigns