Nitric Acid is a critical building block intermediary chemical for the Specialty Chemicals sector.
Shares of Deepak Fertilisers as well as Aarti Industries gained on Monday after the two companies announced a 20-year arrangement for the supply of Nitric Acid worth Rs 8,000 crore on Saturday.
Aarti Industries is the largest consumer of Nitric Acid in India and Deepak Fertilisers is the largest producer of Nitric Acid in South-East Asia.
The formal agreement is likely to be executed before the end of this calendar year. The arrangement will take effect from April 1, 2023.
The deal provides specific volume commitments with supply or pay, take or pay obligations by either party, thereby protecting either parties' commercial interests.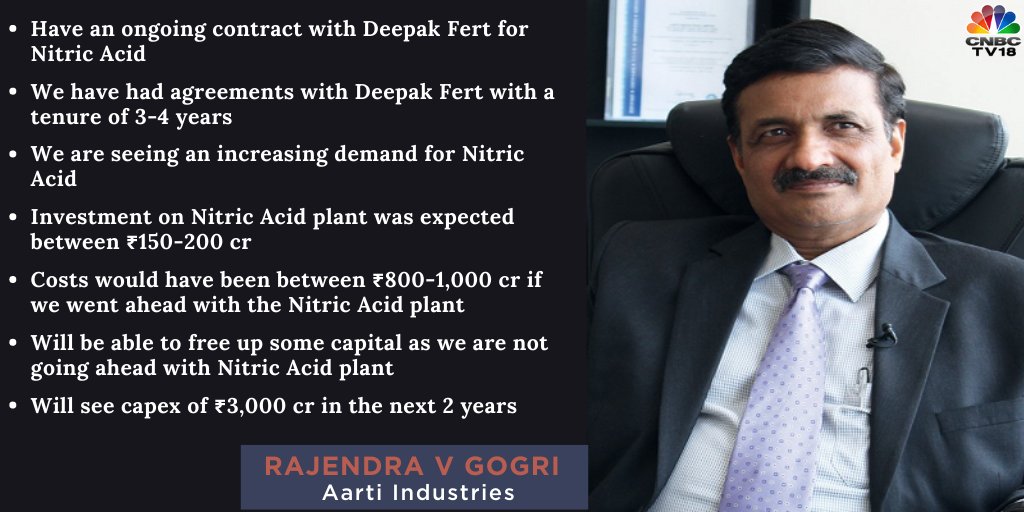 Nitric Acid is a critical building block intermediary chemical for the Specialty Chemicals sector.
How does the deal benefit Aarti Industries?
Provides a source for long-term supply security of a key raw material
Will meet majority of their requirements
Enables to focus on future growth opportunities considering the supply security, introduce new value-added products and value chains for niche applications
In an interaction with CNBC-TV18, Rajendra Gogri of Aarti Industries said the contract will enable volume stability and pricing comfort.
The company was evaluating a proposal for setting up a Nitric Acid plant, but they have shelved the plans for now. Gogri said that the investment on the plant ranged between Rs 150-200 crore and had they gone ahead with the plan, the costs would have been between Rs 800-1,000 crore.
Now that the plan for the Nitric Acid plant is not longer in the works, Gogri expects this to free up some capital for the company.
Guiding for a capex of Rs 3,000 crore over the next two years, Gogri said that Deepak Fertilisers will have to increase their Nitric Acid capacity to meet this demand in the future.
Deepak Fertilisers, along with its subsidiaries
is the largest player for Nitric Acid in India with a capacity of about 8.9 lakh metric tonnes per annum for Weak Nitric Acid (WNA) and 2.3 lakh metric tonnes per annum for Concentrated Nitric Acid (CNA). The agreement gives security to the company for a significant portion of its Nitric Acid production, and will result in revenues worth nearly Rs 8,000 crore in 20 years.
CMD of Deepak Fertilisers, Sailesh Mehta said that the company's brownfield site at Dahej can give opportunities for cost-effective capacity enhancements.