The Adani group has put to rest any speculation over the ownership of Ambuja Cements and ACC. In a statement on March 16, ACC Limited said the Endeavour Trade and Investment, controlled by Vinod Adani, the Acquirer of ACC and Ambuja Cements, belongs to Adani Group, confirming CNBC-TV18 newsbreak.
"We would like to submit that Mr. Gautam Adani and Mr. Rajesh Adani are individual promoters of various listed entities within the Adani group and Mr. Vinod Adani is an immediate relative of the individual promoters," it said.
Accordingly, as per the applicable Indian regulations, Vinod Adani is part of the 'promoter group' of various listed entities within the Adani group.
This clarifies that the Adani Group and Vinod Adani should be seen as one.
Doubts about the ownership structure arose after an exchange following allegations by Hindenburg Research against the Adani Group. The questions and responses, a couple of them reproduced below, casted doubts about the nature of relationship between the Adani Group, as it is perceived (led by Gautam Adani), and Vinod Adani (brother of Gautam Adani).
Hindenburg:
We found at least 38 Mauritius-based entities associated with Vinod Adani and Subir Mittra (the head of the Adani private family office). We also found Vinod Adani associated entities in other tax haven jurisdictions like Cyprus, the UAE, Singapore, and various Caribbean islands. Several of these entities have transacted with Adani entities without disclosing the related party nature of the dealings, seemingly in violation of the law, as evidenced throughout our report. What is the explanation for this?
Adani: All transactions entered into by us with entities who qualify as 'related parties' under Indian laws and accounting standards have been duly disclosed by us. Further these have been carried out on arm's length terms in accordance with applicable laws. Further, these are also disclosed by us, are publicly available to all regulators and our stakeholders, and have been duly verified and audited by independent third parties who are competent and have the required expertise in this respect. As stated above, Adani Portfolio companies follow a stated policy of having global big 6 or regional leaders as Statutory Auditors.
Hindenburg: What has been the full extent of Vinod Adani's role in the Adani Group to date, including all roles on deals and entities that have transacted with the Adani Group?
How many entities is Vinod Adani associated with as either director, shareholder, or beneficial owner?
What are the names and jurisdictions of these entities? 52/ (Allegation #37) What are the full details of the Vinod Adani-associated entities' dealings with private and listed entities in the Adani empire?
Adani: Vinod Adani does not hold any managerial position in any Adani listed entities or their subsidiaries and has no role in their day to day affairs. As such, these questions have no relevance to the entities in the Adani portfolio and we are not in a position to comment on your allegations on the business dealings and transactions of Mr. Vinod Adani. We reiterate that any transactions by the Adani portfolio companies with any related party have been duly identified and disclosed as related party transactions in compliance with Indian laws and standard and have been carried out on arm's length terms.
The responses seemed to suggest not a close relationship between the listed Adani Group entities and Vinod Adani. This seems to have changed with the clarification from the Adani Spokesperson to CNBC-TV18.
What also created some misperception about the ownership of Ambuja Cements and ACC was that their acquisition was done by a Mauritius based entity Endeavour Trade and Investment, which is an SPV managed by third parties, as is often the case with such structures. And while the beneficial ownership of the pyramid of entities in the acquisition chain was clearly disclosed in the open offer document, many would have missed this.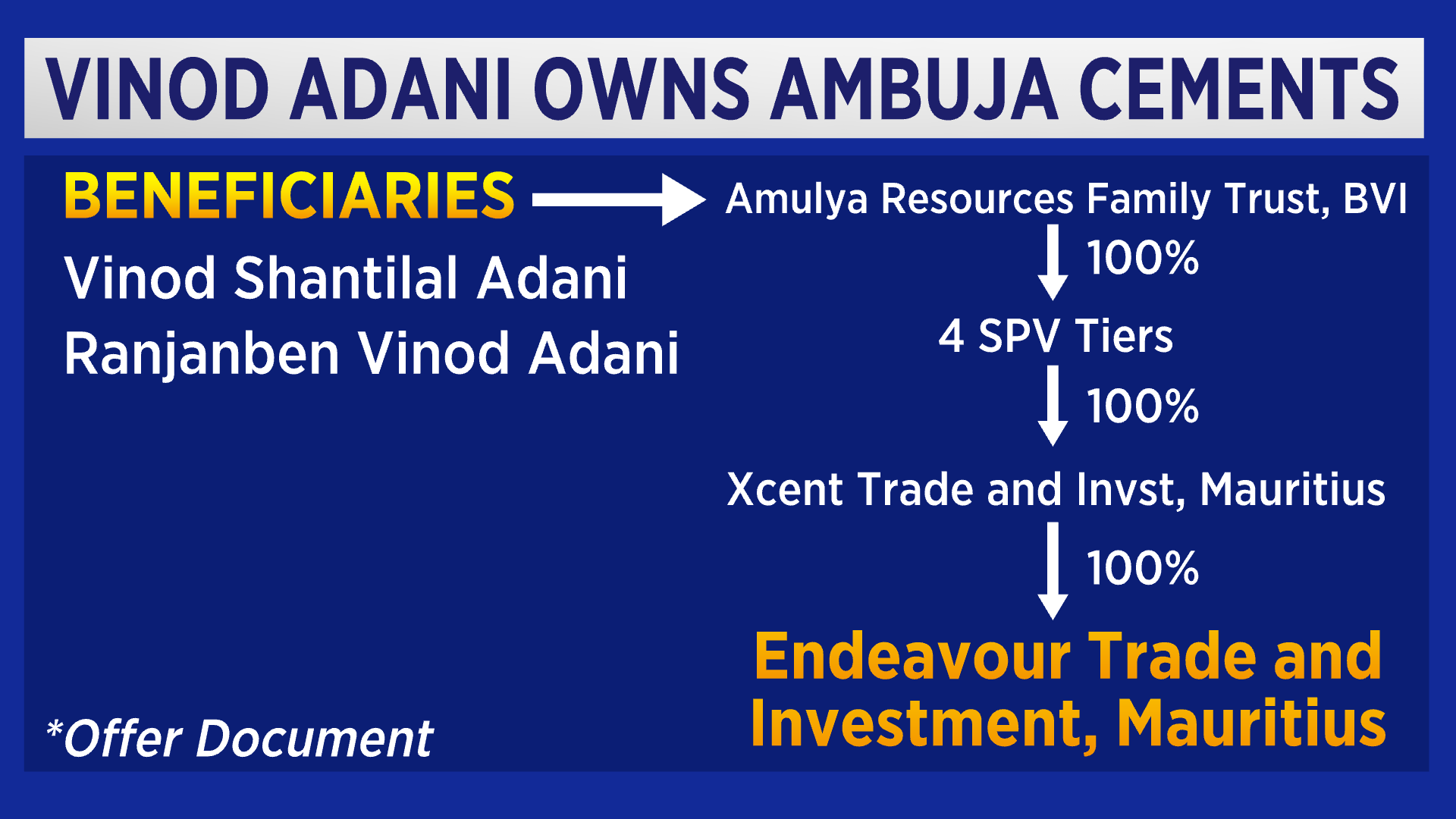 And while the debate may rage on whether Adani Group should have disclosed transactions with Vinod Adani entities, as a good governance practice versus what the law dictates, any doubts about Vinod Adani being part of the Adani Group have now been put to rest.