3 Min(s) Read
In an interview with CNBCTV18, Cyril Shroff of Cyril Amarchand Mangaldas said he expects to see a significant number of corporate acquisitions taking place in the coming months.
As 2023 starts, the latest episode of Big Deal takes stock of the lessons from the year gone by — 2022 — and what it means for the top deal street trends for this particular year. It also crystal gazes into what's coming and picking up on the key trends for 2023. The Indian deal market is expected to be active in several sectors in the coming year, according to Cyril Shroff of Cyril Amarchand Mangaldas.
"Last year was a very active year for M&A but 2023 is also going to continue to be quite a busy year for M&A activity. Similar trends would continue. So I don't expect 2023 to be any worse than 2022. It will continue to be an active year and it can even surpass our expectations depending upon how some of the major macro trends — it is basically the macro trends which will drive a lot of this activity including geopolitics which will probably be the biggest theme of all," he said.
Large corporate houses are expected to be active in the acquisition market this year, according to Shroff. "Major corporates are in a very acquisitive mode," he told CNBC-TV18.
Shroff added that technology, real estate, and healthcare would all see an increase in deals. Infrastructure will also be active, with the possibility of a major fast-moving consumer goods deal on the horizon. However, Shroff noted that the open offer process is still perceived as cumbersome.
"Many of the major themes of 2022 will flow into 2023 as well. So globally there is a lot of uncertainty arising out of the Ukraine war, inflation, possibility of recession in three major regions of the world including US, Europe and China but equally we saw in 2022 that India remains a little bit of an oasis in all of this and was able to buck some of the global trends. So that phenomenon will continue to play out in India," he said.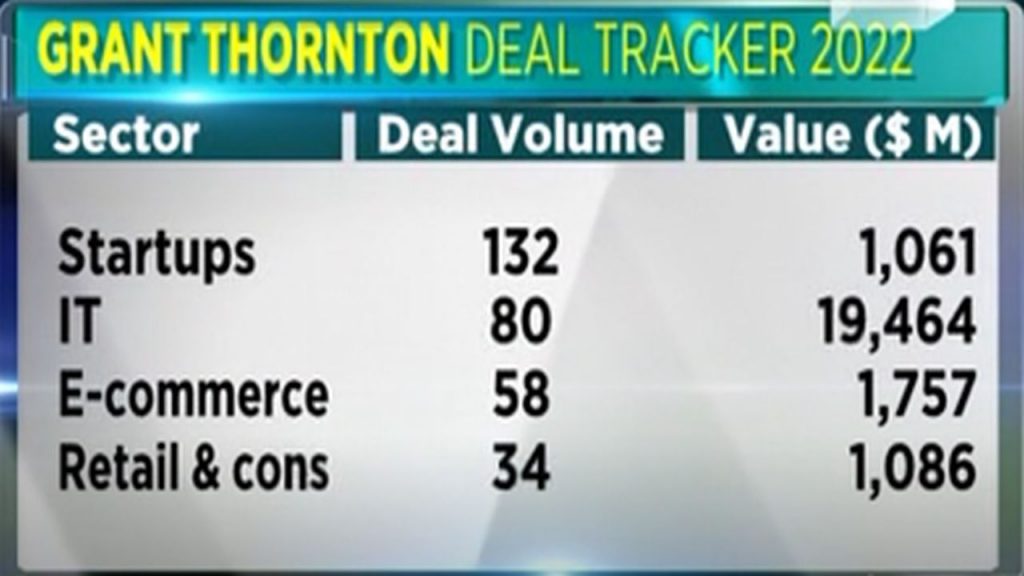 In addition to the traditional sectors, the startup space is also expected to see significant activity. Prashant Mehra of Grant Thornton Bharat told CNBC-TV18 that there will be a number of closures among startups. The lens of investors will shift from focusing on revenue to evaluating business models, leading to a greater recognition of unicorns in the startup space.
"We will see a number of closures in the startup space and startups are also going the consolidation route," Mehra said.
For the entire discussion, watch the accompanying video