Mini
IndiGo is practicing network mirroring in which an airline follows another airline on the same sector often at the same timings and with similar start dates.
In the second half of 2009, Kingfisher Airlines was forced to shrink from over 85 aircraft to 66 aircraft. Grappling with losses and engine issues, the once flamboyant airline was struggling to maintain its schedule.
The airline withdrew one of its popular flights on the Delhi – Kolkata sector in the evenings. The flight IT 605 operated from Chandigarh to Kolkata via Delhi, offering passengers a peak evening departure between Delhi and Kolkata. It was one of the three daily flights the airline operated on the sector.
Within days of the closure of the flight for sale, IndiGo, then a fledgling airline that was already present with three flights a day on the sector, pushed one of its flights to a departure time similar to what Kingfisher operated. These were the first signs of how cutthroat the airline was intending to be in the long run. Since its inception 2006, slot by slot, flight by flight, sector by sector, the low-cost airline has been chasing every rival the country has seen.
A Different Airline
IndiGo of 2018 is different than what it was in 2009. From a budding entity content with cautious expansion to an ambitious, even audacious, beast that announces a new station once a month, the airline has come a long way. But one thing has remained constant –chasing competition.
This strategy came to the fore last week. IndiGo announced flights to Phuket and Male. Social media was abuzz. It has hardly been a month since GoAir announced its international foray. No prizes for guessing GoAir's inaugural two destinations. Just days away from its first international flight, GoAir would now face competition in what was to be a monopoly route.
For IndiGo, this was not the first — nor it would be the last — occasion that it would follow a strategy called network mirroring. Put simply, network mirroring is a practice in which an airline follows another airline on the same sector often at the same timings and with similar start dates. It is typically followed by airlines that have a huge fleet at its disposal. IndiGo has 191 aircraft .
On June 23, 2016, Vistara announced the launch of Port Blair as its new station with flights from September 30. IndiGo launched its first flight to Port Blair on September 28, two days before Vistara's.
Note that IndiGo announced the flight only on the September 2. In an industry that has fares increasing closer to the departure date in line with the passenger booking curve, IndiGo dropped fares to fill up the flights with a window of just 26 days for selling the first flight.
Again, this was not a one off case. IndiGo has been particularly aggressive against AirAsia India since the latter entered India in 2014. Sample this: AirAsia India announced flights between Bengaluru and Chandigarh in August 2014. This was a sector hitherto unconnected by a non-stop flight.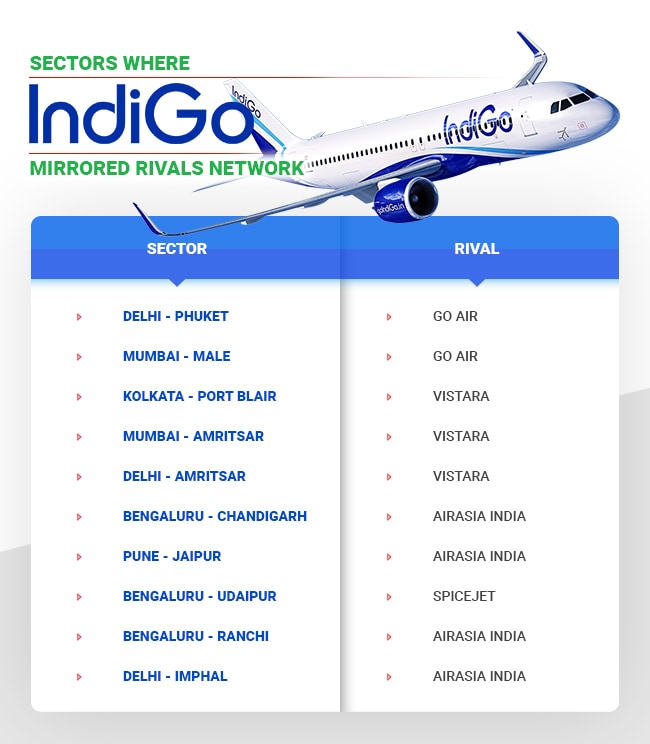 Rivals Can Only Grin and Bear It
Within days of this announcement, IndiGo launched its own flight on the same route. It was a route it did not operate in the past. Now, IndiGo flies twice a day on this route while AirAsia India continues to operate just once. Recently, IndiGo announced flights from Bengaluru to Udaipur, a week after Spicejet announced this route. IndiGo began operating flights nearly a week before Spicejet is to start the route.
There are plenty of other examples (see charts). GoAir was the first low-cost carrier to start flights between Mumbai and Chandigarh. IndiGo did not operate to Chandigarh back then. But when it launched, it began with three flights a day between Mumbai and Chandigarh with the sudden rise in capacity being hedged with the three flights originating at Bengaluru, Hyderabad and Chennai, which gave a decent number of connecting passengers. That tactic would help tide over the sudden multi-fold increase in capacity. GoAir, which operates twice daily flights, is down to a single flight a day on this sector.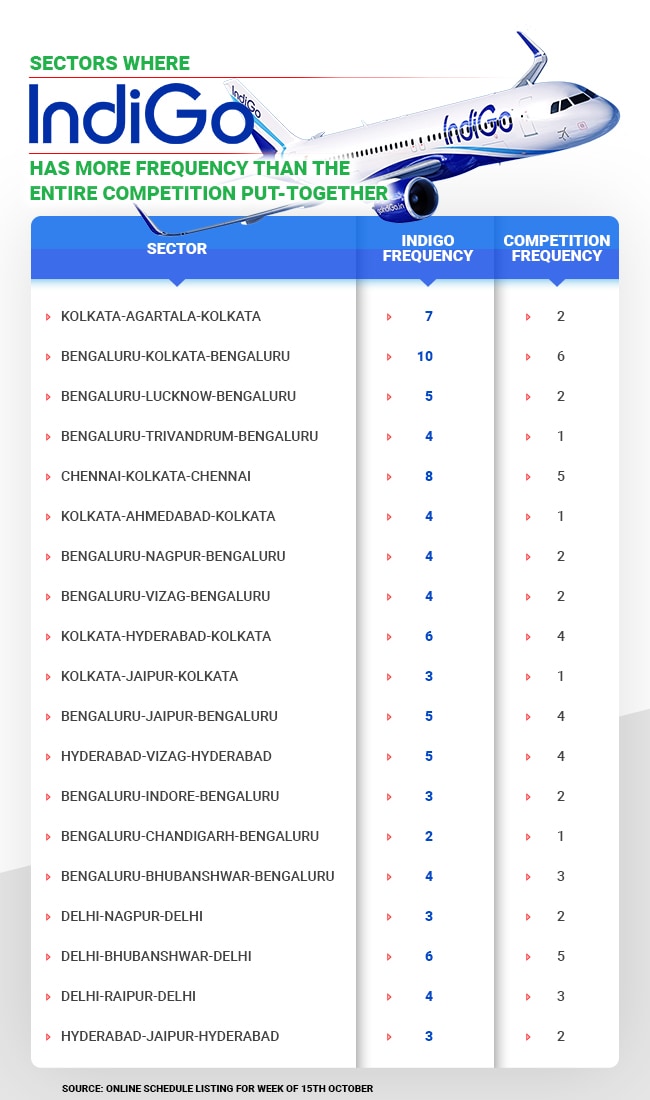 IndiGo is borrowing a page from the rulebook of several international airlines. For example, AirAsia and Malindo – the two carriers from Malaysia — battle it out for the India to Malaysia and beyond traffic. Tiruchirapally is their largest market and the airlines steadily went one up on the frequency front, having seven frequencies between them (four for AirAsia, three for Malindo) on this route, only to come down to three and two respectively for AirAsia and Malindo. The ASEAN market is dominated by one or at most two carriers in each country. Malaysia is dominated by AirAsia, the Phillipines by Cebu Pacific and Indonesia by Lion Air group.
Why do airlines go for network mirroring? An airline of the size of IndiGo and expecting aircraft deliveries every month sees a very small percentage of its total capacity being deployed to hurt the competition. When it is not mirroring network, it tries to increase capacity in existing markets and claim capacity leadership. In low fare environment, capacity leadership drives market leadership and gives pricing power to control fares (either high or low) and try and get the competition to their knees and this is exactly what IndiGo has been trying to do in the last few quarters.
To an extent, it has pushed out Jet Airways from some markets by capacity dumping if not mirroring and has made life difficult for rivals by pricing below cost. How does IndiGo sustain then? The airline has large cash reserves and one of the lowest per unit costs. This helps it price lower than competition and break-even and on routes where it cannot break-even the low cost base helps it lower losses as compared to competition. The eventual aim of any airline the size of IndiGo across the world is to edge out competition and make them vacate markets after which the airline can price itself high and make steady profits!
Ameya Joshi is founder of aviation analysis blog NetworkThoughts.