The most number of Jet Airways slots that were re-distributed among other airlines were at Mumbai and Delhi, the two most congested airports in the country and also where Jet Airways had a sizable presence.
In April, India recorded a slump in traffic for the first time after mid-2013. The month-over-month passenger traffic in domestic skies declined by 4.5 percent. For a market that has seen a growth of 20 percent on the back of rapid induction in capacity, this was a huge setback.
The setback was on the back of the suspension of Jet Airways on April 17. The airline was huffing and puffing since February and was on its last legs in March. The crisis started in October looked steady and controlled until February, after which it went into a whirlwind spiral beyond recovery.
While airlines have been quickly filling up gaps, inducting aircraft and adding flights across their networks, there are some airports which have been hit harder than others. Sectors like Mumbai–Delhi that had a considerable share of Jet Airways flights at its peak is back with nearly the same number of flights and equal or more seats (since some flights added are by LCCs with all economy configurations, leading to higher seats per flight).
But not all sectors have seen such growth. The slot distribution at Mumbai has made airlines look at strengthening their networks and not solving the connectivity woes in the true sense.
The most number of Jet Airways slots that were re-distributed among other airlines were at Mumbai and Delhi, the two most congested airports in the country and also where Jet Airways had a sizable presence. Mumbai was the only major airport where the airline had a presence higher than IndiGo. Over the years, inch by inch, competition led by IndiGo had snatched away Jet's leadership position at Bengaluru, Chennai, Hyderabad, Kolkata and Ahmedabad.
Filing up blanks in own schedule and adding capacity on metro routes by airlines post the Jet Airways crisis have hit connectivity to some stations to a large extent and it shows in the data released by the Airports Authority of India for April 2019.
Mumbai, the main hub of Jet Airways, saw a decline of 22.9 percent in domestic passenger traffic from a year ago. For an airport which is second largest in the country, the drop is significant and when translated to absolute passengers, about 23,000 per day!
Bhuj recorded the highest fall of 85 percent while Rajkot saw a decline of over 50 percent followed by Aurangabad which fell 42 percent. In the case of all these stations, the connectivity was to Mumbai.
At its peak, Jet Airways flew four flights day between Mumbai and Rajkot while Bhuj and Aurangabad were serviced with double daily departures. Post the suspension of Jet, Bhuj is serviced by Air India regional four times a week while Rajkot and Aurangabad see a daily A319 service by Air India.
Other stations that are impacted heavily are Jodhpur and Mangalore. Both had a sizable presence of Jet Airways. Air India is the sole operator now from Mumbai to Jodhpur.
At least 30,000 passengers departed from Rajkot in April 2018, but a year later, the number is down to 12,896. The fall is even steeper for Bhuj, which recorded just 2269 passengers in April'19 while it was 15,633 passengers in April the last year.
The case of Bhuj is so serious that Nashik, Durgapur, Vijaynagar and Lilabari clocked more passengers in April. All these are airports that have struggled to attract a permanent air space for the last few decades.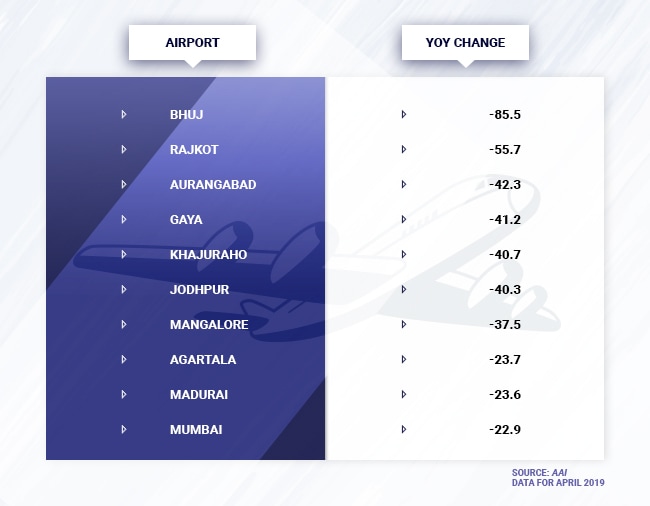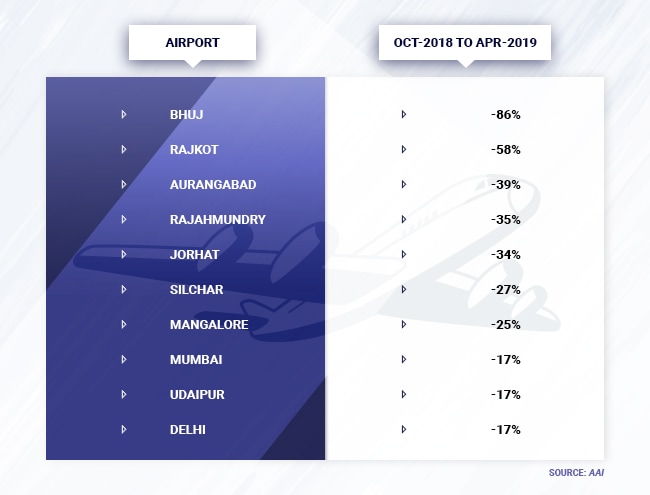 Luckily for passengers, there were only a few routes which were monopoly routes for Jet Airways. None of the airports it served could be called a monopoly. Else, there would have been a case where an entire airport remains disconnected at a time when the government is trying to add airport after airport to the list of operational airports in the country.
As airlines look for the next phase of expansion and re-jigging network in-time to file the winter schedule which begins the end of October, maybe someone will spot the opportunity and these cities will get their connectivity back.
Ameya Joshi is the founder of aviation analysis blog NetworkThoughts.
Read Ameya Joshi's columns
here
First Published: Jun 13, 2019 1:27 PM IST