Mini
If there's any silver lining to the situation, it is that corporate governance norms will have to be revisited.
As Jet Airways continues to grapple with financial challenges, the most recent hurdle has been partner Etihad Airways' insistence that the promoter stake be capped at 22 percent in perpetuity. The promoter, Naresh Goyal, naturally, is opposed to this move. Unfortunately, this has led to an impasse with no easy solutions. Yet, the issue of capping the stake is critical to the funding by Etihad. Why?
Etihad Implemented An Equity Alliance Strategy
Etihad entered the global airline business fairly late — in 2003. Compare that to Emirates, which launched in 1985 and Qatar Airways in 1993. As a late entrant, Etihad faced a daunting challenge in building traffic flows fast. Specifically, it required access to markets with strong and sizeable traffic, including access to domestic networks.
These could feed traffic into Etihad's Abu Dhabi hub and connect to outbound flights. With adequate access to capital, alliances seemed to be the answer.
Ergo, Etihad invested in airlines around the globe and entered into alliances. These alliances gave the Abu Dhabi airline indirect control and access to networks that could then be integrated or synergised towards feeding its own network as highlighted below: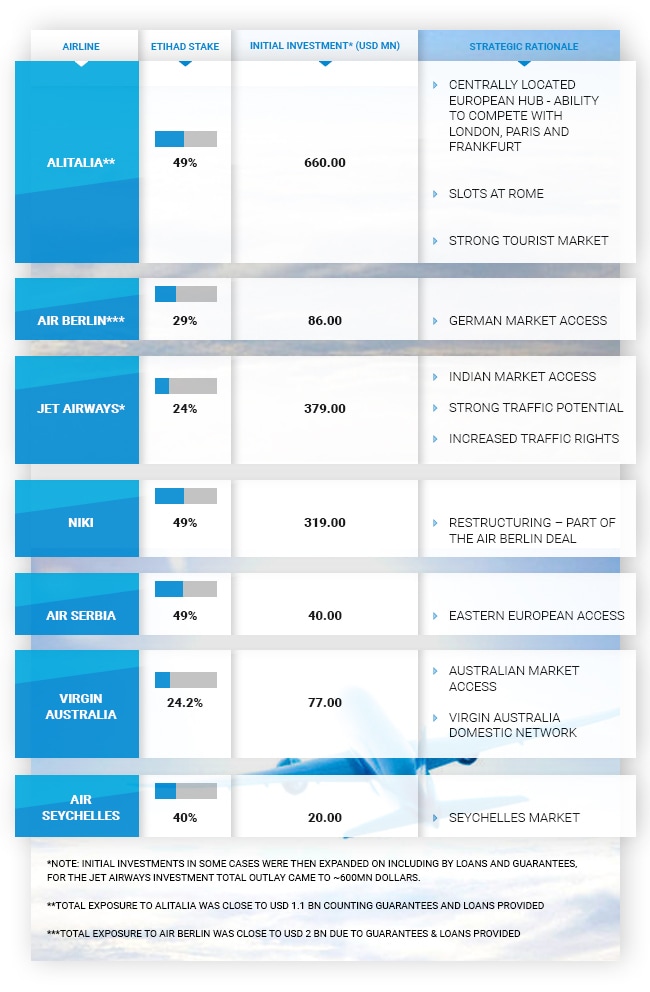 How Jet Airways Became The Cornerstone Of Etihad' Strategy
The equity alliance strategy gave Etihad the geographic spread required and access to vital markets. Traffic grew and how! From seven million passengers in 2010, Etihad's traffic grew by 2.5X to 18.5 million passengers in 2016.
Yet, the strategy came apart due to a host of issues. Some of the key challenges were the flat growth in Europe and the US, intense competition with Emirates and Qatar and the inability of the Abu Dhabi airport to keep up with the airline's growth and ambitions. These led to high yielding passengers preferring transfers out of the other two hubs of Dubai and Doha.
To make matters worse, fuel prices rose. Several alliance partners could not sustain a competitive cost base. Alitalia filed for bankruptcy in May 2017 followed by Air Berlin in October 2017. Niki followed suit and ceased operations in December 2017.
Only three partners — Virgin Australia, Air Seychelles and most importantly, Jet Airways — remained. Jet provided market access to India, one of the fastest growing markets in the world. Additionally, it provided feed for Etihad's long-haul operations to Europe and North America, both of which are key to its profit. But in 2016, there was a change in direction by Jet which perplexed airline strategists.
Jet Started Re-directing Capacity Towards A Different Alliance
After Etihad bought 24 percent of Jet Airways in 2013, plenty of work was done by the two sides on the network, schedules and pricing. But the results spoke otherwise.
Jet lost Rs 4,130 crore for the year ended March 2014 and another Rs 2,097 crore for the year ended March 2015. During the same period, debt levels ballooned from Rs 8,714 crore to Rs 10,252 crore.
In stark contrast, Etihad then was reporting profits. And the vital reason for the success? The feed from Jet.
Cramer Ball, a turnaround expert, was hired as the CEO in May 2014 but he resigned in December 2015. Industry sources Bell left in frustration, his anguish centered on being second-guessed by the very active and involved promoter. And naturally, there were fissures.
Perhaps, what threw the divide wide open was when in 2016, Jet launched talks with AirFrance-KLM. The alliance was Etihad's competitor. If this wasn't bad enough, Jet reduced the capacity of up to 12 percent to Abu Dhabi while growing its presence in Paris and Amsterdam (both hubs for AirFrance-KLM).
This was likely towards a future alliance where the airline could seek joint coordination of pricing, schedules and network, which would give it a revenue boost along with further investment. To add to the complexity, AirFrance-KLM are a part of the SkyTeam alliance where Delta Airlines (an American owned airline) plays a key role. Etihad was opposed as the American carriers combined were taking on the Middle East carriers after alleging state subsidies and an unfair playing field.
Nonetheless, Jet's board endorsed the strategy. Etihad, even with 24 percent stake along with board representation, could not do much.
The Control Issue and Stake Limit
As the wheel takes a full circle, Jet Airways now finds itself looking to Etihad for more funding. This time though, Jet is in a position of weakness, with almost 50 percent of its fleet grounded, a daily cash burn of Rs 7–10 crore and continued operational cancellations.
Banks have agreed to a debt conversion plan but made it contingent on the investment from the promoter and from Etihad. And Etihad is insisting on a non-compete clause for the promoter in addition to capping Goyal's stake at 22 percent in perpetuity.
The capping of the stake ensures that the airline is run by an independent board and an empowered CEO and the influence of the promoter is limited at best. Without the capping, there are scenarios where the stake can be raised to 26 percent and subsequently be used to force board resolutions, block financial decisions and significantly influence management decisions.
The control provision is critical also as Etihad will need to re-capture traffic from India (assuming it continues with its stake). Regardless of the fragile nature of Indian aviation, market dynamics are positive. For any airline looking to establish a global presence, capturing the 120 million international passengers who will travel from India by 2025 is critical.
In the event of a stake sale, Etihad will require a respectable and justifiable value for the stake that can only come with drastic management changes. With another large Indian conglomerate that has once before explored the option of a Jet Airways purchase, but which did not go through ironically because of the issue of "control", the scenario now may change.
Does The Jet Situation Highlight Bigger Issues Of Corporate Governance?
As the industry watches closely, the situation and how it pans out is bringing out larger issues of corporate governance. The role of the board in not only monitoring but leading is a matter of discussion. Additionally, the role of the board in evaluating risks taken and the risk-return tradeoff. For Indian aviation, this is further complicated with promoter-led companies where it is challenging (if not impossible) to challenge decisions. To be fair this is not unique to India as highlighted by this quote by Warren Buffett where he wrote:
"Too often I was silent when management made proposals that I judged to be counter to the interest of shareholders… In those cases, collegiality trumped independence…"
In the case of Jet Airways, the situation is one where banks are reluctant to lend unless other banks lend; employee salaries are delayed and unrest growing; forward sales continue even though cancellations abound; communication is closed at best; and
the threat of the domino effect of the challenges
at Jet Airways is very real .
If there's any silver lining to the situation, it is that corporate governance norms will have to be revisited. The debate on fiduciary duty and balancing the interests of shareholders, management, customers, suppliers, financiers, government and the community has come front and center. And with aviation being a key economic multiplier and employment generator, this cannot be left to chance.
Satyendra Pandey has held a variety of assignments in aviation over the past 14 years. Most recently he was the Head of Strategy & Planning at a fast-growing low-cost airline. Previously he was with the Centre for Aviation (CAPA) where he led the advisory and research teams. His experience includes restructuring, scaling and turnarounds.