There's a reason they say old is gold. A "retro-innovation" trend is fast emerging, with the launch of new products and services to connect us with the past.
One such trend is painting aircraft in vintage or "retro" liveries (color schemes) from time to time. Globally, this trend is very popular among airlines that boast a rich history and legacy. Vistara, a joint venture between Tata Sons and Singapore Airlines, is setting a new standard on this front. As the inheritor of two powerhouses, this airline has India's most storied aviation legacy to live up to.
The recent launch India's first and only Retrojet by Vistara was well received by aviation watchers and fans, popularly known as avegeeks. The Vistara Retrojet is a one-of-a-kind retro livery aircraft that celebrates 150 years of Tata Sons and pays homage to the Father of Indian Aviation, Shri J.R.D. Tata.
Plenty Of Planning
From bearing the registration of one of Tata Air Lines 1940s-era Douglas DC-3, and wearing the color scheme of Tata Air Lines, Vistara has managed to recreate the historic exterior as close as possible to the original. Every detail was well planned and taken care of, such as painting the livery with "Mica" paint that added a unique metallic shimmer which changes hues depending on the ambient lighting. The color chosen was light gold with a tinge of silver to signify the promise of bringing back the golden age of flying!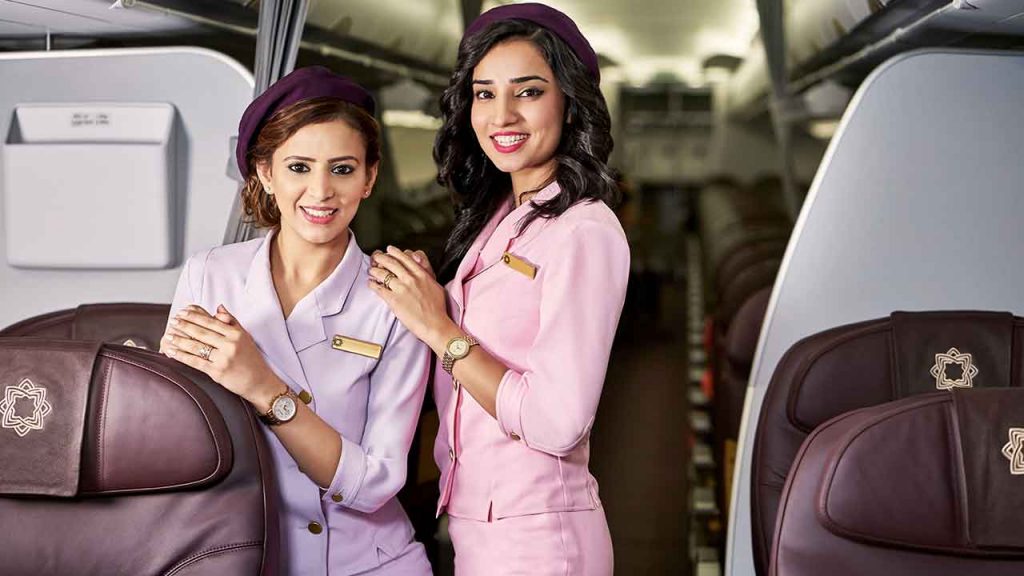 There were numerous photo leaks and chatter on social media regarding the much-awaited Retrojet. Vistara held a grand event on September 1, 2018 to introduce the vintage-inspired livery to the world, which was met with much appreciation. The airline also revealed a classic limited edition retro uniform for the cabin crew that tied the entire experience together. This elegant uniform was conceptualized in-house and designed by the duo of Lecoanet Hemant, using soft pastel shades of light pink and light aubergine matching Vistara's brand color palette. The softer look of uniforms and 1950s style were completed with neat white pumps.
The grand livery took off for its first flight on September 5, 2018. The retro experience was rounded off with a special onboard menu inspired by some of Shri J.R.D. Tata's favorite food, curated by the chefs from the Taj group of hotels based on the records in their possession. These dishes include Cheddar Cheese and Onion Omelette, Crêpe au Champignon, Meat Medley, Waldorf Salad, Minestrone Soup, Herb Roast Chicken, Goan Prawn Curry, and Crème Caramel.
Flying Back In Time
Social media has been abuzz with many customers, aviation bloggers, and Vistara staff enthusiastically posting and recounting their experience on the #VistaraRetrojet. If you wish to be taken back in time to the golden era of flying, Vistara's Retrojet will be taking to the skies once again on October 15, 2018. The occasion marks the 86th anniversary of the launch of Tata Air Services. Piloted by Shri J.R.D. Tata himself, the first flight flew from Karachi to Mumbai via Ahmedabad. Vistara's Retrojet will recreate a part of this route by operating from Delhi to Mumbai via Ahmedabad for the first time ever, among other routes.
Flying in India's only retro livery with the cabin crew dressed in limited edition uniform and a special menu on board makes for a once-in-a-lifetime experience that should not be missed.
This is a partnered post.