Up to 15 percent of all routes of Spicejet are monopoly routes. Spicejet has been quietly ramping up its presence on routes where it sees potential demand, lack of alternate transport and increasing disposable incomes.
Lets do a quick search for the cheapest air ticket between Mumbai and Pune. For the next three months, prices hover around Rs 9,452. The two cities, 150 kms apart, are well connected with a six-lane expressway, a rail link and one of the shortest flights in the country. But tickets on this route cost far more those for longer routes in India.
Reason? The Mumbai-Pune flight is a feeder to an airline's network — not a primary one, which typically would allow an airline to offer better fares due to higher frequencies. That means fewer seats are available.
The Mumbai-Pune route offers several insights into how low-cost airline SpiceJet has consistently been able to record the load factor — a measure of an airline's occupancy rates — in the country. That's not all. Over the past few quarters, Spicejet has also consistently declared the higher RASK (revenue per available seat kilometer) and higher average fares than competitor IndiGo, India's biggest airline.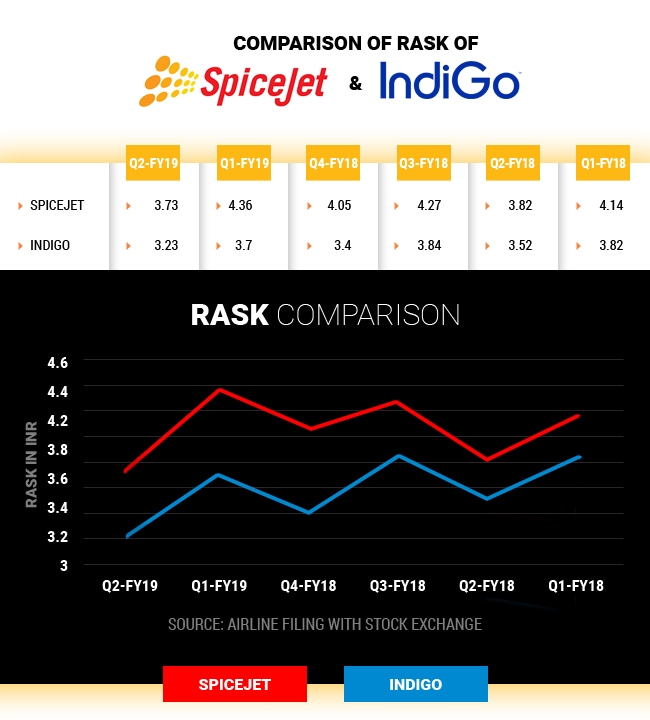 High load factors and high revenues typically share an inverse relationship. Cheaper fares allow an airline to fill its planes. To state the obvious, higher fares keep passengers away, especially in a price conscious market like India.
So how has Spicejet been able to buck the trend? Two words — monopoly routes!
Up to 15 percent of all routes of Spicejet are monopoly routes. Spicejet has been quietly ramping up its presence on routes where it sees potential demand, lack of alternate transport and increasing disposable incomes. The airline added Jabalpur–Mumbai, Mumbai to Hubli/Belgaum and Delhi-Surat using this strategy.
Say, a competitor takes note and launches flights on the same route as it happened in Lucknow, the airline picks another route, as it in neighboring Kanpur. SpiceJet is able to do this because it also has in its fleet the smaller Bombardier Q400s, which it uses in the south, besides the B737s on longer flights.
That way, SpiceJet has been able to build a lucrative network and stay away from the ferocious fare war among Indian airlines. The Q400s crisscrossed south India, with most of them being monopoly sectors, until IndiGo launched a blitzkrieg last year with its smaller ATRs entering the fray and making most of the routes duopoly. Of course, thanks to the bigger fleet of IndiGo, often this results in an overnight doubling of capacity.
What Next?
SpiceJet has started replicating the Q400 tactic with its B737 planes as well. The airline started reducing its presence on metro routes and use slots at congested metro airports for starting monopoly operations.
This helps in more ways than one. Between most metros, the airline is offering one departure each in the mornings and evenings to stay relevant in the business traffic segment. These flight times also tend to attract higher fares, as they are the peak travel times of the day.
The airline withdrew one frequency each to Bengaluru and Kolkata from Mumbai to start Jaisalmer and Kanpur flights — both monopoly routes from Mumbai. It employed a similar tactic at Pune to connect Patna by pulling out of the Hyderabad–Pune sector.
The reduced presence helps SpiceJet stay away from the competitive and seasonal category II and category IIA routes under the Route Dispersal Guidelines (RDG), which have seen intense competition in the last few years as airlines have grown on trunk routes.
Help came from Prime Minister's pet project – Regional Connectivity Scheme named UDAN — which gave airlines a three-year exclusivity on the route which they are allotted after reverse bidding. Spicejet has since quickly ramped up its UDAN routes and started operations to places like Kishangarh — serving Ajmer and Pushkar as well as Pakyong – Sikkim's only airport.
Is The Strategy Unbeatable?
No! The entire southern network of Spicejet, operated by Q400, was quickly replicated by IndiGo. This was a case where slots were available but what happens when slots are not available like in the case at Mumbai or Delhi?
Airlines could well use one of their existing slots to chase a rival on the route. IndiGo rejigged its existing slots by reducing frequency on routes to start flights to Gorakhpur from Delhi. Such attempts will not remain isolated but would be made and remade.
So what are airlines doing? One may recall how Spicejet and then IndiGo bid for UDAN routes without asking for subsidy from government. Reason? Monopoly operations!
Where there is a price cap on the seats under UDAN, it is restricted to maximum 40 seats or 50 percent of the plane. That leaves the airlines with minimum half of seats to be sold at market rates and with monopoly, the proposition is lucrative as the market develops fast and competition is not going to snatch it away.
Is there another Spice?
There is! The airline is fine with a "hit and run" strategy. Enter a station, expand and survive. If not, enter – hit competition – make a run for it. The airline has in the recent past shut operations at Agartala and Thiruvananthapuram – possibly due to lack of profit and the absence of long-term opportunity. In the past, the airline has closed stations when it couldn't make them work. Examples: Aurangabad, Nanded and Nagpur. The list is long.
While a measured closure of operations is a good business practice, it also sends a signal to the market that you vacate if you are hit. That is an invite for the competition to hit and hit hard.
But in a market where people are loyal to low fares and the margins are wafer thin, it is only fair to look for ways to make money than to develop markets, which could then be taken over by competition that could have lower costs or is willing to offer below cost fares.
Till the market matures, survival is primary. Development of markets can wait.
Question Of Competition
IndiGo will be launching over 15 monopoly routes between October and December. These include longer ones such as Kochi to Guwahati, Hyderabad to Bagdogra and many more. With IndiGo declaring a loss last quarter, is the airline borrowing a page from SpiceJet's strategy to increase prices?
IndiGo has targeted well the monopoly routes of Spicejet with the ATRs and the routes have seen reduction in prices as the incremental capacity was absorbed. IndiGo also recast its network by using existing slots to go after Spicejet but Spicejet has since found stations where IndiGo does not operate — such as Kanpur and Jaisalmer — while its larger rival manages its own set of discovery of monopoly routes.
Tail Note
Thanks to the thin line that exists between full-service carriers and low-cost carriers coupled with lack of price elasticity, fares and distribution have become the prime movers for passengers to choose an airline. With the country loyal to cheap fares, raising fares is a distant possibility. This is true of monopoly routes targeted by airlines like Spicejet.
The low cost-led low-fare environment of the last three years has not helped commoditisation of air travel. It is for this reason that increased airfares are met with protests, complaints and passengers taking alternate mode of transport wherever possible. The future of successful airline operations will depend on the ability to keep costs as low as possible, fares as low as possible and find routes where competition stays out.