Much has been talked about the capacity in Indian aviation. First, it was all about overcapacity and post-suspension of Jet Airways on April 17, the conversation veered towards lack of capacity. In the melee for capacity addition, at the forefront was Mumbai – the most congested airport in the country.
For years, Mumbai could release only limited slots for air traffic. With no room for growth, encroachments, intersecting runways and harsh monsoon – there is little that the airport operator could do to increase the capacity. Along with Airports Authority of India (AAI), GVK, the operator of the Mumbai airport, reached peak levels of handling air traffic movements and became the busiest single runway airport in the world, with more than 1,000 movements in a day.
Against such a gloomy backdrop, it was obvious that airlines would clamour for slots at the airport the moment they were available after the collapse of Jet Airways. Data analysed by Network Thoughts for the last 13 months shows that the departures have been back at a faster rate than anybody would have anticipated.
Quick Takeover
The domestic airlines from India together recorded 9,167 departures at Mumbai in May 2019, just 10 percent short of what they recorded a year ago – when Jet Airways was in operation and the airline had one-third of all departures at Mumbai. This shows the magnitude of how slots have been lapped up by airlines.
Last May, AirAsia India did not have any departures to Mumbai and Air Deccan operated two departures a day. While AirAsia India started Mumbai operations in January 2019, Air Deccan stopped its flights to Mumbai in September 2018.
Adjusted to daily levels, to factor in the different number of days per month, Mumbai saw 307 movements a day by domestic airlines between May 2018 and April 2019. The same number stood at 296 in May 2019 — a difference of 11 movements per day, indicating that the capacity is almost back to where it was last year.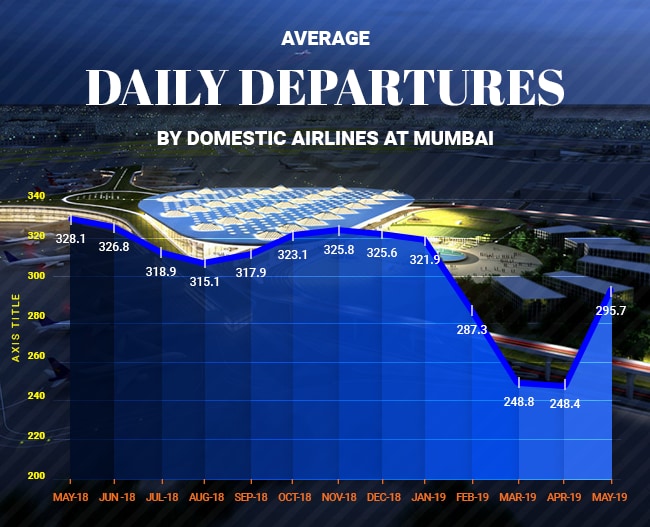 However, capacity and connectivity are two different things. While the airport is very close to its peak departures and all airlines led by Spicejet and Vistara are expected to induct aircraft in June and July which will start additional flights from Mumbai, there continues to be a list of
airports which are severely impacted
due to the crisis at Jet Airways and have seen a drastic drop in departures and capacity, indicating that airlines have chosen tried and tested routes or metro routes to increase their presence rather than look for the gaps which were left open by Jet Airways.
In this struggle,
Spicejet became the biggest beneficiary
of the slots and now holds a sizable portion of departures along with IndiGo. While the domestic market leader in the country was neck and neck with Jet Airways at Mumbai – a healthy sign for passengers, the demise of Jet Airways has led to IndiGo now having a departure share of 40 percent at Mumbai, followed by 19 percent of Spicejet – which stood at 9.5 percent average over the one year preceding May 2019. GoAir gained close to 5 percent while Vistara more than doubled its share to 7.2 percent. Percentages can be misleading as they change on the base value.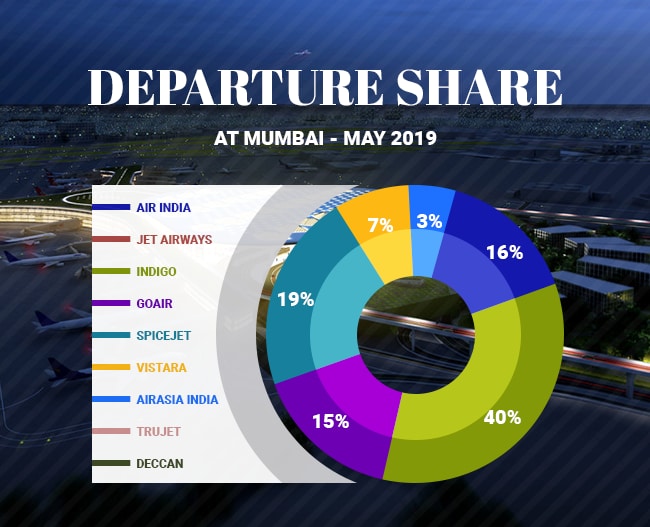 In absolute terms, Spicejet saw 836 additional departures in May'19 and the count stood at 1,744  compared with 908 last May. On the contrary, IndiGo could add only 603 new departures, taking its total count of departures to 3,622 in Mumbai. Vistara added 337 departures, which was almost double of what it did last May and stood at 661 departures in May'19.
If Mumbai – the country's second largest airport by passengers and the most congested airport — is anything to go by, the
overcapacity crisis for Indian aviation
is for real. Mumbai does not have the capacity to accommodate additional flights, the gap of around 30 flights per day may be filled in stages and low cost carriers may have to operate certain flights from Terminal 2 – as they currently are operating. If the slots become permanent, the airlines may look at shifting destination centric flights to Terminal 2, on the lines of what was done at Delhi.
However, the dynamics has changed and while the departures and passenger numbers will be back soon, the capacity has become centric to metro routes unlike in the past when it had a major share of Jet Airways flying to multiple destinations across the country as it remained the primary hub for the airline.
The only loser in this entire saga, not so surprisingly, has been Air India which saw lesser departures to domestic destinations in May 2019 than what the airline flew in last May!
Ameya Joshi is the founder of aviation analysis blog NetworkThoughts.
Read Ameya Joshi's columns here