Low-cost airline SpiceJet is operating at least three flights using the
Boeing 737 Max 8
planes, defying aviation regulator DGCA's order on Tuesday night grounding the aircraft, which were involved in two recent deadly air crashes, an analysis of flight tracking website FlightRadar24 showed.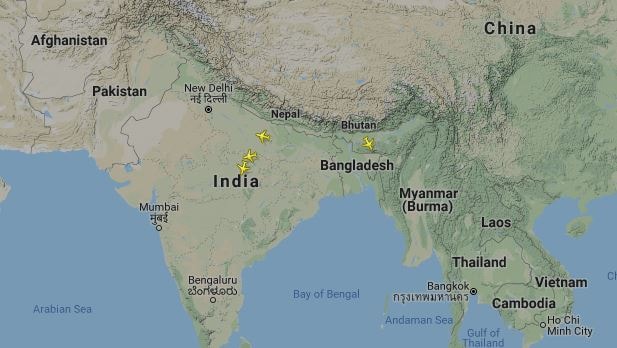 Earlier on Wednesday, the airline launched at least eight flights using the Boeing 737 Max 8 planes. Only two of these flights — Dubai-Kochi and Hong Kong to Delhi — were returning from the foreign land. The rest of the flights took off within India, FlightRadar24 showed.
Image: Twitter/Venkata Satish (@snakeyesV1)
"This is a blatant violation of the immediate grounding order by the DGCA … especially for flights departing base for non-base cities such as Surat and Jaipu etc. carrying passengers," said an aviation insider requesting anonymity.
DGCA clarified on Wednesday that the ban on all Boeing 737 MAX 8 aircraft will be effective from 4 pm. "B737Max operations will stop from/to all Indian airport's. Additionally, no B737 Max aircraft will be allowed to enter or transit the Indian airspace effective 1600hrs Indian time or 1030 UTC. The timeline is to cater to situations where aircraft can be positioned at maintenance facilities and international flights can reach their destinations."
But all the SpiceJet flights that took off after DGCA's Tuesday order were regular flights, carrying passengers.
India on Tuesday banned the use of Boeing 737 MAX 8 aircraft by the country's airline companies following a deadly crash in Ethiopia involving the US passenger jet. "DGCA has taken the decision to ground the Boeing 737-MAX planes immediately. These planes will be grounded till appropriate modifications and safety measures are undertaken to ensure their safe operations," the ministry of civil aviation said in a tweet.
Soon after the
DGCA order
, SpiceJet said it has suspended Boeing 737 Max operations. "Safety and security of our passengers, crew and operations are of utmost importance to us and we will be working with the regulator and the manufacturer to attain normalcy in our operations. We are confident of accommodating the vast majority of our passengers and minimise inconvenience," the airline said on Tuesday night.
A statement by the airline on Twitter too said it will suspend Max 8 operations "from today onwards".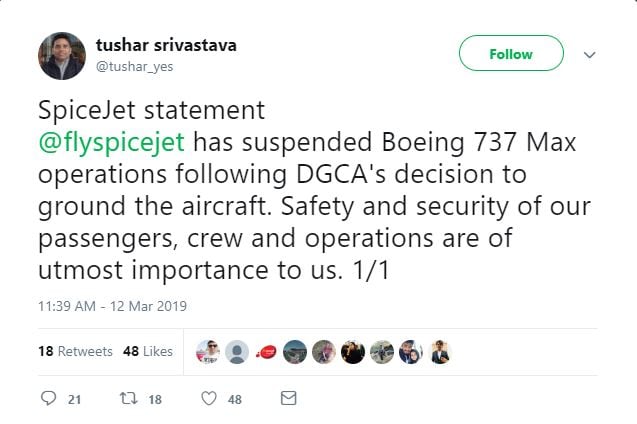 SpiceJet has 12 Boeing Max 737 8 planes in its fleet.
SpiceJet has declined to comment on this article.
In a separate statement, the airline said consequent to the regulatory directive on the Boeing 737 Max, it has already initiated grounding of its MAX fleet. "In order to cause least inconvenience to its passengers and also bring these aircraft to its maintenance base we expect to complete this exercise on or before 4 pm today. SpiceJet has presently announced cancellation of 14 flights for today and will be operating additional flights from tomorrow. Of the 76 planes in our fleet, 64 aircraft are in operations and we are confident of minimizing the inconvenience to our passengers and attain normalcy in our operations."
SpiceJet said while a majority of passengers affected as a result of these cancellations have been accommodated on alternate flights, the rest have been offered a full refund. "Safety and security of our passengers, crew and operations are of utmost importance to us and we are closely working with the regulator and manufacturer to resolve the matter," it added.
SpiceJet received plenty of flak on the social media for defying the DGCA order.
The notice says "Immediate" means immediately from the time DGCA issues the ban.I Europe flight had to divert when France and Germany banned the 737-8. That is what immediate means https://t.co/ONrvFIi4NG

— Shakti Lumba (@CaptShaktiLumba) March 13, 2019