The board of crisis-hit Jet Airways will consider cost reduction initiatives and turnaround plan along with June quarter results at its meeting on August 27. The full-service carrier, which is grappling with financial woes, has been looking at ways to reduce costs amid high oil prices and intense competition.
On August 9, the airline's board of directors deferred announcement of unaudited financial results for the June quarter and the same would be taken up on August 27.
Ahead of the numbers, we look into what is plaguing the company and where the probable solutions lie.
Balance Sheet Stress
The biggest issue for Jet Airways has been the balance sheet stress it has undergone over the last many years. Although optically it may appear that net debt has been reducing over the last five years but the devil is clearly in the details. The net debt for Jet Airways has fallen from Rs 11,072 crore in June 2015 to Rs 8150 crore in March 2018, but the real internal to track is the mammoth rise in trade payables.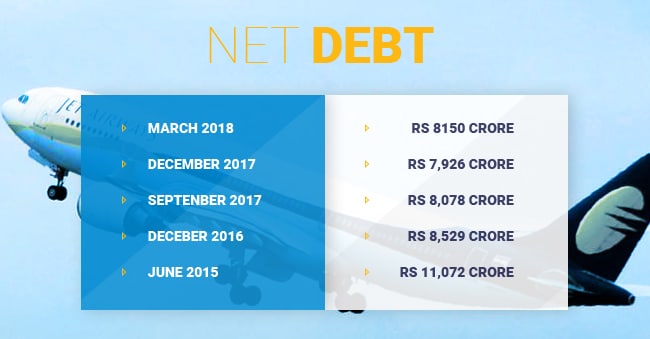 The big issue for Jet Airways is mounting dues to suppliers and inability to meet these obligations resulting in delayed payments. This can be documented in the mounting net trade payables. Payables for Jet Airways has risen from Rs 1,380 crore in March 2011 to Rs 5,430 crore in March 2018, that's a quadrupling of trade payables in seven years.
The tight liquidity situation is clearly reflected in the airline's cash flows which clearly reveals that it doesn't have enough liquidity to meet its trade and debt obligations. The company has managed to stay afloat with lenders through fresh borrowings.
HSBC in a recent note indicated that the airline raised funds through an NCD (nonconvertible debenture) last year at a coupon rate of a staggering 20.6 percent. This clearly indicates that as the stress and risk increase the cost of borrowing is getting into the unserviceable territory.
Things are not any better on the growth front. Jet Airways has been lagging its peers on almost all parameters be it growth, profitability or market share.
Jet Airways margins fell to 3 percent in FY18 against 13.1 percent in FY17. This at a time when both Interglobe and Spicejet saw improvement in margins in this period.
Indigo's margins rose to 17 percent in FY18 from 15.8 percent a year ago period. Similarly, Spicejet's margins rose to 10.9 percent from 9.9 percent.
Jet Airways has been making loss for five out of the last eight years. in FY18 , the airline reported a loss of Rs 636 crore on a revenue of Rs 24,510 crore. In the same year reported a profit of Rs 2,243 crore on roughly the same revenue of Rs 23,020 crore.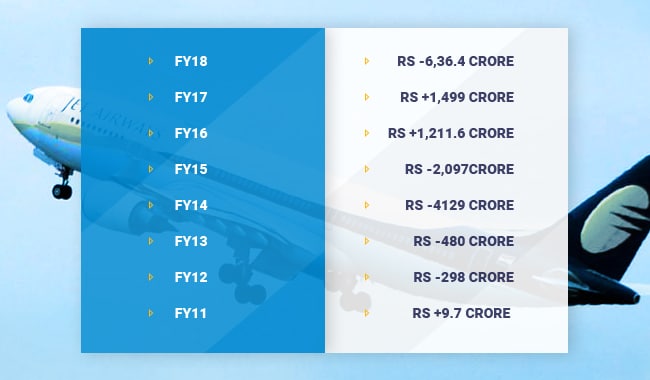 Deteriorating cost structure is the biggest worry for the airline. In the case of Jet Airways, revenue per seat km (RASK) that tracks operational efficiency has been declining.
For earning Rs 3.64 per km from every passenger (RASK- revenue per seat-km) Indigo spends Rs 3.15 per km (CASK cost per seat-km). Jet Airways earned Rs 4.21 per km from every passenger, given its more premium offering. However, it spent Rs 4.49 per km to earn it, leading to the loss.
This warped cost structure is at the core of Jet's problems. Why does it cost airline Rs 4.49 per km, while Indigo can do it at 3.15? A bloated cost structure and poor management could be the reasons for this, according to experts.
The airline has also lost substantial market share over the past five years. The combined market share of Jet Airways and Jet Lite has fallen to 15.9 percent in July 2018 from 21.7 percent in 2014.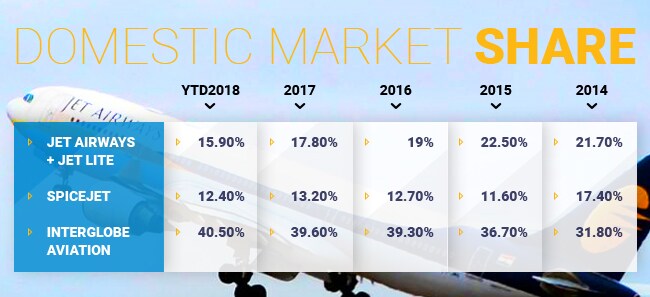 Steps To Avoid A Hard Landing
The need of the hour is to raise funds, probably through a strategic equity sale. The company should immediately reduce its debt and net payables as both are now staggering at 49 percent of revenues.
The company also needs to find ways to drive profitability. —EBITDA (earnings before interest, taxes, depreciation, and amortization) margins for jet airways is 270 basis points lower than IndiGo even in FY17.
All eyes will be on the board as they set to meet on Monday to consider cost reduction initiatives and a turnaround plan along with June quarter results.