India's domestic air traffic grew only 5.6 percent year-over-year in February, the slowest in 5 years, as financial and operational issues in the
aviation sector
led to higher airfares. Indian airlines carried 113.49 lakh passengers in February 2019 as against 107.44 lakh during January, according to data released by Directorate General of Civil Aviation.
According to HSBC Global Research, capacity shrinkage was due to various temporary issues such as problems in Pratt & Whitney engines, shortage of pilots, grounding of Boeing 737 max and liquidity crisis at Jet Airways has led to a sudden spike in air ticket prices in the last month.
HSBC Global Research believes uncertainties will continue to weigh, especially revolving around Jet Airways and the Boeing 737 Max planes. Therefore, the brokerage has initiated 'hold' rating on SpiceJet and a 'reduce' target on Jet Airways with a price target of Rs 79.50 per share and Rs 190 per share, respectively.
Jet Airways traffic was down 28 percent YoY. Excluding Jet Airways, the industry traffic was up 12.5 percent in February. Also, industry load declined 2 points to 89 percent and therefore, the growth slowed markedly, said the research report.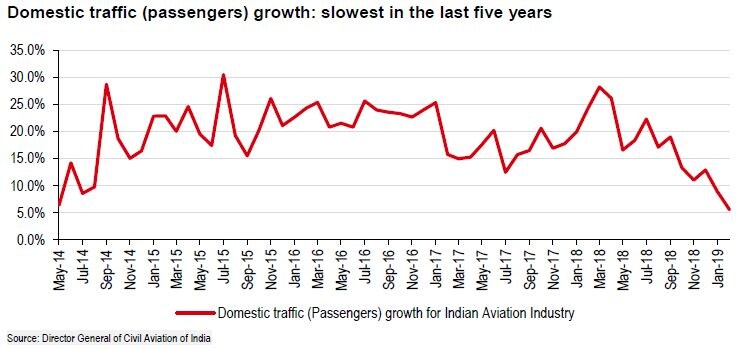 The report also said that the load factor was down for most. Load factor for Jet was down 1.2 points despite a 27 percent decline in its capacity. Load factor at Indigo was down 3 points to 88.4 percent and SpiceJet's was down 2.3 points to 94 percent.
Coming to the market share front, Indigo's share was up 0.9 points to 43.4 percent, SpiceJet's was up 0.4 points to 13.7 percent, Air India's was up 0.6 points to 12.8 percent and GoAir shares were up 0.3 points to 9 percent, added HSBC.