Termed as one of the deadliest cyclones that the country has ever seen,
cyclone Fani
is expected to cross the coast of Odisha tomorrow morning.
If you have any travel plans to or from the state by any of these carriers, then here is what you must know.
Directorate General of Civil Aviation, the civil aviation regulator, has cancelled all flights to and from Bhubaneswar for May 3 and to and from Kolkata from 2130 IST of May 3 to 1800 IST of May 4.
It has also said that resumption of flights will depend on respective air traffic control departments of the concerned airports.
Other than this, airlines have also issued independent statements.
1. Air India
The national carrier is waiving all applicable penalties of re-issuance, date change, no-show, cancellation and refund on all tickets for travel to or from Bhubaneswar and Vishakhapatnam for travel from May 3 to May 5.
Due to weather warning, the airline has preponed departure time of following flights for May 3:
AI775/Guwahati-Kolkata-1615 hrs./Kolkata-Bangalore-2015 hrs.
AI745/Kolkata-Agartala-1750 hrs.
AI746/Agartala-Kolkata-1925 hrs.
Some of the cancelled and rescheduled flights are as follows: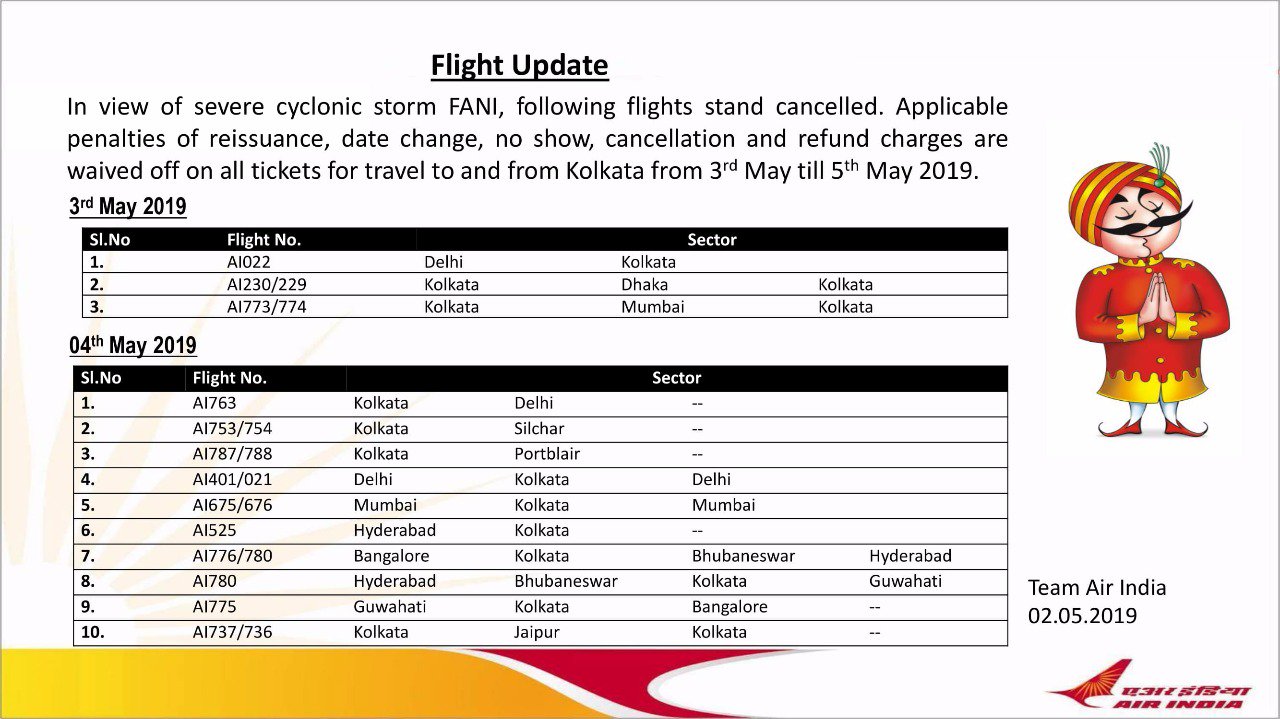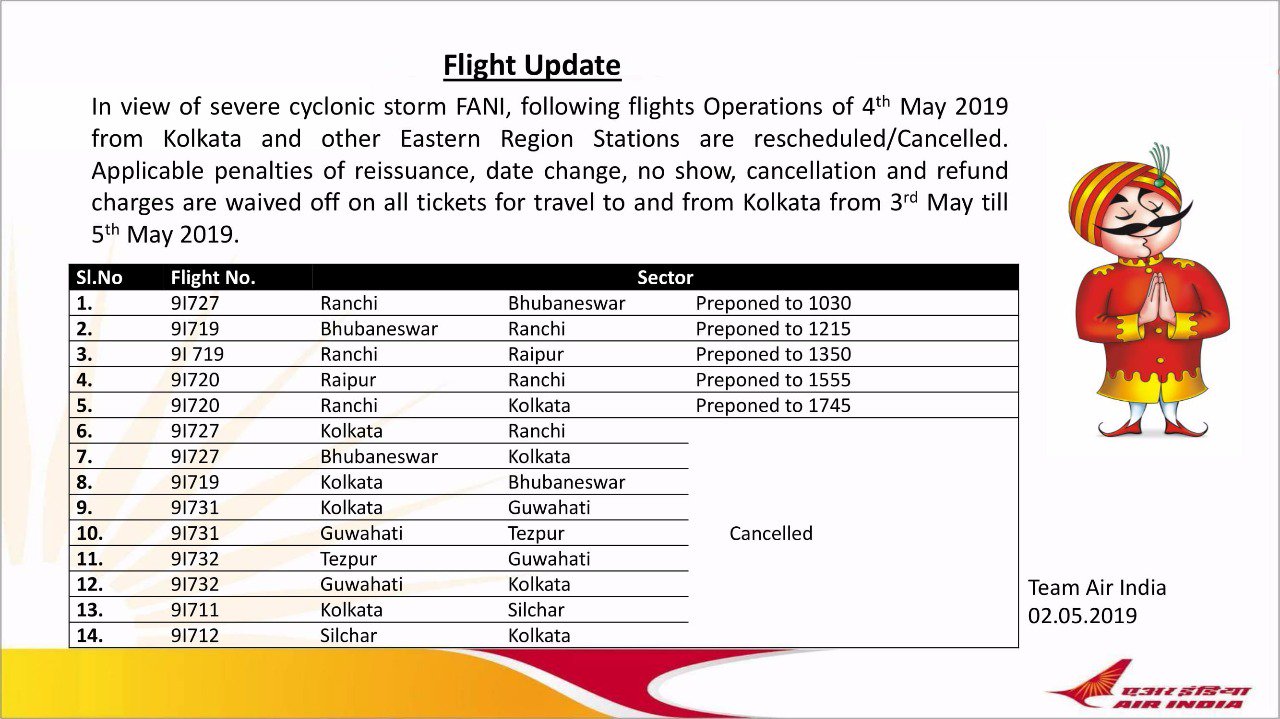 In case of any assistance, you can call on their 24*7 customer care number 1860 233 1407.
2. Vistara
The airline has cancelled two Bhubaneswar flights for May 3 as of now. These are UK785 (Delhi-Bhubaneswar) and UK786 (Bhubaneswar-Delhi).
The full-service carrier has also waived cancellation and change fee for Bhubaneswar and Kolkata flights for a period between May 2 and May 5. Nonetheless, for any queries, customers can reach the airline at +919289228888.
3. GoAir
GoAir passengers
travelling to and from Bhubaneswar, Kolkata and Ranchi might be inconvenienced. The airline is waiving cancellation and change fees for Bhubaneswar, Kolkata and Ranchi flights for travel between May 2 and May 5.
Passengers are allowed to re-book their flights within 7 days of scheduled departure.
Customers may contact GoAir's Airport Ticketing offices or call the 24x7 customer service centre on 18602 100 999.
4. IndiGo
IndiGo
has cancelled all flights to and from Bhubaneswar for May 3 and has cautioned passengers that the flights operating today in the area may also be hit.
The airline's customer care numbers are +919910383838 and 01246173838.
5. SpiceJet
The airline is offering a full waiver on cancellation and date change charges for travel to and from Jharsuguda, Kolkata and Vishakhapatnam between May 3-5. Fare difference, if any, will be applicable for change in travel date.
Customers can contact the airline for more support at +919654003333.