Aircraft Accident Investigation Bureau (AAIB) on Saturday recovered Digital Flight Data Recorder and Cockpit Voice Recorder from the Air India Express Dubai-Kozhikode flight IX-1344 that crash-landed at the Kozhikode airport claiming at least 18 lives.
The incident happened at 7.41 pm. The 191 people on board included crew and 10 infants. Reports suggest that all passengers have been evacuated and rescue operations have culminated at the airport, however, 18 people have lost their lives so far.
The aviation minister said that the plane overshot the runway in rainy conditions after which it plunged 35 ft into a slope and broke into two pieces. "We are in touch with local authorities. Relief teams from Air India, AAI are being immediately dispatched from Delhi and Mumbai. A formal enquiry will be conducted by the Aircraft Accident Investigation Bureau (AAIB)," he said.
Air India Express has only Boeing 737 planes in its fleet.
A senior aviation ministry official said, "Air India Express flight IX 1344 operated by Boeing 737 aircraft from Dubai to Calicut overshot runway at Kozhikode's Kanipur Airport at 7.41 pm on August 7. No fire was reported at the time of landing."
Catch the latest updates here:
Aviation expert flagged concerns about Kozhikode airport runway in 2011
Flights landing on runway 10 in tailwind conditions in rain at the Kozhikode airport endanger the lives of people onboard those flights, a civil aviation expert had warned in 2011. Captain Mohan Ranganathan had flagged concerns about the runway in a communication to then Civil Aviation Secretary Nasim Zaidi in June 2011. Ranganathan was then a member of the operations group of the Civil Aviation Safety Advisory Committee (CASAC).
In the backdrop of Kozhikode crash, Patna airport cries for attention
The tragic air crash at Kozhikode, in which at least 18 people were killed, has triggered fresh hopes that the spotlight would be back on "risky" airports like the one here which suffers from many deficiencies and has seen one of the major plane accidents in the countrys history two decades back. The Jaiprakash Narayan International Airport, reckoned among the 20 busiest ones across the country, had hit the headlines on July 17, 2000 when more than 60 people were killed when a Delhi-bound Boeing 737 from Kolkata ploughed through a residential locality.
Kozhikode plane crash: Deeply disheartened, says Tamil Nadu chief minister
Tamil Nadu chief minister K Palaniswami and leaders of various political parties in the state expressed their heartfelt condolences to the families which lost their members in the Kozhikode plane crash. Palaniswami said he was "deeply disheartened" over the news of the flight crash at Kozhikode in Kerala. He also wished the injured a speedy recovery. "I am deeply disheartened to hear the news of flight crash at Kozhikode. I pray to God to give enough strength to the families of victims and for the speedy recovery of the injured," Palaniswami said on Saturday.
Kerala announces Rs 10 lakh compensation to kin of flight crash victims
The Kerala government on Saturday announced Rs 10 lakh compensation to the families of those who died when an ill-fatedAir India Express flight veered off the runway while attempting to land at the Karipur international airport. At least 18 people have lost their lives and 149 are under treatment at various hospitals of Malappuram and Kozhikode districts, Chief Minister Pinarayi Vijayan told the media after a high-level meeting held at the district in which state Governor Arif Mohammed Khan also participated.
Terrible tragedy: Bachchan, Shah Rukh, Akshay and others on Air India Express plane crash
Amitabh Bachchan, Shah Rukh Khan, Akshay Kumar and Ajay Devgn are among the film personalities who have expressed grief over the Air India Express aircraft crash that killed 18 people.
Probe into Air India Express flight crash on: Union minister V Muraleedharan
The Centre on Saturday said investigation is on to ascertain various aspects of the Air India Express flight crash at Karipur airport, which left 18 dead and several injured. Minister of State for External Affairs V Muraleedharan, who arrived here this morning from New Delhi on the directive of Prime Minister Narendra Modi was briefed by the officials of Air India and Airport Authority of India (AAI) on how the accident had occurred.
Kozhikode flight crash: Deceased passenger tests positive for COVID-19
One of the 18 passengers, who died when an Air India Express flightfrom Dubai crashed landed at the airport, has tested positive for COVID-19. Higher Education Minister K T Jaleel told the media that samples ofthe passenger, Sudheer Varyath (45), were sent for testing and it hasreturned positive for the disease.
Aircraft Accident Investigation Bureau (AAIB) recovers Digital Flight Data Recorder and Cockpit Voice Recorder from the aircraft. These will be brought to Delhi for further investigation.
#WATCH
Latest visuals from Kozhikode International Airport in Karipur, Kerala where an
#AirIndiaExpress
flight crash-landed yesterday.
MoS External Affairs V. Muraleedharan visits site
Minister of State for External Affairs V. Muraleedharan, who visited the crash site on Saturday, said that while the aircraft was broken into two pieces, some of its parts were "torn apart during rescue operation".
More helpline numbers: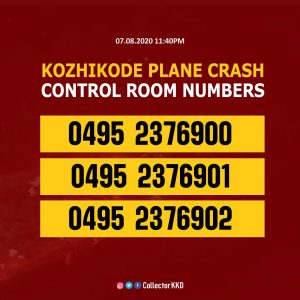 AI Express says 3 relief flights arranged
Air India Express said on Saturday that three relief flights had been arranged to Kozhikode in Kerala to assist passengers and their family members affected by the plane crash a day ago.
It stated that Air India Chairman and Managing Director Rajiv Bansal, and Air India Express Chief Executive Officer K Shyam Sundar had already reached Kozhikode.
Two special relief flights have been arranged from Delhi and one from Mumbai for rendering humanitarian assistance to all the passengers and the family members, the airline said.
Death toll rises to 18; 127 at hospitals, others discharged
Civil aviation minister Hardeep Singh Puri on Saturday told ANI that 18 people have lost their lives so far while 127 people were being treated at hospitals. Others were discharged. "Our task would have been much more difficult if the plane had caught fire," he said, adding that he was heading to the airport.
Kerala governor Arif Mohammad Khan and CM Pinarayi Vijayan will visit Karipur today, where the aircraft crash-landed.
Indian consulate in Dubai to remain open today to share details
The Indian Consulate in Dubai will remain open on Saturday to help those who need assistance to travel to Kerala and provide information about the crash of the Air India Express flight.
India's newly appointed Consul General to Dubai Dr Aman Puri said that there were all kinds of Indians on-board the IX 1344 flight.
The Indian consulates in Dubai and Sharjah have activated five helpline numbers to provide information to the family members of the deceased and the injured passengers.
"Our helplines +97156 5463903, +971543090572, +971543090571, +971543090575," Puri told PTI.
The helpline number to call in Sharjah for updates is +97165970303. Air India Express has also established a helpline number in Sharjah at +971 6 5970303.
16 killed
News reports suggest that a pilot and 15 passengers were killed after the plane with 191 passengers and crew on board, skidded off the runway. All passengers were evacuated from the aircraft and rescue operations ended at around 11.40 pm. Kerala police officials said that at least 123 people sustained injuries and were shifted to various hospitals. There was heavy rain when the accident occurred.
At least 24 ambulances and fire tenders were rushed to the airport, another official said.
All flights to Kozhikode have been diverted to Kannur Airport until further notice.
Pilots and crew onboard
There were six were crew members including two pilots on the flight. Captain Deepak Vasant Sathe, a veteran ex-Indian Air Force pilot died in incident, while First Officer Akhilesh Kumar is said to be critical.  The other four crew members include Dashra Shilpa Katare, Akshay Pal Singh, Lalit Kumar and Abhik Biswas.
DGCA orders detailed inquiry
The Directorate General of Civil Aviation (DGCA), has ordered a detailed inquiry into the matter. The top aviation body said that the plane broke into "two pieces" after landing at the airport.
The regulator said that flight IX 1344 continued running to the end of the runway amid heavy rain and "fell down in the valley and broke down in two pieces".
The Dubai-Kozhokode flight, a Boeing 737, had 184 passengers on board and landed at 7.41 pm at the airport.
Prime Minister Narendra Modi tweeted:
Kerala Chief Minister Pinarayi Vijayan tweeted:
Help Centre info for relatives of passengers
Relatives of passengers onboard Air India Express flight IX 1344 that crashed at Karipur International Airport, can contact on 0495 - 2376901 for enquiries, Kozhikode Collector said.
UAE Consul General of India has asked relatives of passengers to contact on the following helpline numbers 056 546 3903, 0543090572, 0543090572, 0543090575.
These numbers will assist you in providing information about passengers who were on the Air India Express AXB1344 from DXB to CCJ.
Airport Control Room - 0483 2719493
Malappuram Collectorate - 0483 2736320
Kozhikode Collectorate - 0495 2376901
President Ramnath Kovind says, Deeply distressed to hear about tragic plane crash at Kerala's Kozhikode
President Ram Nath Kovind on Friday said he was deeply distressed to hear about the tragic plane accident at Kerala's Kozhikode airport and his thoughts and prayers were with the affected passengers, crew members and their families. Kovind said he spoke to Kerala Governor Arif Mohammed Khan and enquired about the situation there. "Deeply distressed to hear about the tragic plane crash of Air India Express flight at Kozhikode, Kerala. Spoke to @KeralaGovernor Shri Arif Mohammed Khan and inquired about the situation. Thoughts and prayers with affected passengers, crew members and their families," the President tweeted. At least 16 people were killed and several others injured when a Dubai-Calicut Air India Express flight with 191 passengers and crew on board overshot the runway at Kozhikode and fell into a valley, breaking into two portions, on Friday evening, police sources have said.
Home Minister Amit Shah directs NDRF to rush to air crash site in Kerala
Union Home Minister Amit Shah directed the National Disaster Response Force (NDRF) on Friday night to rush to the spot at Kerala's Kozhikode, where an Air India Express aircraft crashed, to assist in the rescue-and-relief operations. The Air India Express plane coming from Dubai overshot the runway at the Kozhikode airport. "Distressed to learn about the tragic accident of Air India Express aircraft in Kozhikode, Kerala. "Have instructed NDRF to reach the site at the earliest and assist with the rescue operations," Shah tweeted.
(With inputs from agencies)