Flight bookings made through all global distribution systems (GDS) to the UK surged significantly ahead of the ICC Cricket World Cup, with maximum participation coming from Indians, revealed an analysis conducted by
Travelport
, a leading travel commerce platform.
GDS are vast hi-tech reservation networks that allow travel agents, travel management companies and large corporations, among others, to search and book airline seats, hotel rooms, rental cars, and other travel related items.
As of 21 May 2019, the bookings for the period of the tournament, plus two days either side (Tuesday 28 May 2019 to Tuesday 16 July 2019), had increased by 47,939, about 3 percent rise compared to the same period the previous year, revealed the analysis.
Out of the total bookings, India's bookings stood at +17,505, the highest. South Africa (+2,654), Bangladesh (+1,565) and Pakistan (+1,449) also witnessed a significant uplift.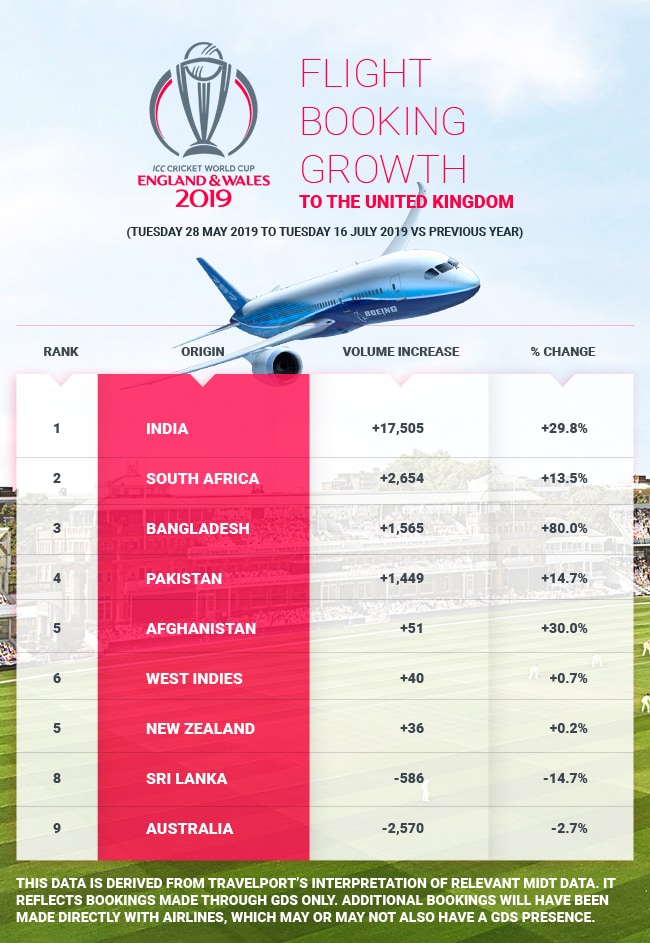 "We're pleased to see the Cricket World Cup is attracting more people to visit the United Kingdom, with overall flight bookings up by more than 45,000 during the event. With two previous Cricket World Cup wins to its name and a hugely passionate supporter base, it's no surprise to see there has been a significant surge in flight bookings from India," said Stephen Shurrock, chief commercial officer, Travelport.