Mini
It's time India joins the bandwagon for stopover holidays and helps its fast growing airline, with more reasons to carry traffic.
Airlines in India are looking to expand to the east and the west, powered by the steady induction of planes such as the A320/A321neos or the B737 MAX8s, which have helped increase their range and reach. Yet, securing traffic all through the year will be a challenge.
As each airline tries to create its own hub with a fair mix of domestic traffic connecting to international flights and one international flight connecting to another, it is time for the government to explore a mechanism wherein airlines, hotels and the tourism sector benefit by offering "stopover holidays".
National carrier Air India has the largest long-haul network for any airline from India. The airline has an established hub in New Delhi — the national capital and the largest airport in the country — and has effectively used this hub to connect to Sydney, Melbourne, Hong Kong, Shanghai, Singapore, Tokyo on the east and London, Birmingham, Madrid, Rome, Milan, Paris, Frankfurt, Vienna, Copenhagen and Stockholm on the west. The airline, which is struggling to make ends meet, could partner with the tourism ministry. Remember, the ministry has not been able to explore fully the tourist potential of the country. More passengers and tourists and at the same time is an idea whose time has come.
India's low-cost carriers, meanwhile, are planning to go places with their shiny new planes. India, largely New Delhi, could see connections to Cambodia, Vietnam, Myanmar and parts of China. New Delhi has the potential to be an effective transit hub with several connecting points.
Why do people opt for connecting flights? It could be as simple as lack of direct flights or the cost or preference of an airline alliance or airline.
For either of the cases, there are many airlines and hubs that vie for the same piece of traffic between any pair of cities that boasts large traffic. Airlines such as Emirates and Qatar have built a fortune flying people from east to west and vice versa.
India's airlines cannot compete with them on the product front. But as an industry with government support, the Indian aviation industry can create an unbeatable market – one that caters to airlines, hotels and tourism together.
Not all airports can make a stopover holiday work. Apart from an effective hub, connectivity and airport infrastructure, a city needs food, frolic and fun. And Delhi has it all. It has history, food, fun, culture and much more. With an effective public transport from the international terminal to a high capacity of hotel rooms near the airport (Aerocity), Delhi ticks off all the essentials.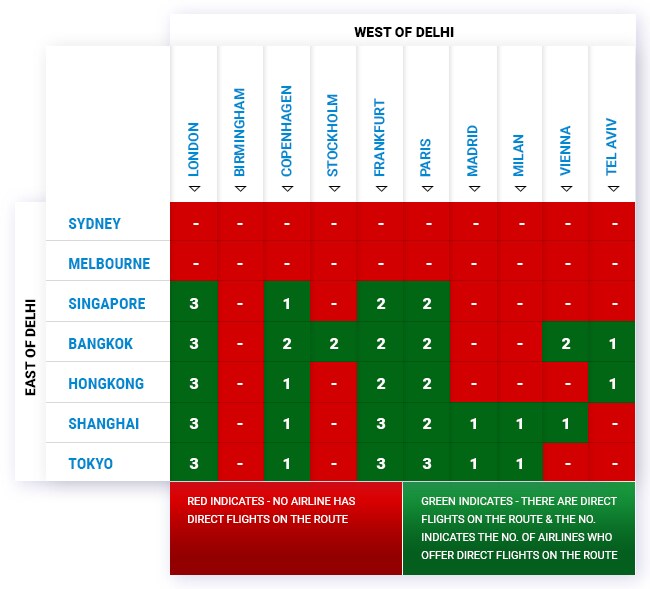 New Delhi, New-look Destination
What makes Delhi a unique proposition is also the possibility to visit the Taj Mahal in a day and return or a quick trip to the pink city of Jaipur. There are plenty of hill stations and the so-called weekend getaways that make Delhi a formidable tourist destination.
While New Delhi is the hub for Air India and sees maximum international connectivity out of India, Bengaluru and Mumbai can also be part of the stopover holidays package. Problem is both cities lack a strong airline which an efficient hub.
No stopover holiday comes risk-free. There always is a security risk or one doesn't know who sneaks in. But world over, countries and airlines have worked together to limit it to certain nationalities and have an upper cap on the hours or days a person can be in the country during transit. Most allow a stopover holiday only once for a single PNR (Passenger Name Record).
A stopover holiday is not a program for struggling or upcoming airlines only. Passengers might not know, but SWISS offers stopover holidays in Zurich and Iceland air launched the program in 1948 – the same year the airline was formed. The program, which continues to date, is very popular with the tourists. Closer home, Air Astana started a program in co-operation with Tourism Kazakhstan and Singapore offers a similar package.
Such programs come with many benefits, with the immediate incremental arrivals being the foremost. Additional passengers and increased revenue for the airline, higher occupancy rates and business for the hotels and marketing your country to someone who hasn't planned a full-fledged trip are some of them.
When tied up with other schemes of the airline, like applicability of the offer only when booked on the direct channels (airline website, call center or airline booking office) the package could help airline save revenue by reducing commissions and distribution charges.
Wah, Taj Stopover!
India has already benefitted massively from the e-visa program it launched in late 2014. Over 150 nationalities are now eligible for e-visa and the arrivals are growing rapidly with each passing month. The prime market would be the Australia to Europe market, which does not see a non-stop flight!
Who wouldn't want to visit Taj Mahal while going from Sydney to London? Stopover as a word is associated with bad memories, but the moment you add holiday to it, it's a different wor(l)d altogether! And if the Middle Eastern carriers offer the same, most of the travelers would opt for seeing Taj Mahal over one of the newer wonders of the Gulf like Burj Khalifa.
It's time India joins the bandwagon for stopover holidays and helps its fast growing airline, with more reasons to carry traffic.
Ameya Joshi is founder of aviation analysis blog NetworkThoughts.