"These are exciting times for the air transport industry in India," Brian Pearce, Chief Economist at International Air Transport Association had said in Aug 2018 about the world's fastest-growing economy after the country boasted of double-digit growth in air passenger traffic for four years straight.
This excitement lasted for about five more months. The growth in air travel demand started nosediving since January amid shrinking capacity and sky-rocketing fares resulting in stagnation of growth in March.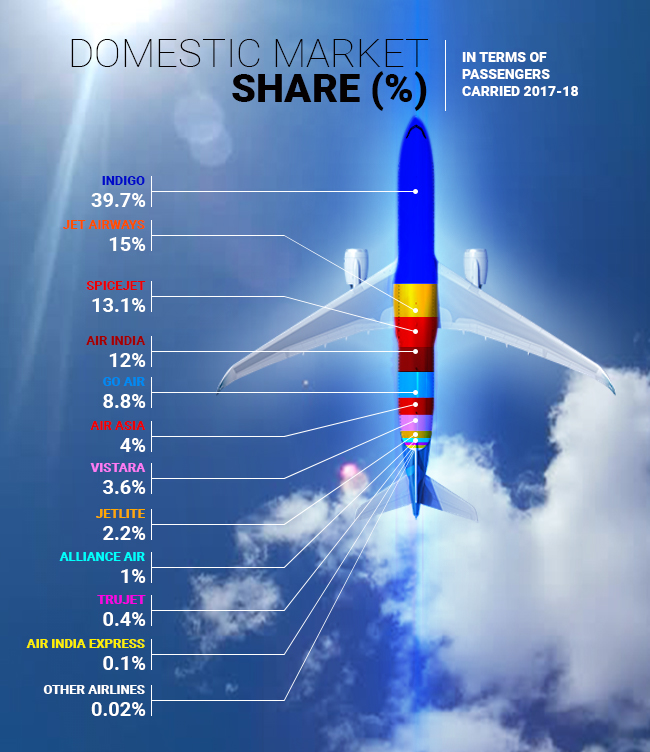 Source: DGCA
Domestic passenger traffic, which has been registering a compounded annual growth rate of 10.76 percent during the period 2007-08 to 2017-18, grew at just 4.2 percent on year during 2018-19 (Apr-Mar). This was the lowest since 2012-13, when the demand contracted by 4.8 percent on year due to the sudden disruption on account of the demise of Kingfisher Airlines.
So, what changed since January?
Well, a lot. The sector has seen a rollercoaster ride since January with IndiGo, the largest carrier, witnessing a shortage of commanders and thereby, being forced to operate a curtailed network for at least two months.
This was followed by the second fatal crash in a Boeing 737 MAX in March, causing safety concerns regarding the aircraft model which made up nearly half of the country's order book. Regulators across the world soon ordered grounding of MAX planes, impacting SpiceJet and Jet Airways, which then had a total of 17 (12+5) such planes in operations.
Between the two carriers, SpiceJet's order book comprised 155 firm orders and purchase rights for 50 more, Jet Airways had ordered a total of 225 MAX aircraft.
Lastly, the most disruptive change has been the sudden "temporary" closure of the country's second-largest airline in what seemed to be a piecemeal manner. The country's oldest private carrier, 26-year-old Jet Airways closed shop for an indefinite interim period on Apr 17 after having to battle a severe financial crisis since August last year on account of legacy issues and delayed recapitalisation.
Matters came to a head in a matter of two months as the airline reached an active fleet size of 5 in April from 100 earlier after it started grounding at least half a dozen planes every week since February.
Slots, slots Everywhere.
Someone's loss is another's gain but one can only handle so much gains. Jet Airways was operating around 450 daily flights and hence, with its suspension, an equivalent vacuum has been created in the Indian aviation space.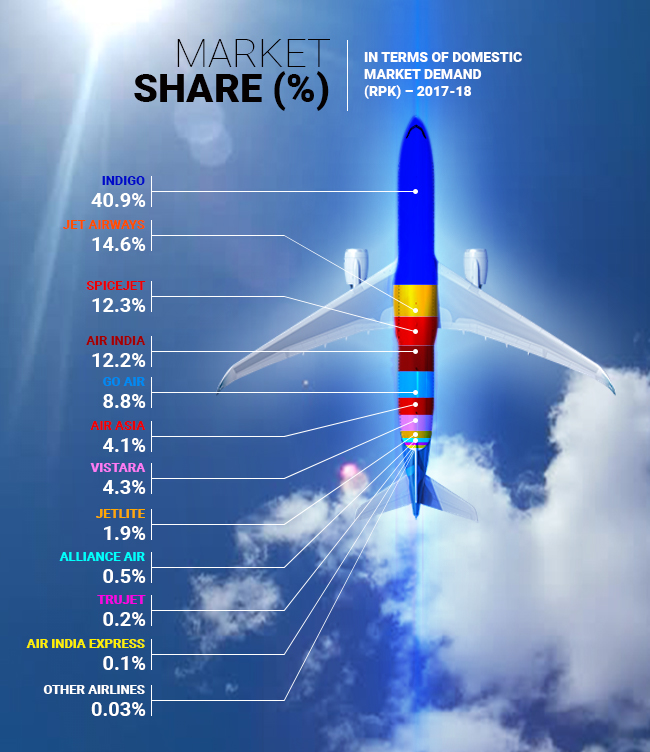 Source: DGCA
The civil aviation regulator DGCA has been giving away Jet Airways' slots to other carriers for an "interim period" with a total of over 400 slots (landing and take-off) just for Delhi and Mumbai, two of the busiest airports of the world.
Given by the announcements being made, it would be fair to assume that SpiceJet has received the most number of slots at Mumbai and Delhi, followed by IndiGo. Overall, other carriers have been able to launch under 100 flights so far, indicating that the vacuum is far too large and is nowhere close to being fulfilled.
"We have an excess of slots. There is no dearth of that. Airlines are being asked to expedite their capacity induction plans," a government official said.
INTERNATIONAL JAM
From a 29 percent market share of international air traffic from India in 2004-05, domestic carriers have raised their share to 39 percent in 2017-18 with Jet Airways being the leader of the pack followed by Air India.
The full-service carrier had a fleet size of 119 planes with almost 17 percent market share in domestic space. It was the largest operator of international traffic from India with 14 percent market share.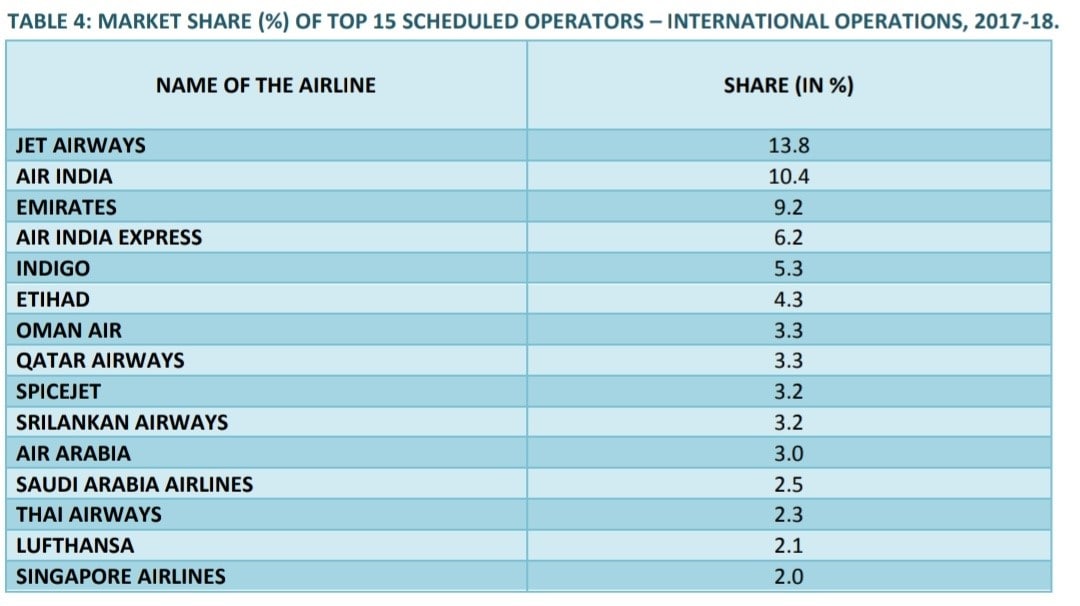 Source: DGCA
Over the years, Jet had built a loyal passenger base on the back of its service quality, a vast network and numerous codeshare partnerships with airlines like US-based Delta Air Lines, KLM, Flynas and Etihad among others.
With the sudden fall of Jet Airways, connectivity to cities like Toronto, Paris, Hong Kong, London, Amsterdam, Singapore, Dammam has been hit with lesser options leading to expensive travel and general discomfort to passengers used to the service of an airline.
Even as other carriers like IndiGo and SpiceJet eye aggressive international expansion, now on an expedited level due to the route vacancies available, it will take a fair amount of time for them to create a loyal international traffic for themselves and more importantly, there will also be a gestation period for the route to settle down.
SpiceJet, which is making most of the situation, has already signed up for 22 out of the 56 de-registered B737 of Jet Airways. It plans to soon graduate to a business class service provider from just a low-cost carrier. No matter how good it sounds, this will also be an exercise that will be tested by the passengers over time and only then can an assessment can be made as to the impact of this move.
It is also important to note here that SpiceJet has been depending on the induction of MAX into its fleet to help in fuel savings to the tune of 15-20 percent in a market where nearly 40 percent of the total expenditure is on account of jet fuel.
However, as it inducts older plane of Jet Airways, maintenance costs are set to increase for the carrier. This increase, which would have been otherwise compensated to an extent by the fuel savings, is likely to impact the balance sheet of SpiceJet at least for the near term.
Also, one must remember that not all is well yet for Pratt & Whitney engines of IndiGo's Airbus A320neo fleet. DGCA has already conducted a safety audit on concerns regarding these engines, as per government officials. The airline, however, has refuted the reason of the audit.
Airbus and Pratt & Whitney have not been the most punctual in deliveries and in solving the teething issues of the engines. IndiGo's A320neo family aircraft order accounts for nearly half of the country's order book at 430 planes with 150 of these to run on Pratt & Whitney engines.
Add to this, low yield levels and volatility regarding value of rupee and price of crude oil, it becomes a readymade recipe for one of the most "exciting" yet anxious aviation market in the world, having seen collapse of one carrier, near collapse of another and temporary closure of the third in a matter of just six years.
While the industry has time and again asked the government to be more supportive of the sector, the foremost demand of bringing ATF under the GST regime still remains unmet. Furthermore, the government at the centre has, over the decades, has been accused by airlines of playing favourites.
"Demand forecasts can be impacted-either positively or negatively- by a range of other factors, including the availability of infrastructure and broader government policy decisions around market regulation and liberalisation, for example," IATA had said in January.
India has embarked upon a NABH Nirman programme to reach a billion trips in next 10 to 15 years, according to IATA, more restrictive policies and pick-up in protectionism can slow India's air passenger market growth rate to 4.9 percent per year to a little over 400 million passengers as against a near double-digit pace of 9.1 percent or around 900 million passengers.
As domestic carriers brace themselves ahead of March quarter earnings, a long-term razor-sharp strategy will play a crucial role in the survival and growth of players amid blurring lines between full-service carriers and low-cost airlines.
Additionally, a supportive and unbiased policy approach towards a sector, where the question is often about survival and less about growth, will go a long way in indirectly helping the economy by leaps and bounds.
"India is likely to become the third largest aviation market, globally around 2024 as per International Air Transport Association (IATA) forecast," Minister of State for Civil Aviation Jayant Sinha had informed Parliament in a written answer on Dec 20, 2018.
Sure, India has the potential to become the third largest aviation market by 2024 as it is highly under-penetrated but can the two important stakeholders --- government and airlines -- ensure a supportive but unbiased regulatory environment and a competitive yet healthy sector to facilitate that?