Buy / Sell Bajaj Auto share
Rajiv Bajaj, CEO of Bajaj Auto, has called for the government to rethink its approach to subsidising electric vehicles (EVs) in the
Union Budget 2023
. Instead of simply providing financial incentives for purchases, Bajaj believes India should focus on creating the right ecosystem for EV adoption to take off. This includes investing in charging infrastructure, battery swapping stations, and other initiatives to make EVs more convenient and accessible for Indian consumers.
To this end, Bajaj suggests that at least the top 40 Indian cities should have the right ecosystem for EVs to be adopted and flourish. He said this would be a crucial step in reducing the country's dependence on fossil fuels and achieving its ambitious emission reduction goals.
Bajaj also called for incentivising the use of compressed natural gas (CNG) vehicles. He argued that CNG vehicles are a more practical solution for the country's transportation needs, as they are cheaper and more environmentally friendly than traditional gasoline or diesel vehicles.
CNBC-TV18 spoke to the CEO on the day the auto firm rolled out the one-millionth KTM '390 Adventure' at Chakan near Pune.
Here is what Bajaj Auto CEO Rajiv Bajaj told CNBC-TV18:
Q: How important has this partnership with KTM been for Bajaj Auto?
A: We started with KTM in 2007. It's been 16 years. KTM was a company that made about 65,000 motorcycles a year, and now they are closing in on 400,000 a year. A large proportion of that has come out of this partnership, which means designed, developed, made and sold out of India. KTM has gone on, to a large measure on the virtue of this partnership, to become not just the largest motorcycle maker in Europe in the premium segment but the No.1 premier motorcycle maker in the world. I think Stefan Pierer (CEO of Pierer Mobility) and the team would agree that this partnership has been pivotal to building this success.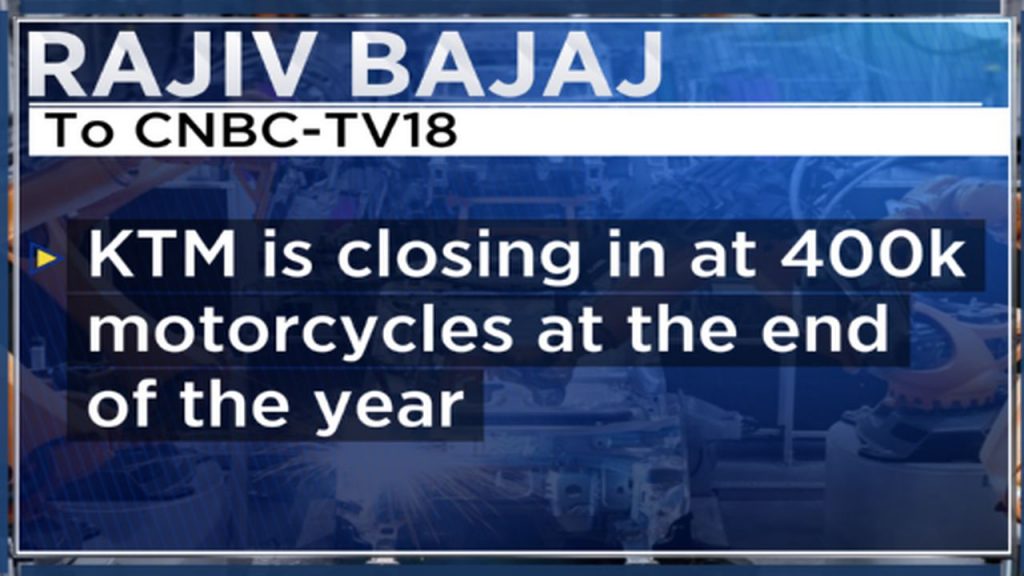 From our point of view, Bajaj sold zero premium motorcycles in 2007, whether in India or globally. And in 16 years, it's 1 million motorcycles in the KTM brand, apart from whatever we do ourselves with Dominar, etc. So, for both, it's been tremendous. And if you look at the other partnerships it has motivated between other Indian and global makers, imitation is the best form of flattery.
Q:
How many more products or what kinds will we see through KTM and Husqvarna in India this year in the premium play, in bigger bikes, and in electric mobility?
A: I'm not at liberty to say anything specific, but over the next two to three years, the entire current lineup of the KTMs, that is, the Duke, the RC, and the Adventure, will be significantly upgraded. So, lots of new stuff is on the drawing board or in development. As Stefan elaborated earlier today, he is open to the idea of bringing bigger KTMs to this market and from this market to other markets in the world. That looks very likely in the near term.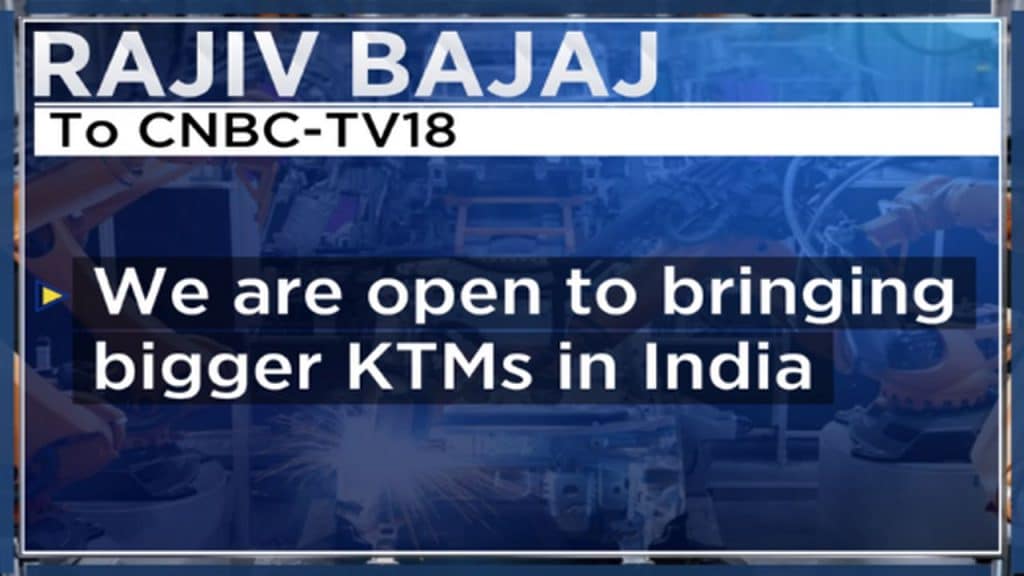 Husqvarna is the second most important brand in the stable. Of course, it is years behind KTM in the Indian market, so it is still taking time to build, but I've seen the new Husqvarnas, and they are absolutely beautiful. In fact, if I may say so, I like them more than I like the KTMs.
Recently as you are aware, KTM has been involved with GasGas, has acquired GasGas and is now involved with MV Agusta. So, there are no specific plans right now for these two brands, as far as Bajaj KTM is concerned. But who knows, this is all available to us and therefore to our customers.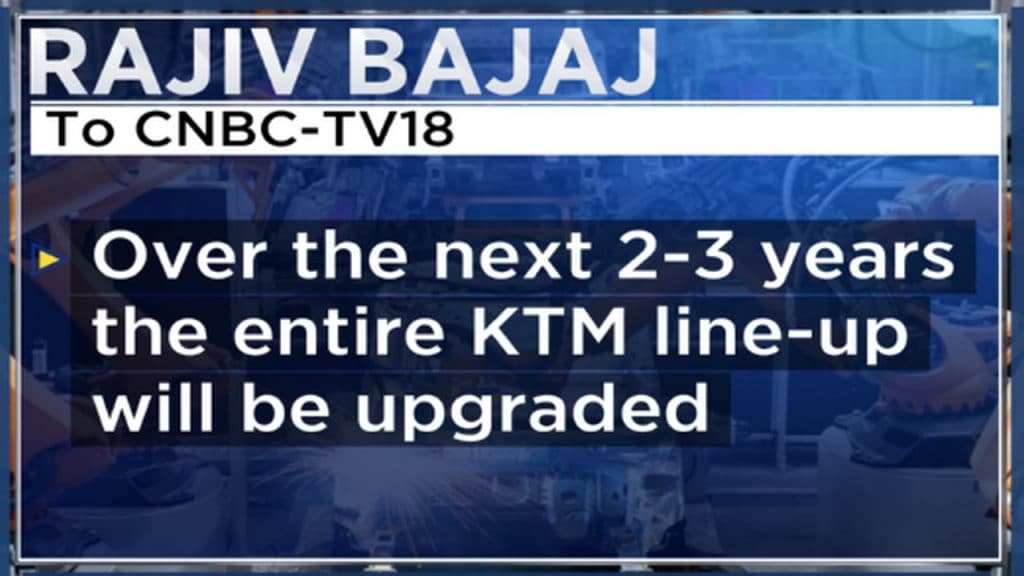 Finally, on electric mobility, it's no secret that we are working together to develop electric powertrains for the future. So, we are working on all those aspects that you mentioned.
Q:
Stefan Pierer pointed out that this year, at least the second half, could be challenging, too, because of the possibility of a mild recession in Europe.
Exports for you have also seen a dip
. How do you think the coming quarters will be for you?
A: Exports are about half of our business. Typically, we were at 200,000 vehicles a month, motorcycles and three-wheelers put together. In recent months, it's more like 140,000. So, we are down about 30 percent. And it's not just us, it's across the industry. We are particularly affected because two of our biggest markets, Nigeria for motorcycles and Egypt for three-wheelers, are hugely impacted. Nigeria is down more than half, and Egypt, for the moment, is not permitting the import of three-wheelers.
Having said that, in the July-September quarter, I think we recorded the highest revenue and bottom line ever. So, we have managed to compensate in other markets, overseas and domestic. I can't yet comment on December quarter results, but I'm hopeful that due to a combination of things in our control and outside of our control, we will continue to put out a pretty good performance. When I say outside our control, I mean that the forex has played an important role in our bottom line. So, sometimes, I tell our people that the performance of Bajaj Auto depends less on its MD and more on the Reserve Bank governor.
Q: There are lots of headlines and a lot of action on the electric vehicle (EV) front as far as Bajaj Auto goes. What we have been picking up is that there would be at least two products for Yulu that are set to be launched, several products in the Chetak segment, you were telling us about electric three-wheeler as well. So, could you give us a sense of how these products will cater to different markets?
A: As far as Yulu is concerned, it's no secret that they address the shared mobility space, both in terms of personal mobility, and also in terms of delivery now, so there will definitely be more than one product, let me put it like that as far as Yulu is concerned. On Chetak, what we hear is that people feel both as a brand and as a product it is extraordinary. In fact, a few days ago, I met Nitin Gadkari, and he complimented me as he did to Sudarshan Venu for the TVS iQube, saying that these are two outstanding scooters coming out of two Indian companies. So that's what we hear about the Chetak.
On the downside, if I may call it that, we also have feedback that the Chetak is probably a little more expensive than it ought to be. And, quite frankly, although there is not much we can do about it, but in order to, on the one hand, make it even better, there will be something and also to make it more affordable, there will be something. So, there will be more than one thing on the Chetak.
As far as the three-wheeler is concerned, again, it's a twin pronged approach. We will have something in the passenger space and something in the goods carrying space. So really products across all of these segments.
Q: There is a big debate right now, within the industry, that whether subsidies will continue after 31st March next year. There is a clamour to continue subsidies till the next 10 years in order to grow the EV industry. What's your view on that? Can the EV ecosystem continue to take off without subsidies?
A: First let me say, I have been here at Bajaj for 33 years. A lot of new technology has come into the marketplace in 33 years - engines have gone from being simple two stroke air cooled duds really to being four strokes, four valve, dual overhead cam, fuel injected, water cooled, liquid cooled etc. Look at suspensions, look at brakes, look at lamps, look at connectivity, so much technology has come in, in the last 33 years. Did any of this technology have to be subsidised by the government? To the best of my knowledge, no. We have gone from BS nothing to BS-VI and Euro-V, was there any subsidy? There was nothing.
So, in principle, when I say that I am not a fan of subsidies - I can't say I am against subsidies, at the end of the day, I'm a manufacturer who benefits from it. But I'm not a fan of subsidies or I don't really subscribe to subsidies being the vehicle or the only vehicle to introduce technology because 33 years of experience doesn't suggest that needs to be the case. Technology is developed by manufacturers in inside out spirit of their desire to excel. It's not in response to consumer demand, what does the consumer know till we show it to him.
So, first and foremost, I would like to say that EV technology like any, must come from an inside out passion, ambition or whatever. Number two is to be a little more practical. When we sell a Chetak for Rs 1.5 lakh, it is posting a subsidy of almost Rs 1 lakh. FAME is not the only subsidy, there is a state level subsidy in many states which is not insignificant and then there is the GST differential.
Now if overnight all vehicles were to become EV, do you think the government is going to sit pretty at 5 percent GST? I don't think so. So, if you put it all together, it's a lakh of rupees. So, we must all understand that as an auto industry, this is huge. It's like a patient on a huge life support system almost, and it can't go on forever. So, this is the second point I would make.
Now in terms of when is the right time to start either weaning us off this life support? And at what rate should that be done? Frankly, it's not for me to say, that's for the ministry to say, the minister to say. I would only say that the important thing is to have absolute clarity on this, because sometimes, unfortunately, decisions are taken, which are sometimes retrospective, sometimes just with a three months' notice, sometimes even with one year's notice, but one year's notice would not be sufficient. So now, whether it should be 2024 or 2030, or something in between, I cannot say, but there should be enough notice to industry, and the decision should be very clear, very stable and very firm.
Q: If this FAME subsidy is lifted, that could immediately add Rs 40,000 to cost?
A: Yes, Rs 40,000-45,000 to our scooter at least.
Q: So that probably could disrupt the market?
A: It is bound to because we are talking of a 30 percent increase in price for scooters like ours. And then with that, if the states also decided to take a step back, if GST, let's say moves from 5 percent to 12 percent or 18 percent, that's going to have a huge impact.
Q: The budget is around the corner, give us a sense of the kind of regulatory hurdles or cost burdens that you have in the industry right now, which you see as resisting the growth that the company could see, and what could the budget really achieve for the India? What would some of your recommendations be?
A: I have always said that in all these years, I have never watched the budget. I know as much about the budget, as the finance minister knows about engineering. But I will say that there have been a lot of cost pressures coming from inflation, whether it's fuel inflation, commodity inflation, the containers and shipping inflation, all of that and there have been regulatory pressures. So, I think what could be important is perhaps, two or three things. One is as much as IC engines are at a 28 percent GST and the EV industry is at 5 percent, I think there is a case here for CNG as a near clean fuel. I think the government has done a fantastic job in the last few years of expanding the CNG network.
We won't go into that detail, but a huge section of the diesel three-wheeler industry, for example has moved to CNG. I think this is great. It doesn't reduce the import bill, but it makes the air cleaner, it's great for the opex for the driver or the owner, etc.
So, I think I would definitely make a strong plea for CNG vehicles to be like at 18 percent or something like this. I think this would be a good idea. On electric vehicles, I would try to give the subsidy a little different colour by saying that instead of putting thousands of crores at the disposal of manufacturers, why doesn't the government spend that money in creating an environment that is more conducive to the adoption of electric vehicles?
Whether it's in terms of creating lanes, for low-speed vehicles, cyclists, pedestrians, etc. and hence, for electric vehicles- lighter, smaller vehicles, as has been done in China, and is being done in different cities of the world, or in terms of charging infrastructure. I think this is where the investment should go. The EV will take off if we fix the environment for it.
And I don't want to again appear like a martyr here, but Bajaj Auto doesn't need a few hundred crore of government subsidy to move its EV plans forward. We are a profitable company, we are ambitious company, we are a progressive company, I would like to believe, we will do that ourselves. Please create at least in the top 40 cities which are the so called 1 million plus cities of this country, please create the right ecosystem, which will inspire consumers and give them confidence to adopt electric vehicles.
Q: On the Chetak - give us a sense of how you would like to ramp up production. You have said this several times earlier as well that there is an issue that you have been facing on the supply and you have been trying to correct it. How will this year be in terms of ramping up production, sales footprint of the Chetak?
A: As I said a little earlier at the event to mark the 1 millionth KTM, from Bajaj-KTM. We didn't start with that goal 16 years back, we didn't focus on the result, we focused on the cause. Great technology, great quality, productivity, great distribution, our desire was to excel on these fronts. The result became 1 million KTMs out of India. So right now, I am a little shy to put any quantitative targets onto Chetak, I can tell you that the plant that we are still in the process of just completing at Akurdi will have a capacity of half a million vehicles.
But that's just capacity. In terms of actual production also, in the last financial year, it was a little more or a little less than 10,000. This year, we will be close to 50,000. So, it looks like a 5x growth, but obviously it's on a very low base. So, it would be reasonable to expect that the growth will be in multiples in the coming years. And to this will be added also Yulu and other things we do.
So, I think the quantitative aspect is not the focus right now. Our focus is on getting the technology right, the quality right, getting the distribution, right, because, we have chosen to build a new distribution network for Chetak, and most importantly, on getting the customer experience right, which quite frankly, is a bit of a challenge for us because as a IC engine company, we don't necessarily always think about what you see on the speedometer, so connectivity and stuff like that. So, this is the more important aspect that we are focused on.
Q: You have said this in the past that Chetak Electric Mobility has been launched, when it comes to electric vehicles, the company will have to reinvent itself. You have got Urbanite, which is looking at your electric vehicle business and you have got Chetak Electric Mobility, how is the company evolving itself? How will Chetak Electric Mobility grow as a separate business? What about electric motorcycles? Will there be more electric companies within the Bajaj group?
A: I consider Al Ries the marketing strategist as a kind of marketing guru and he said, the job of the CEO is to find the future in the current activities. I think that is what we are doing at Chetak Technologies Limited. We are acknowledging that this is a new world in every respect and every aspect, and that's why we have created a new entity there. And in that entity, we will also move the Urbanite business. So that will not remain in Bajaj and Chetak is part of the Urbanite business. And that may house more than just the Chetak brand tomorrow, it could, not that we have anything on mind at this moment.
So, all of this will move there. And so also the R&D for the electric powertrain. Some people have already moved there, and the new numbers that we are adding, the new recruitment is all happening there. So, Chetak Technologies Limited will have its own CEO, its own CTO, its own operations, the Akurdi plant becomes part of Chetak Technologies Limited, and it will have its own R&D, it will have its own marketing and sales, that is the Urbanite business unit. So, it will be complete in all respects. And that is how we would like to grow it.
In the present Bajaj Auto, would remain our motorcycles, and our three wheelers. And, of course, the Qute the quadricycle. And quite frankly, we do not have again, the luxury of choosing one or the other. On the one hand, we have a very, very robust existing business, we are the world's most valuable two-wheeler company.
So, unlike a startup, which has nothing to lose, because they have nothing, we have something very valuable here that we must not only keep growing, but also leverage for its skill sets, for its cost structure to strengthen the new company. And at the same time, we need to invest in the future. We made the transition from a scooter to a motorcycle company; this is 2.0 where we have to now move on from IC engine to the EV world. So, we have done it before, so I think we can do it again.
Q:
You have said about a year ago that the company will have to reinvent itself all the way to the board level. How do you see your own role evolving as the company transitions towards electric mobility?
A:
I think the most important aspect of my job is what I like to call in one word, direction. What that means is not just to say, where we should go and what we should do, which, of course, is not just my decision, it's the team's decision. But the more important aspect is where we should not go, and what we should not do. I always remind myself, that Steve Jobs is supposed to have said, that when I had 10 options before me, I chose one to focus on, not because the other nine were not worthy, they were all attractive.
If nine are not attractive, it's an easy decision. It's when all 10 are attractive, that you have to really then think contra-intuitively, and place your bets on one thing, and move forward in that direction. I think that has always been my job. I think that is the basis on which we narrowed our focus from scooters to motorcycles from the Indian market to the global market.
By all counts, it has done well for us. And I think, I need to play the same role, as far as the EV is also concerned, not only what to do, but also what not to do, because, like this issue of subsidies you raised, I mean, we have to take responsibility, not just for ourselves, but the investments that our dealers and suppliers are making across the supply chain. And we have to be sure that we are building a sustainable technology on a sustainable business model. So, I think that is my job, and hopefully I'll be able to do it.
For more, watch the accompanying video