Kia's new EV9 is the company's second electric car after its EV6 crossover and goes up against the likes of premium SUVs from BMW and Mercedes-Benz.
South Korean automobile manufacturer Kia Corporation on Wednesday revealed its first three-row electric flagship sports utility vehicle (SUV) EV9. The company claims that this new electric vehicle (EV) marks the first step in the company's journey towards becoming a sustainable mobility solutions provider.
Kia's new EV9 is the company's second electric car after its EV6 crossover and goes up against the likes of premium SUVs from BMW and Mercedes-Benz. The new EV9 marks the beginning of the company's new design era as it progresses with its ambitious 'Plan S' strategy to launch 13 new EVs by 2027.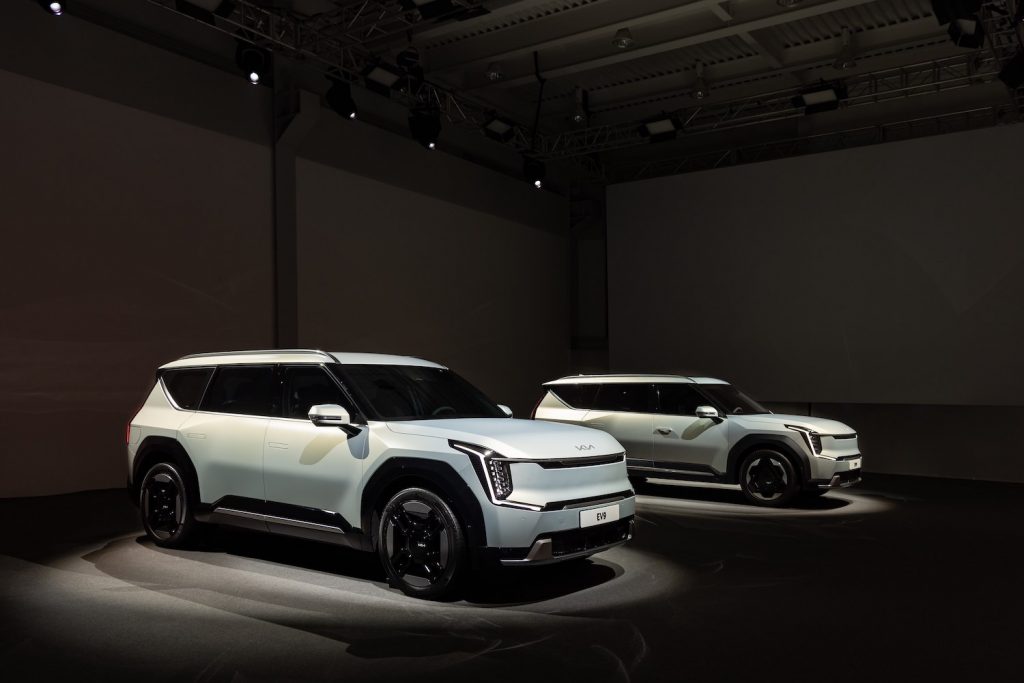 2024 EV9
Karim Habib, Executive Vice President and Head of Kia Global Design Center, in a statement, said that the Kia EV9 aims to redefine standards for design, connectivity, usability and environmental responsibility. He said, "The Kia EV9 offers customers an exceptionally high-quality proposition and a fresh EV perspective in the family SUV sector. This new vehicle typology provides instinctive experiences and excellent comfort for not just the driver, but all occupants, through innovative use of space, technology and design."
Exterior design
The front of the EV9 features simple clear-cut lines and body surfaces along with a 'Digital Pattern Lighting Grille', vertical headlamps and EV9's signature 'Digital Tiger Face.' The new electric SUV also features 'Star Map LED daytime running lights (DRL)' which features an animated lighting pattern that will denote Kia's Digital Tiger Face for the brand's future EV models.
2024 EV9
The side profile of the EV9 combines a strong and indisputable SUV identity with aerodynamic efficiency. It features dynamic triangular fender structures, geometric wheel arches, flush door handles and a tapered back roofline. At the rear of the vehicle, the tailgate gets detailed slim rear lights that mirror the design of those at the front.
Interior design
Kia said that its designers have prioritised space, comfort and technology for all passengers, in their flagship SUV. Built on Kia's Electric Global Modular Platform (E-GMP), the EV9 features a long wheelbase and completely flat electric vehicle architecture to offer maximum space for all occupants in all three rows of seats.
The company also promised to offer the new electric SUV EV9 in both six and seven-seat formats. The seats in the second row can be swivelled 180 degrees, while the third-row seats offer cup holders and charging points for mobile devices.
2024 EV9
The EV9's inside comes with a simple and user-friendly design. It features a floating panoramic dashboard, two 12.3-inch touch screens, one 5-inch segment display and physical buttons to control the vehicle's functions.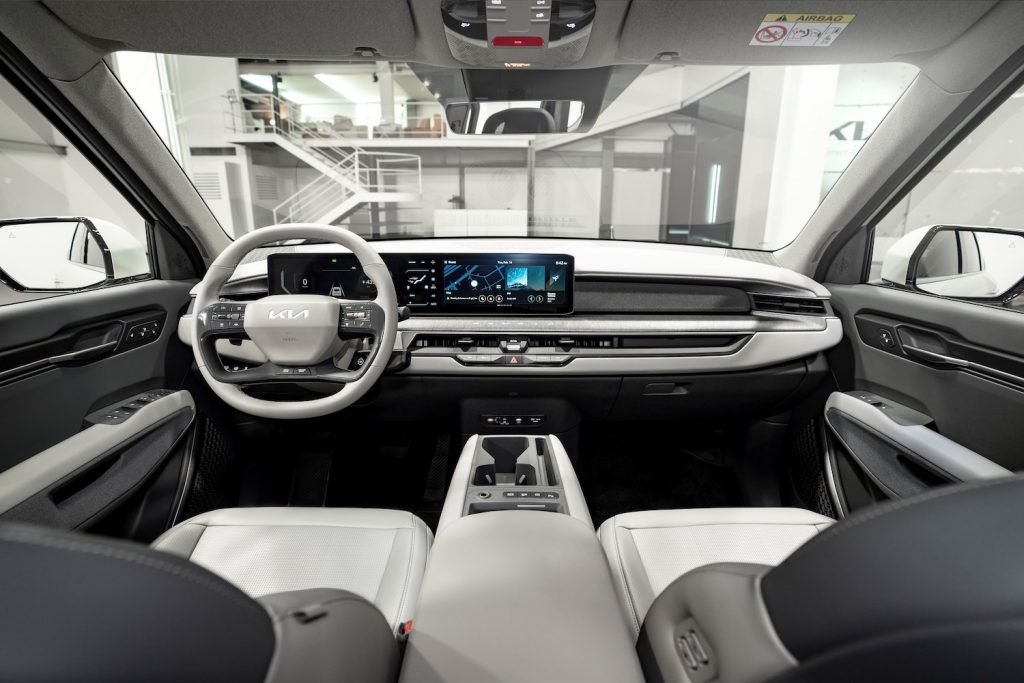 2024 EV9
The centre console is equipped with a spacious compartment located at its base. The EV9 also comes with touch buttons for start/stop function along with AVNT and heating, ventilation and air conditioning (HVAC) control.