Mahindra and Mahindra Managing Director Anish Shah on May 23 said that all the auto giant's investments will now go into building its electric vehicle portfolio, with the company aiming to come up with world class cars, as EV transition picks up pace in India.
"EV space is like a test match and we are just in the first few overs and there is long way to go," said Shah in an exclusive interview with CNBC-TV18, on the sidelines of the World Economic Forum Annual Meeting 2022, adding that the company has a range of cars that will be launched in the near future.
Meanwhile, Amit Kalyani, Deputy MD at Bharat Forge, said EVs are no longer an "if," in fact it is more of a "when," and the "when" is coming sooner than later. He said in the Indian market he expects the two-wheeler and three-wheeler segments to lead the EV push and the demand cycle as they are cost-competitive to run and there are incentives the government is providing, which makes it economical to buy as well.
He said Bharat Forge will have a comprehensive range of EV products. "We have a three-pronged play in EV. One is the India play on the 48 volt two-wheeler and three-wheeler supply chain. The second is the global light weighting opportunity where we have made large investments and where we expect to see large growth," he said.
Kalyani said Bharat Forge has received large multi-year contracts, which will start ramping up from 2023-2024 and will continue till 2030 and beyond.
"The third is power electronics and control electronics that we are developing between India, Germany and the US, where we will have a complete suite of products with components, sub-systems and systems. So we will have comprehensive range of products to offer our customers," he said.
Shah also said Mahindra and Mahindra will reveal by August both the time frame and the range of EVs it plans to launch.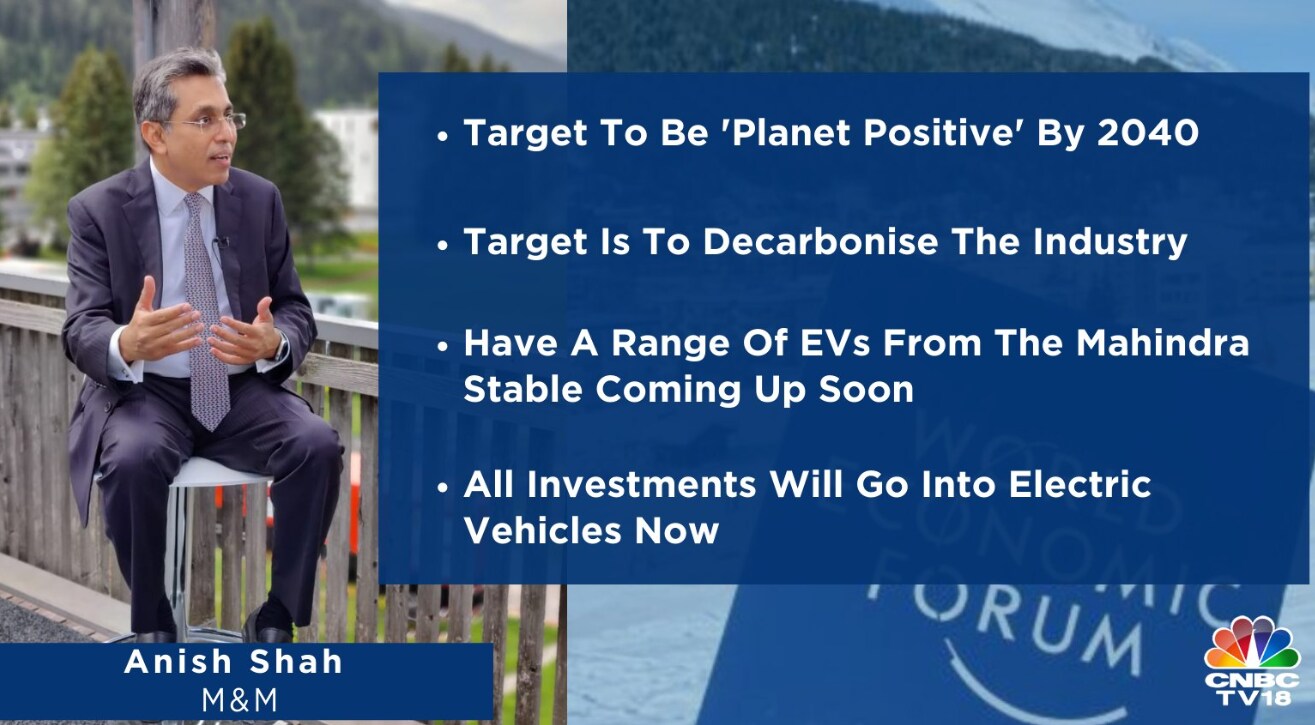 Talking about capital deployment, Shah added that the company is currently well-positioned and is planning to announce its fifth ICE launch in two years in the next two to three months.
"Investments required for branding ICE engine cars are minimum now," he said.
Mahindra's focus over a period has shifted from developing EV components in-house to building partnerships to achieve faster growth in the space.
Last week, the auto major entered into a partnership with Volkswagen which will allow it to explore equipping its electric vehicles with motors, battery system components and cells manufactured by the German auto company.
"We already got the partnership announced with Volkswagen, I think that addresses what we need from an EV space at this point in time. We don't need anything else with regard to manufacturing the cars, they will be partnerships from an ecosystem standpoint and that is something that will be essential from an EV perspective as well," said Shah.
Kalyani too said that on the global side, there is definitely a major volume production happening with EVs. "On the global side, you are definitely seeing passenger cars moving to electric. The United States is now going to see around two million productions this year. Europe will also cross a million EVs this year. So definitely you are seeing a major volume production happening with EVs," he said, adding that every large OEM has committed to 30 percent or more of EVs by 2026 and beyond. "So EVs are here to stay," he said.
Kalyani said there are planned investments of around $50 million this year on the EV-side. "If you look at the light weighting side which is the aluminium forging plants that we have set up between Germany and the US, our investments will be somewhere in the order of $250 million. So we will have very large capacities in place," he said.
As part of the country's EV transition push to meet its climate change and carbon reduction goals, the government is offering massive incentives to electric vehicle makers.
However, most buyers have been opting for fuel-run vehicles with the country's EV market accounting for only 1 percent for the total annual sales of about three million vehicles.
Teething issues and EV fires
Talking about the "teething issues" that the industry will have to go through, Jayadev Galla, Co-Founder & Chairman of Amara Raja Group, spoke about the recent EV fires. He said when there is a failure, the battery always gets blamed. "The failure may be manifesting itself through the battery, but it is because of systemic issues that happen in the first place," he said.
Galla said that batteries are not indestructible, they are an energy source and if you abuse them they will malfunction and they will explode. "So it has to be the battery management system or the electrical charging system," he said.
Galla said that everything has to be working together properly. If overcharging occurs, that means something bad can happen to the battery if it is not controlled. "So the OEMs have a role to play, the people with charging infrastructure have a role to play and all of us have to work together to determine what the system design needs to be," he said.
He said when EVs were introduced in other countries, they also faced similar issues which they overcame within a matter of time. "So I don't see this hurting the market or hurting the demand in the long term. These are teething problems that the industry will have to get through," Galla added.
Meanwhile, Shah said that it was important to start looking at return on climate and environment and that collective actions were needed to tackle the issue that has become critical across the world now.
"The urgency is there and today, it is not about individual actions anymore. It is about collective actions," he said.