Ritika Jatin Ahuja is at the forefront of the luxury car market with Big Boy Toyz, which retails iconic automobile brands from Ferrari to Rolls Royce.
The customer base of Ritika Jatin Ahuja's car business is almost entirely male. And yet, the COO of Big Boy Toyz (BBT) – an aptly named family-owned dealership that retails pre-owned and zero-kilometre luxury automobiles from Mercedes-Benz to Maserati – won't give up coaxing the wives and daughters of her customers to take more interest in cars.
"Research says more and more women worldwide are making or vetoing decisions related to a family's automobile purchase," says the entrepreneur, who holds a degree in the interior designing of jets and yachts from the prestigious University of the Arts London. "And yet Indian women take the backseat in this matter."
Lamborghinis for sale.
Ritika was passionate about both business and automobiles from a young age. After her graduation from UK and working for a while in Dubai, she returned to India to set up her own venture, Party Like a Millionaire, supplying party goods. Years later, she met Jatin Ahuja, the son of a well-respected chartered accountant in Gurgaon.
"He was always crazy about luxury cars," she explains of the origins of their firm. "At one point, he was buying and selling so many Land Cruisers that he outsold the company's own outlets." Soon, Jatin realised that buyers often wanted to offload their previously owned luxury cars, and decided to offer them for resale. That's how BBT came about in 2009.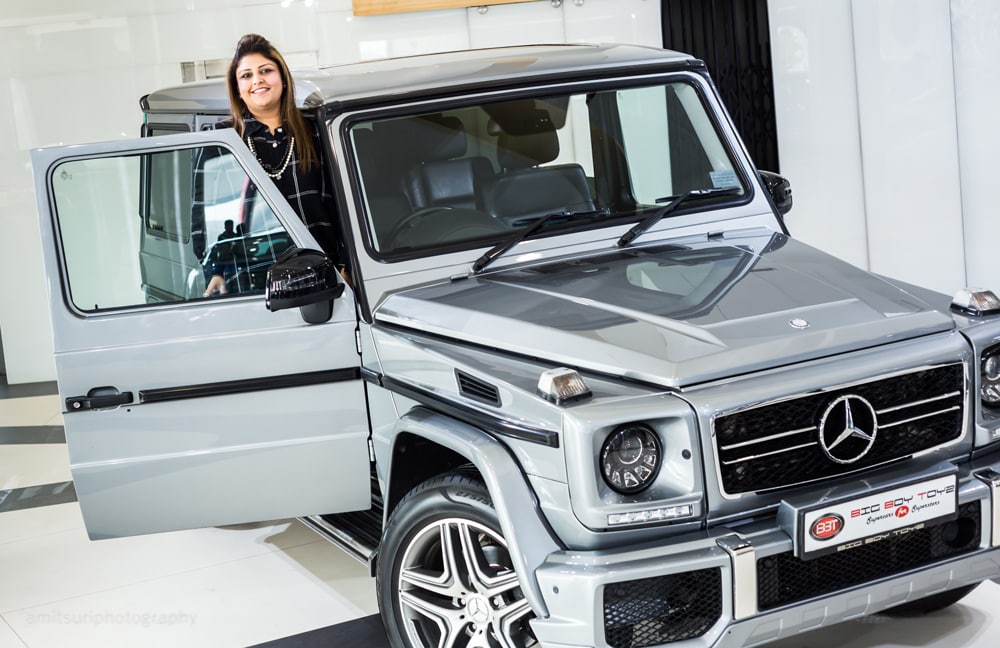 Ritika in a Mercedes-Benz SUV.
The company quickly grew by word of mouth, and they began buying new cars in bulk directly from factories. "So we're able to offer some models for almost 25 percent less than their retail price in the Indian market," says Ritika, who is the recipient of two entrepreneurship awards and has travelled extensively around the world. Starting with a showroom in Delhi, BBT expanded to Gurgaon and Mumbai, and now also has its own service centre in Gurgaon.
Nearly 3.4 million used vehicles trade hands every year, according to a study by Mordor Intelligence, which is about 1.2 times that of new cars. The market is expected to reach a market size of USD 75 billion by 2023, recording a CAGR of 15.2% during the forecast period, say the study authors, explaining, "In other parts of the world, like Europe, the number of wished-for new car buyers is increasing, whereas the number of intended used car buyers is falling. In India, however, there is a reverse trend, which can be attributed to the rising cost of fuel and increasing disposable income. Though the general economic slowdown has hit the sales rate of new cars, the used car market has seen an uptrend, which clearly indicates that the sales rate of used cars will continue moving forward."
That's good news for the Ahujas, whose company stocks up to 100 pre-owned luxury cars at any given time, ranging from Rs 50 lakhs to Rs 3.5 crore. BBT represents over 24 top brands, from Porsche and Ferrari to BMW, Aston Martin, Jaguar and Rolls Royce. Its state-of-the-art showrooms are a car-lover's paradise, and you can even opt for a free stay in a luxury suite (with a private butler) at the Gurgaon flagship store if you're a customer flying in from another city.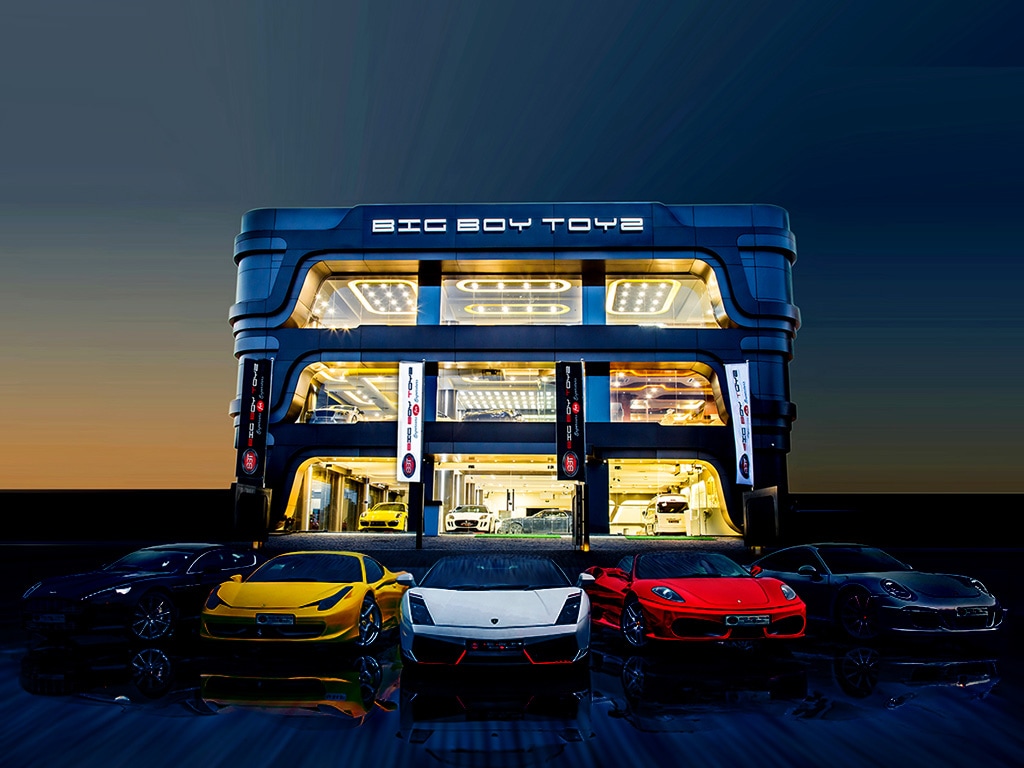 Big Boy Toyz, Gurgaon.
With associations for either sale or purchase with eminent personalities ranging from world-renowned cricketers such as Sachin Tendulkar, Virat Kohli and Yuvraj Singh, to industrialists and CEOs of multinationals across India, BBT offers services befitting their customers' high standards. The company is structured like a multinational, and follows a corporate style of functioning. Cash transactions are a no-no. Every car passes through a checkpoint of 151 tests before re-sale as a thumb rule. BBT offers in-house insurance plans, servicing, six months warranty and one-year buy-back, and expert advice based on their customer's lifestyle and needs. More than 90 percent of sales are made to satisfied repeat customers.
Ritika has also added retail expertise to the business in her own unique way. An avid collector of perfume miniatures since the age of nine (she has a 563-bottle award-winning collection), Ritika worked with scent manufacturers in Germany and bottling factories in China to come up with a perfume to bring in a new clientele. "The boy who buys the BBT perfume today may buy a BBT sports car tomorrow," she explains.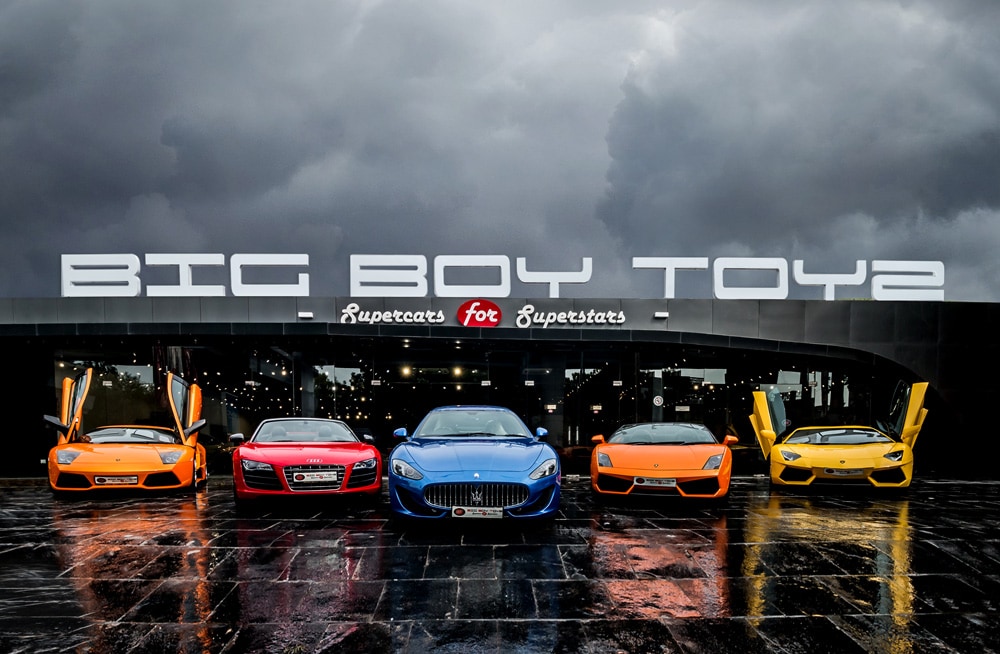 Big Boy Toyz, Delhi.
A similar rationale was applied to manufacturing other affordable-luxury merchandise, which retail from their website bigboytoyz.com besides Amazon, Flipkart and Snapdeal.
A customer revs up a Lamborghini to high decibel levels at BBT's posh three-storey Gurgaon showroom before taking it out for a spin. A floor above, Ritika sits in a plush office working with her core team, who head over 120 other employees across India. She has an eye on the brand's social media – which has a following of over 2 million across platforms – and like any working parent also multitasks with responsibilities at home.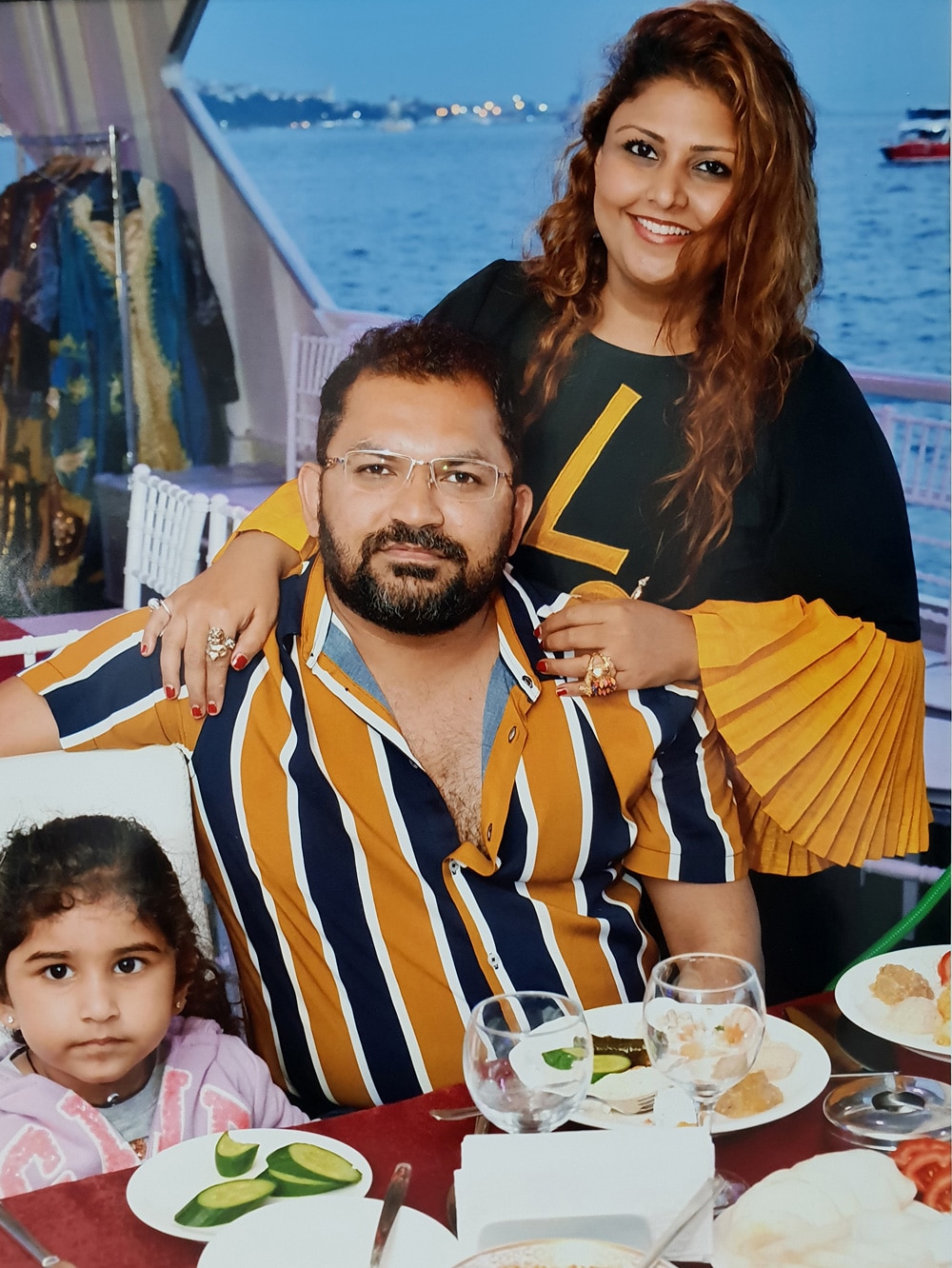 Ritika and Jatin Ahuja with their daughter Zaara.
Noting that a sizeable chunk of their clients come from Hyderabad, her next goal is to set up an outlet in the southern Indian city. And, of course, she wants to educate women about cars. "Women work with budgets, they know the family's needs. And we're also safe drivers," she says. Cars don't need to be toys only for big boys.