Onion prices in India have skyrocketed to record highs, retailing anywhere between Rs 80 and Rs 180 per kilogram in the country. With the possibility of onion prices cooling down increasingly looking less likely, it is not a good news for the Modi government. Onion prices have garnered voter attention in the ongoing Jharkhand assembly elections and i
f consumers are worried, their angst will be shared by politicians as well.
Onion has a long history of bringing down governments whenever the prices of the humble daily kitchen staple have increased. Therefore, it came as no surprise when Delhi Chief Minister Arvind Kejriwal-led Aam Aadmi Party (AAP) government last week blamed the Modi government for scarcity.
Kejriwal and his team will remember vividly what happened in late 1998 when the Bharatiya Janata Party (BJP) government lost the assembly elections after onions sold around Rs 40-50 a kg at that time. BJP's last bit pre-election manoeuvre to install Sushma Swaraj as chief minister couldn't save the party from the drubbing it got at the hands of the Congress party and it hasn't returned to power in Delhi since. With Sheila Dikshit at the helm, the Congress retained Delhi for two more consecutive terms.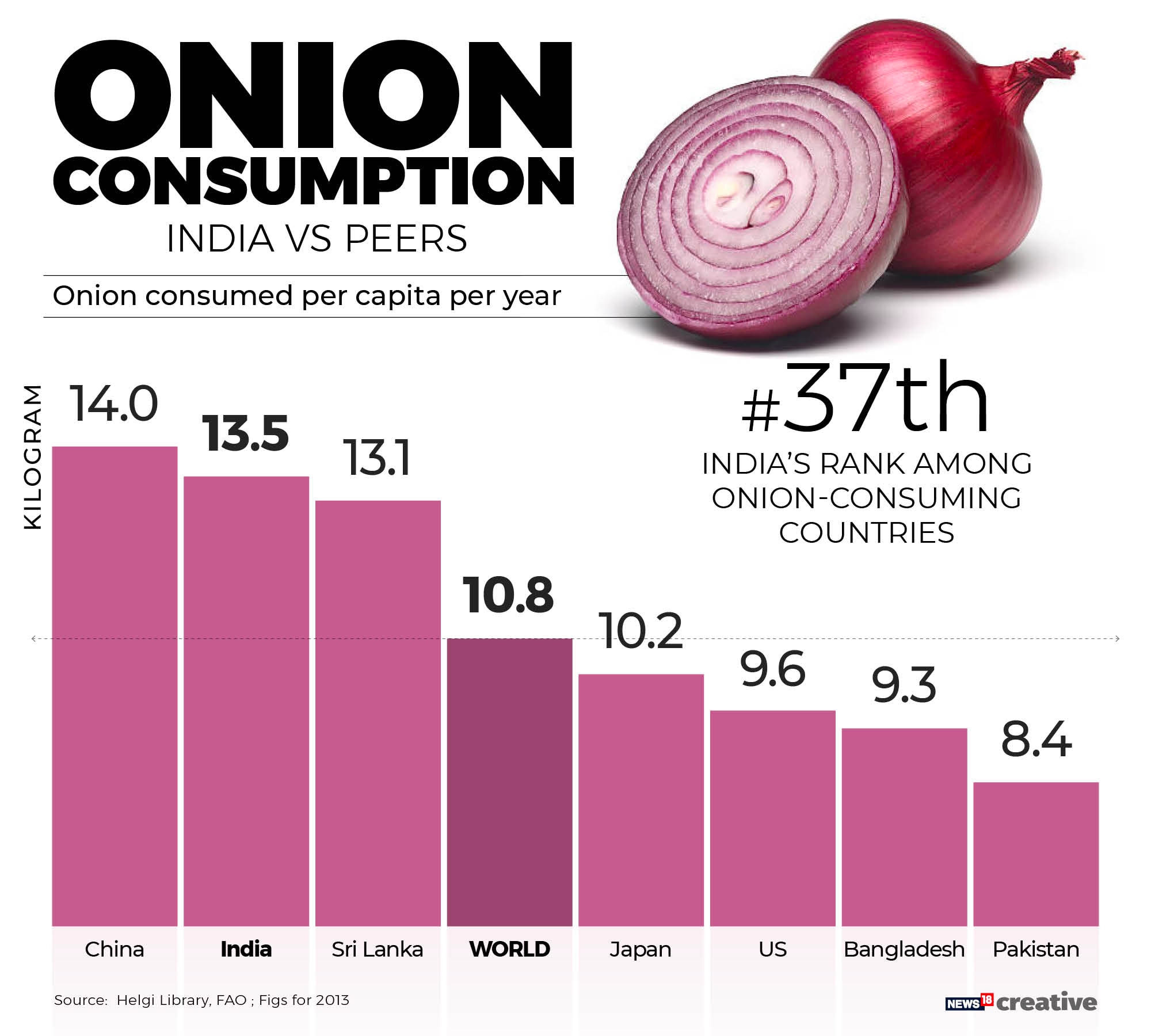 Not just in Delhi or BJP alone, governments and parties have faced the voter's wrath if onion prices have aggressively increased. Whether the General Elections in 1980 or 2014, or assembly elections in Rajasthan in 1998 and 2010 and Maharashtra in 1998, onion has played its bit in swinging the electoral fortunes of one party or the other.
To thwart electoral backlash, the Modi government has taken a host of measures, including imports, to deal with the rising prices of onions. India, the world's biggest exporter of the bulb, has banned onion exports until February, pushing prices in Asian markets as well.
To check onion hoarding, the central government has reduced by 50 percent the stock limit for the wholesale and retail traders to 25 tonnes and 5 tonnes, respectively. Experts say the main reason for soaring onion prices is not so much hoarding, as it is genuine shortage.
Delay in sowing due to late arrival of monsoon, decline in sowing area, extended and unseasonal rains have all resulted in a steep decline in onion production. The kharif output for the current fiscal is expected to be 26 percent lower at 5.2 million tonnes.
The National Horticulture Development Board (NHDB) has estimated India's onion shortfall at 1.6 lakh tonnes. India is looking to import 1.2 lakh tonnes of the bulb to cool soaring prices at home. However, prices in other Asian markets have reportedly risen as much as 12 percent in anticipation of demand.