Editor's Note: What's Ailing Rural India is an award-winning series by CNBC-TV18. This month, the series shines the spotlight on the farm distress in the Marathwada and Vidarbha regions in Maharashtra against the backdrop of the state government's recent schemes to tackle farmers' woes.
It is end July and the cotton crop has already been sown on the four acre family land.
Swapnil Kale, 25-year-old farmer, now sits idle at his home in village Sangrud, 25 kilometres from Akola.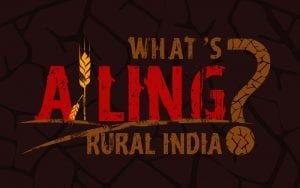 With no work available even as daily labourer during monsoon, Kale's hopes hinges on a good produce this year, because only that will allow him to repay his private loans of over a lakh taken for farming and his father's ailment.
"My father's appendix had to be removed and this surgery required more than Rs 50,000. Plus, we needed another Rs 50,000 for sowing cotton," Kale said.
Kale has been out of the formal credit cycle since 2013, when he defaulted on his Rs 50,000 crop loan in the drought year.
Last year, his cotton crop fell prey to pink bollworm infestation and he could not even recover his production cost for farming.
Despite being eligible for the Maharashtra government's recent crop loan waiver scheme, formal credit has been elusive for him.
"I visited the bank (District Co-operative Bank) and officials there told me that my loans have been waived, but we still haven't received a notice or letter from the bank stating that," he said.
"Even when we go to Syndicate Bank to get fresh loan, they ask us for a letter, but we have none," Swapnil Kale's younger brother Vaibhav quipped.
"We have had to take loans from private moneylenders and borrow from our relatives for all our money needs. This is how we managed even when my husband fell critically ill six months ago," Kale's mother Sunita said.
Farmer families like Kale, who have seen successive drought years, failed crops and credit defaults were at the heart of Maharashtra government's ambitious Rs 34,000 crore loan waiver scheme.
The scheme aims to waive off up to Rs 1.5 lakh loans for farmer accounts that defaulted on loans taken up till June 2016 and bring back into the formal credit cycle.
But most cotton farmers in Sangrud village are still dependent on private moneylenders.
Bharat Ambadas Umade, 60-year-old farmer, said he had to borrow money on high interest from moneylenders.
"I haven't got my loans waived and hence did not get new credit, said Ramdas Umade, who was peeping from the neighboring house.
State government's crop loan disbursement has still been slower than past years. Villagers said only 10 percent farmers in Sangrud had received new crop loan.
Till July, kharif crop loan disbursement in Akola District has been a mere 25 percent of the total target of Rs 1,334 crore, according to data compiled by the State Level Banker's Committee (SLBC) for loans disbursed till July 31, 2018.
SLBC fortnightly compiles loan disbursal data across all banks in the state.
Two of the parched regions considered epicenters of farmer distress, Marathwada and Vidarbha saw crop loan disbursements of just 27 and 34 percent.
So why is loan disbursement so skewed, despite a massive Rs 34,000 crore loan waiver scheme? Simple, not all who got their loans waived off were eligible for fresh credit.
According to data shared by the district collectorate in Akola, till July 31, out of the 117,383 accounts that saw their defaulted loans being waived off, less than a third (nearly 35,000 accounts) were eligible for new credit and only 23,235 of those eligible got new loans.
Astik Pandey, collector of Akola District explained, "Only 35,000 accounts have been eligible. For the rest, there were issues of multiple accounts, defaulted loans on other accounts etc. and so despite getting a waiver, other farmers could not be brought back to credit cycle."
Besides, reluctance of both public and private sector banks to extend agri credit has worsened the situation.
District administration in certain regions like Yavatmal and Akola has been proactive enough to take stern action.
"We took action against Canara Bank and Axis Bank. We withdrew Rs 42 crore government deposit from Axis Bank and another Rs 2 crore from Canara Bank. The banks then fell in line and now have been supportive of our efforts to increase loan disbursement," said Pandey.
But this is not the only reason for a lower credit disbursal. The banking community blames the loan waiver scheme, which has created almost an equal number of new defaulters as those who got their loans waived off.
Santosh Korpe, chairman of Akola District Co-Operative Bank that manages maximum agri accounts in Akola and Washim districts said that it's spoiling the credit discipline.
"If out of 206,000 farmer accounts, more than 122,000 who were otherwise regular accounts, fall prey to hopes that next year their loans will be waived off, so they become defaulters. Now they are out of the main credit cycle," said Korpe.
This is not the story just of Akola. Farmers across the region are struggling with compounding debt and continue to bet on further waivers for a sustainable future, but how long can the government really keep waving the waiver flag?
Follow the entire series here.