Less than 3 hours after Narendra Modi received an unexpected hug from Rahul Gandhi in Parliament last month, Amul had a topical ready to tickle the funny bone. In doing that, Amul set a new record. Just how did Amul's three-member creative team pull that off so quickly?
Amul's topical on Rahul Gandhi's embrace to Narendra Modi followed by a wink to fellow party members during the no-confidence motion in parliament in July, not only won plaudits for its creativity, but also for its quick turnaround. Only two-&-a-half hours after the unexpected show of affection by the congress president, Amul's tongue-in-cheek advert was out on digital and hoardings went up that very evening.
While Amul's creatives, popularly known as topicals, have always been up to speed, the ad on RaGa's hug set a new record. Depicting Gandhi winking as he hugged Modi, the topical sassily asked "Embracing ya Embarrassing?", hinting that the hug was Gandhi's weapon to embarrass his political opponent.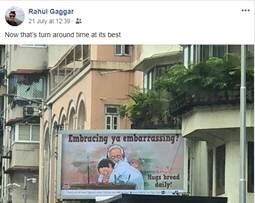 Social media just couldn't seem to get enough.
Three days later, Amul delivered another hit topical -- this time on the Rs.58,000-crore Rafale jet deal. After Rahul Gandhi hit out at defence minister Nirmala Sitharaman in Parliament over her "secrecy" on India's deal to procure 36 fighter jets from France, Amul delivered a topical captioned "Pass or Ra-fail?" which was later tweeted by Gandhi. In his tweet, Gandhi accused Modi of personally renegotiating the deal with France in the absence of a steady defence minister.
The timely nature of Amul's topicals is quite a feat given that these are still sketched and painted by hand by daCunha Communications' 58-year-old illustrator, Jayant Rane after the agency's director, Rahul daCunha, and copywriter Manish Jhaveri finalise the punch line. Just how did this ultra-small team pull it off so quick?
"We've got into the pattern of speed. Fifteen years ago, time was not of the essence as much as the issue as the topical was going to go up on a hoarding. The minute we got onto being a social media phenomenon, speed has become everything. If the RaGa topical had gone up anything later than 3 hours, it would have not seemed as powerful as it did," says daCunha, who inherited the Amul campaign from his father Slyvester in the early 1990s. Sylvester started the campaign in 1966 and that makes Amul the longest running in India.
daCunha says speed is especially important in an era where social media memes go viral within minutes of any development. "Everyone's got an opinion, everyone has an alternate option, everyone's meming all the time. We've got to be the first ones out there (on social media) because there's an expectation for us to do so." Jhaveri is quick to add that while speed is important, quality even more so. "For memes, speed is everything, but if we're not happy, we won't put out our topical."
daCunha says his great understanding with Jhaveri and Rane, with whom he has worked for more than 25 years, is reason why they're on top of their game at all times. He says it took Jhaveri only 15 minutes to come up with the punchline "Embracing Ya Embarassing?". Soon after, Rane, who has been sketching the Amul ads for more than 32 years, was asked to halt a topical on potholes and begin work on the Raga topical. And there it was – by 8.30pm.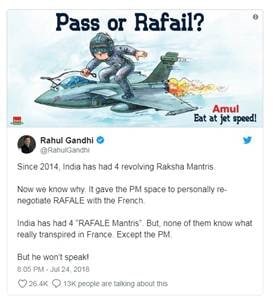 For daCunha and team, social media -- especially Twitter -- has never been so relevant to stay up to date. "Before I heard about the hug, there was a tweet that said Amul will no doubt have a topical on the hug. I'm thinking -- What hug? Who hugged who?" says daCunha adding that the team was conjuring up topicals on the no-confidence motion and the Rafale jet issue before the hug took away all the attention. That's why staying connected to social media is always important. "Manish and I always get our news from newspapers, but social media tells us what people are feeling, what's trending, what aspect of it."
Since 1966, daCunha Communications's has been reflecting the current state of affairs in India, with its moppet, the Amul girl, delivering her own take on the ongoings in the country in her own quintessential style – sometimes sassy, mostly humorous.
With her blue hair, innocent looks and red polka dotted dress, the Amul girl has made India chuckle through her puns on everything from Bollywood to sport to politics. The advent of social media has presented far more choices for the Amul girl to take a dig at. "With social media, there are lot in-betweens that have surfaced," says daCunha. Amul, which earlier did a one ad a month, now does 5 a week!
There are a few no-go areas too – one being religion, the other being serious issues. "I suppose people are looking lightness in their lives. The stupider it the more interesting it is," says Dacunha referring to the RaGa hug.
Amul made an exception, however, when the horrifying Kathua and Unnao rape cases came to light earlier this year. The brutal rapes of 8-year-old Asifa Bano in Jammu & Kashmir's Kathua region and that of a 17-year-old girl in UP's Unnao saw the Amul girl weeping in a topical captioned "Zara Aankhon Mein Bharlo Paani."
"If we hadn't said anything, there would have been a tremendous sense of disappointment. Politicians aren't saying anything, at least you (Amul) have to, it's about an 8-year-old innocent child. When we had the Amul girl weep, we destroyed the country with sympathy," says daCunha.
That was only the second time the Amul girl shed tears in 2012 after the death of the father of the white revolution in India, Dr. Varghese Kurien.
At 55, daCunha often gets asked about his plans to pass on the baton. He's always maintained he hasn't thought of it. But after the glorious past month with back-to-back hit topicals, he finally has an answer to that question.
"I'm convinced this is something I want to do until the day I die. Because it's not something you can pass on easily," he signs off.
First Published: Aug 6, 2018 8:24 PM IST